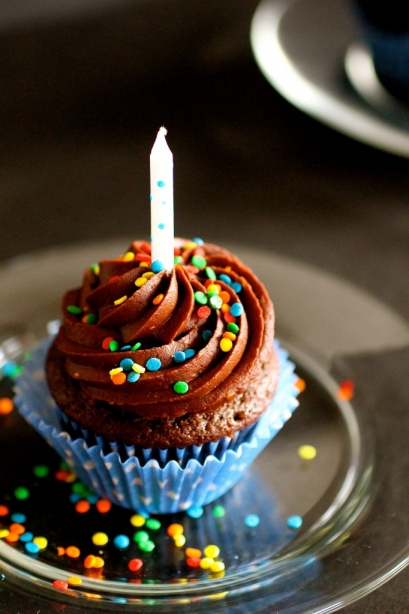 Yep.  Sometimes you just need a chocolate cupcake.
Nothing too fancy, no ridiculous fillings, no insane amount of prepping/cooling/piping.  Just a simple chocolate buttermilk cupcake with a rich, decadent chocolate frosting.  With sprinkles (obviously.)
I made these cupcakes this week for a coworker's birthday.  All I knew is that he liked chocolate, and I racked my brain about what kind of flavor combination I wanted to run with-peppermint? amaretto? salted caramel?  But then I gathered a little bit of sense and just decided that I wanted to make something that I already had all the ingredients for and keep it simple and easy.  Best. Decision. Ever.  (Especially because I was out late the night before dancing and had a couple of beers…and definitely didn't feel like being extra adventurous in the kitchen for an entire Sunday. You should have seen my dance moves, though.

)
Now, this recipe (and the frosting below) only makes a yield of 12 cupcakes, so if you are needing a large batch, make sure that you double the ingredients.  I tweaked the frosting slightly by adding in some almond extract here, but if you are looking for a specific flavor combination, feel free to play around with what type of extract you use.
Sometimes a chocolate cupcake makes all the difference.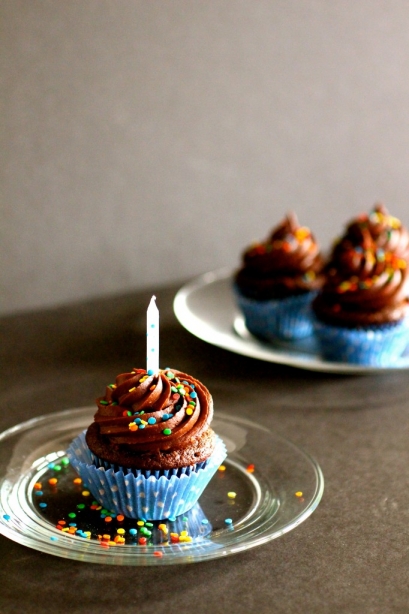 Chocolate Buttermilk Cupcakes with Chocolate Frosting
Servings: 12 cupcakes
Ingredients
For the cupcakes:
3/4 cup all-purpose flour
3/4 cup sugar
1 teaspoon baking powder
1/2 teaspoon baking soda
1/4 teaspoon salt
6 tablespoons unsweetened cocoa powder
3 tablespoons hot water
3 tablespoons unsalted butter, melted
6 tablespoons buttermilk
1 large egg
1 large egg white
For the frosting:
3 and 1/2 cups confectioners' sugar
1 cup cocoa powder
12 tablespoons unsalted butter, room temperature
1/2 cup milk, room temperature
1 teaspoon vanilla extract
1 teaspoon almond extract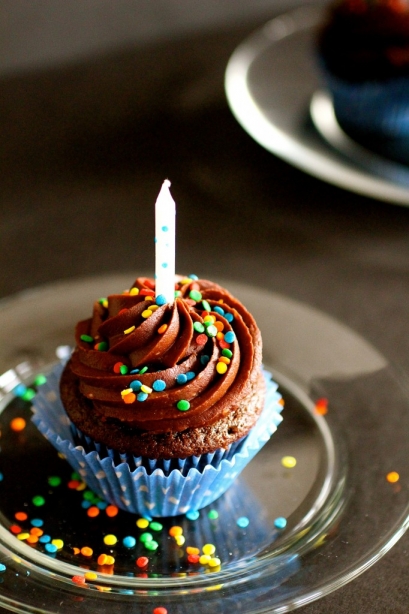 Instructions
1. For the cupcakes: Preheat the oven to 350 degrees.
2. Line a cupcake pan with paper liners.
3. In a large bowl, whisk together the flour, sugar, baking powder, baking soda, and salt.
4. In the bowl of your standing mixer fitted with the paddle attachment or using an electric hand mixer, mix together the cocoa and 3 tablespoons hot water until a thick paste forms.
5. Add the butter, buttermilk, egg, and egg white; beat on medium speed until thoroughly combined.
6. Reduce the mixer speed to low and add the flour mixture, mixing until smooth.
7. Divide the batter evenly in your cupcake pan.
8. Bake until a tester inserted in the center of a cupcake comes out clean, about 20 minutes.  Let cool completely before frosting.
9. For the frosting: In the bowl of your standing mixer fitted with the paddle attachment or using an electric hand mixer on low speed, beat the confectioners' sugar and cocoa until combined.
10. Add the butter, milk, vanilla, and almond extract, mixing until smooth.
11. Pipe as desired onto your cupcakes (I used an Ateco 828 tip.)
Sources:  Cupcakes directly from Martha Stewart, frosting slightly adapted from Martha Stewart.