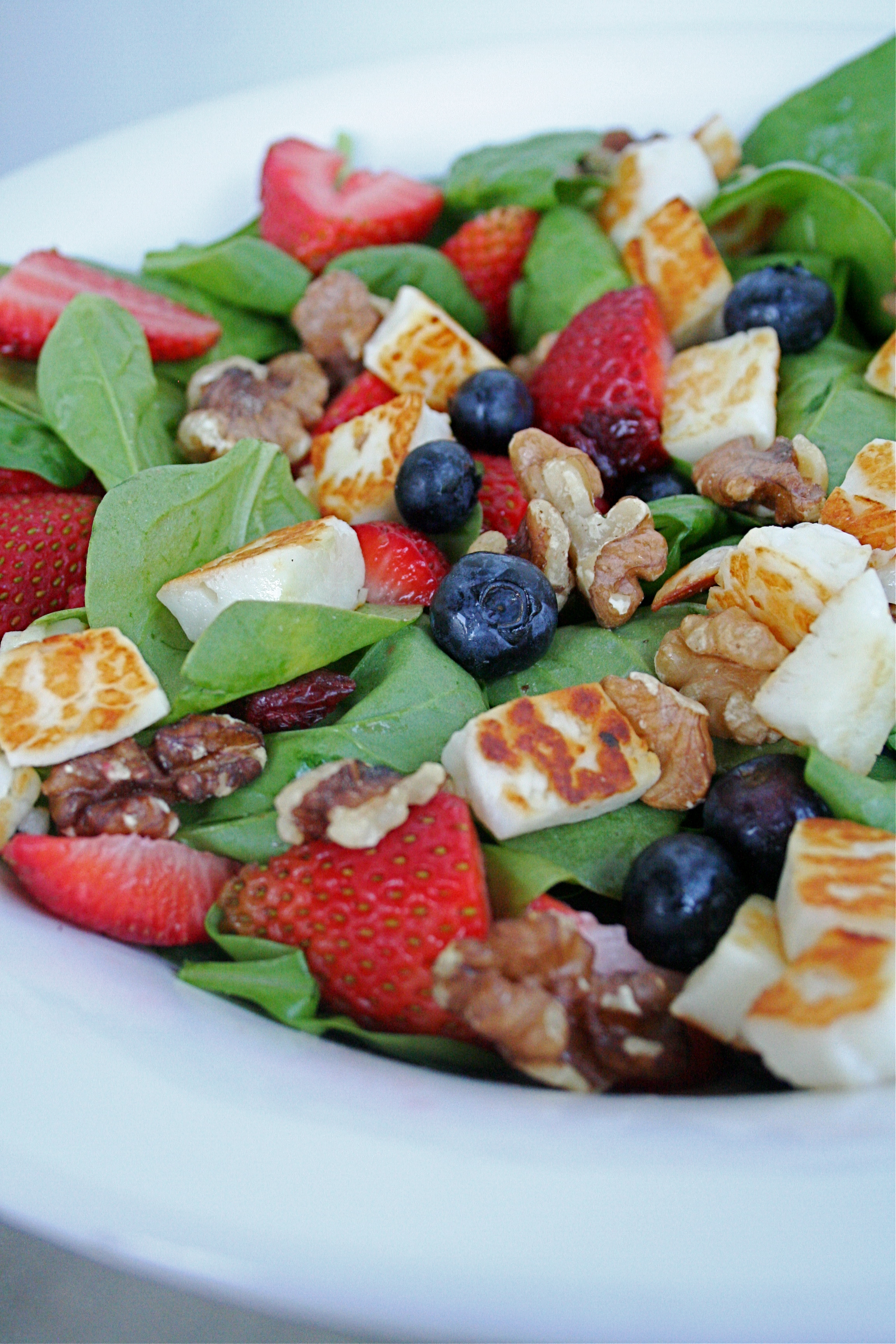 Can we talk about Halloumi?
Ok.  Halloumi is my favorite food.  Well, any cheese is…but Halloumi is extra special in my book.  Extra special because you can grill it and make it cripsy and ooey-gooey at the same time.  And that, from my perspective, is heaven on a plate.  Sometimes I will eat it just plain with some fruit and a glass of wine.  It makes me very happy.  And the nice thing is that you can find it at a lot of general grocery stores now.  I did a happy dance in the middle of Meijer the other day when I realized that they had it in stock.  But, my favorite brand can only be found at the Fresh Market in a nice, little turquoise box.
So, my rationale for eating this half goat/sheep milk cheese (don't knock it til you try it, I'm begging you…..) is if I pair it with a lot of healthy greens and fruits.  I love fruits on salads.  Some people don't, but I definitely do.
So here is a recipe that I came up with myself.  It's totally subject to changes, improvements, criticisms, etc, but I have found that when I come home from work on somedays, this is the only thing that sounds good.  The best news of all is that it takes a mere 15 minutes from start to finish to make.
Grilled Halloumi Cheese Salad
Servings: 2
1 cup walnuts, toasted
4 cups prepared spinach salad mix
3 cups sliced strawberries
1 cup blueberries
1 cup Craisins
1/2 cup Halloumi, chopped into bite-size bits
Raspberry vinaigrette, see below
1.  Heat walnuts in a non-stick skillet over low heat, stirring frequently, for about 5-10 minutes (until warm and aromatic).
2.  Heat another non-stick skillet over medium heat for about 5 minutes and then place Halloumi in skillet, using a spatula to turn pieces of cheese until browned on all sides.
3.  In the meantime, place spinach, strawberries, blueberries, Craisins, and walnuts in salad bowls.
4. Once Halloumi is browned evenly on all sides, add to salad.
5. Drizzle with Raspberry Vinaigrette and enjoy!
Raspberry Viniagrette
2 tablespoons extra virgin olive oil
2 tablespoons raspberry blush vinegar
pinch salt
Mix these ingredients together until emulsified and add, to taste, to salad.