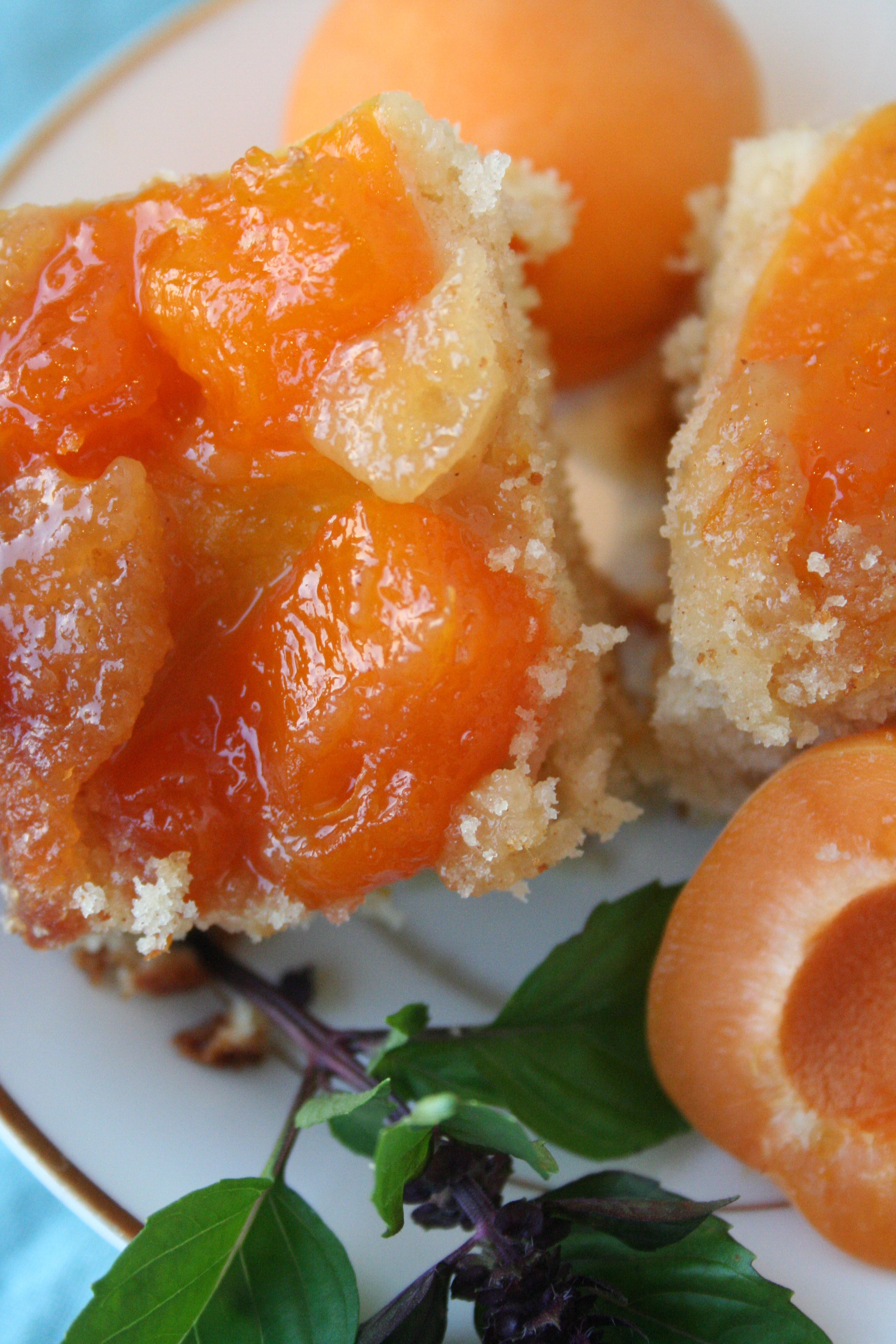 I love apricots.  And they are in season right now.  So on a recent shopping trip, I picked up a big bag of these wonderful things.  And then, I got home and found this recipe.   I knew that I had a perfect excuse to use up the apricots (and eat cake), so off I went.  At first, when I saw that the first step was making caramel, I hesitated.  The last time I tried ended badly, but it actually was very straightforward this time.
Upside-Down Apricot Cake
Serves 8-10
For the caramel:
1/2 cup granulated sugar
For the cake:
4 medium, ripe apricots, pitted and cut into 4 wedges each (I ended up using 5-6 because mine were especially tiny)
9 oz (2 cups) all-purpose flour
1 1/2 teaspoons baking powder
1/4 teaspoon ground cinnamon
4 oz (1/2 cup) unsalted butter, at room temperature
1 cup granulated sugar
1/2 teaspoon pure vanilla extract
2 large eggs
3/4 cup milk
Position a rack in the center of the oven and heat the oven to 350 degrees.  Lightly butter the sides of a 9-inch square cake pan.
Make the caramel:
In a small, heavy-based saucepan or skillet, combine the sugar and 3 tablespoons of water. Set over medium heat, stirring frequently to help dissolve the sugar.  Once the sugar boils, stop stirring.  Increase the heat to high and cook until the liquid is deep amber.  Immediately pour the caramel into the cake pan and swirl to cover the bottom evenly.  Set aside to cool.
Make the cake:
Arrange the apricot wedges over the caramel and set the pan aside.  In a medium bowl, whisk the flour, baking powder, cinnamon, and 1/4 teaspoon of salt until blended.  In another bowl, beat the butter, sugar, and vanilla with an electric mixer until well blended, about 3 minutes.  Add the eggs one at a time and beat until just incorporated.  Using a wide rubber spatula, fold the flour mixture and the milk alternately into the butter mixture, beginning and ending with the flour.  Spoon large dollops of batter evenly into the cake pan, taking care not to disturb the fruit. Tap the pan gently on the counter to release air bubbles.
Bake until lightly browned and a pick comes out clean, 50 to 55 minutes.  Working quickly (while the caramel is still hot), run a knife around the edge of the cake.  Set a serving plate or a small cutting board on top of the pan and invert it (be careful-it's hot).  Let the cake rest, upside down, for 5 minutes before removing the pan so the fruit and caramel will settle.  Serve slightly warm or at room temperature.
Enjoy!
Adapted from www.finecooking.com (The Best of Fine Cooking: Fresh and Quick Edition, 2010, No. 37, page 103).