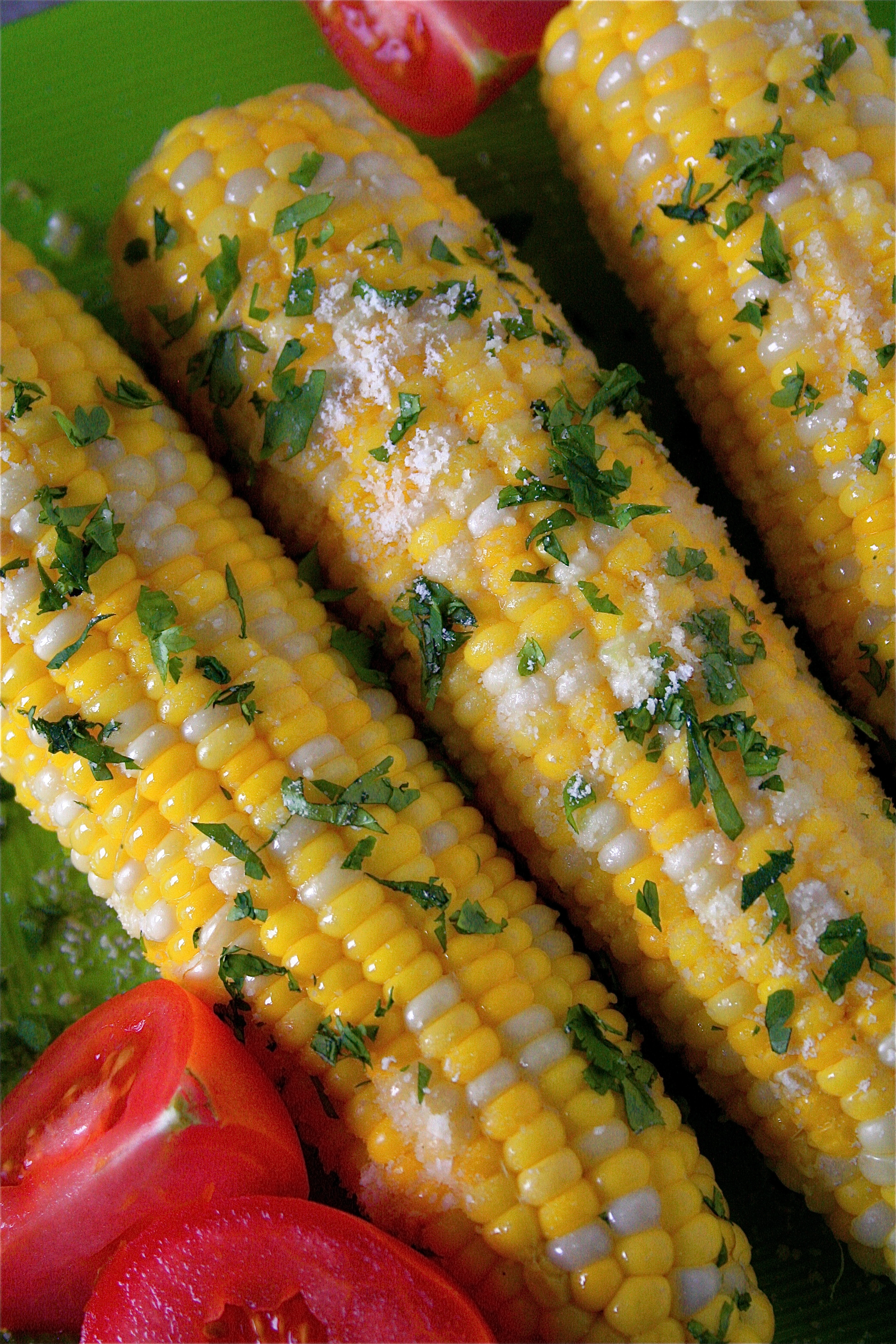 One of the best things about living in Indiana in the summer is the fresh sweet corn.  You can get ears of corn for $0.25, sometimes even less, so it's a staple here for us Hoosiers.  Every summer cook-out from here on out usually has it, and the beauty of corn is that there are so many different ways to prepare it.  I'll probably be featuring many more recipes of corn before the summer is out!
This one was especially delicious. I went to a cook-out earlier this summer where the hosts prepared the corn in a way very similar to this-and I couldn't get over how simple it was.  I'm not sure if they used the same recipe, but, either way, I have found another go-to recipe for changing up my corn menu, that's for sure!
Grilled Corn with Garlic Butter and Cheese
Serves: 8
6 tablespoons unsalted butter
1 garlic clove, minced or pressed through a garlic press
8 ears fresh corn (do not remove the husks yet!)
1/4 cup freshly grated Parmesan cheese
Salt
Fresh herbs for garnish, optional (I used cilantro, and it was great!)
1. Melt the butter in a 10-inch skillet over medium heat.  When the foaming subsides, add the garlic and cook until fragrant, about 30 seconds.  Remove the pan from the heat.
2. Grill the corn over a medium-hot fire (you should be able to hold your hand 5 inches above the cooking grate for 3 to 4 seconds), turning the ears every 1 1/2 to 2 minutes, until the dark outlines of the kernels show through the husks and the husks are charred and beginning to peel away from the tip to expose some kernels, 8 to 10 minutes.
3. Transfer the corn to a platter.  Carefully remove and discard the charred husks and silk.  Using tongs, take each ear of corn and roll it in the garlic butter.  Sprinkle each ear with a portion of the cheese and serve immediately with salt to taste.
Adapted from The New Best Recipe.