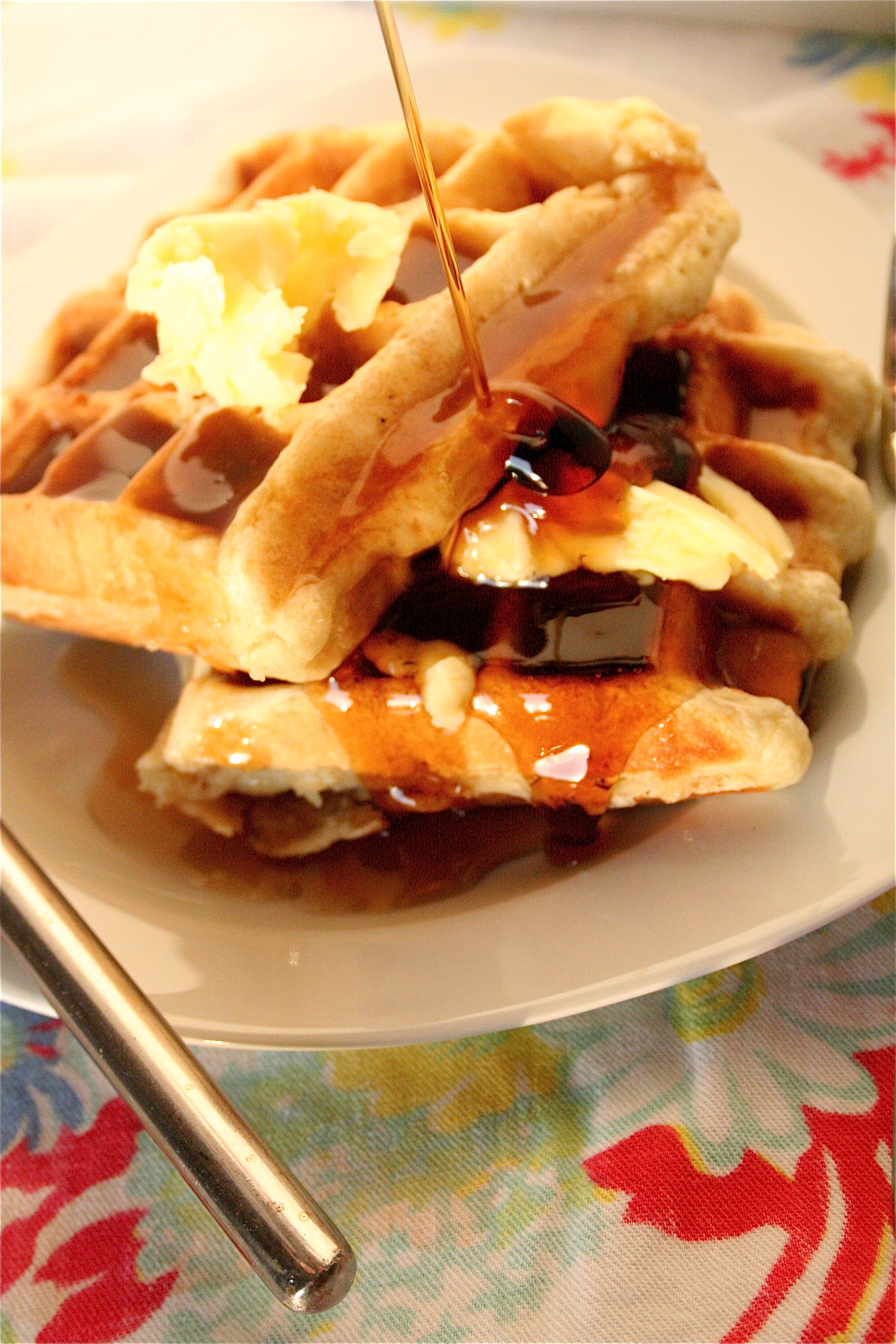 Sometimes I eat breakfast for dinner.  Someone once told me that it was wrong to eat breakfast for dinner, and so then I never did.  But then, one day I realized that someone telling me that it was wrong to eat breakfast was just WRONG…because breakfast for dinner can be so RIGHT!  Am I the only one who eats breakfast for dinner?  I would like to think not….
Anyways, I had all this buttermilk sitting in my fridge from when I made the Ranch Dressing, so I knew I needed to use it all up.  So, then this recipe was what ended up being my dinner for the night.  I hadn't had waffles in probably years.  And they were delicious.  It only took me about 15 minutes total to prepare the meal…in my book, that's perfect for a weeknight dinner (or breakfast……).
Buttermilk Waffles
Makes 6 to 8 waffles
2 cups all-purpose flour
2 tablespoons yellow cornmeal (optional)
1 teaspoon salt
1/2 teaspoon baking soda
1 3/4 cup buttermilk
4 tablespoons unsalted butter, melted and cooled
2 large eggs, separated
Pinch cream of tartar
1. Heat the waffle iron according to the manufacturer's instructions.  Adjust an oven rack to the middle position and heat the oven to 200 degrees.  Set a wire rack over a baking sheet and set aside.
2. Meanwhile, whisk the flour, cornmeal (if using), salt, and baking soda together in a large bowl.  In a medium bowl, whisk the buttermilk, melted butter, and egg yolks together.  In another medium bowl, whip the egg whites and cream of tartar together with an electric mixer on medium-low speed until foamy, about 1 minute.  Increase the speed ro medium-high and whip the whites to stiff peaks, 2 to 4 minutes.
3.  Make a well in the center of the flour mixture, pour the buttermilk mixture into the well, and gently whisk together until just incorporated with a few lump remaining (do not overmix). Carefully fold in the whipped whites using a rubber spatula until just combined with a few streaks.
4. Spread the appropriate amount of batter onto the waffle iron and cook until golden brown, about 3 1/2 minutes.  Transfer the waffles to the wire rack (don't overlap), cover with a clean kitchen towel, and keep warm in the oven.
5. Repeat with the remaining batter.  Before serving, remove the towel and let the waffles crisp in the oven, about 3 minutes.
Adapted from The America's Test Kitchen Family Baking Book.