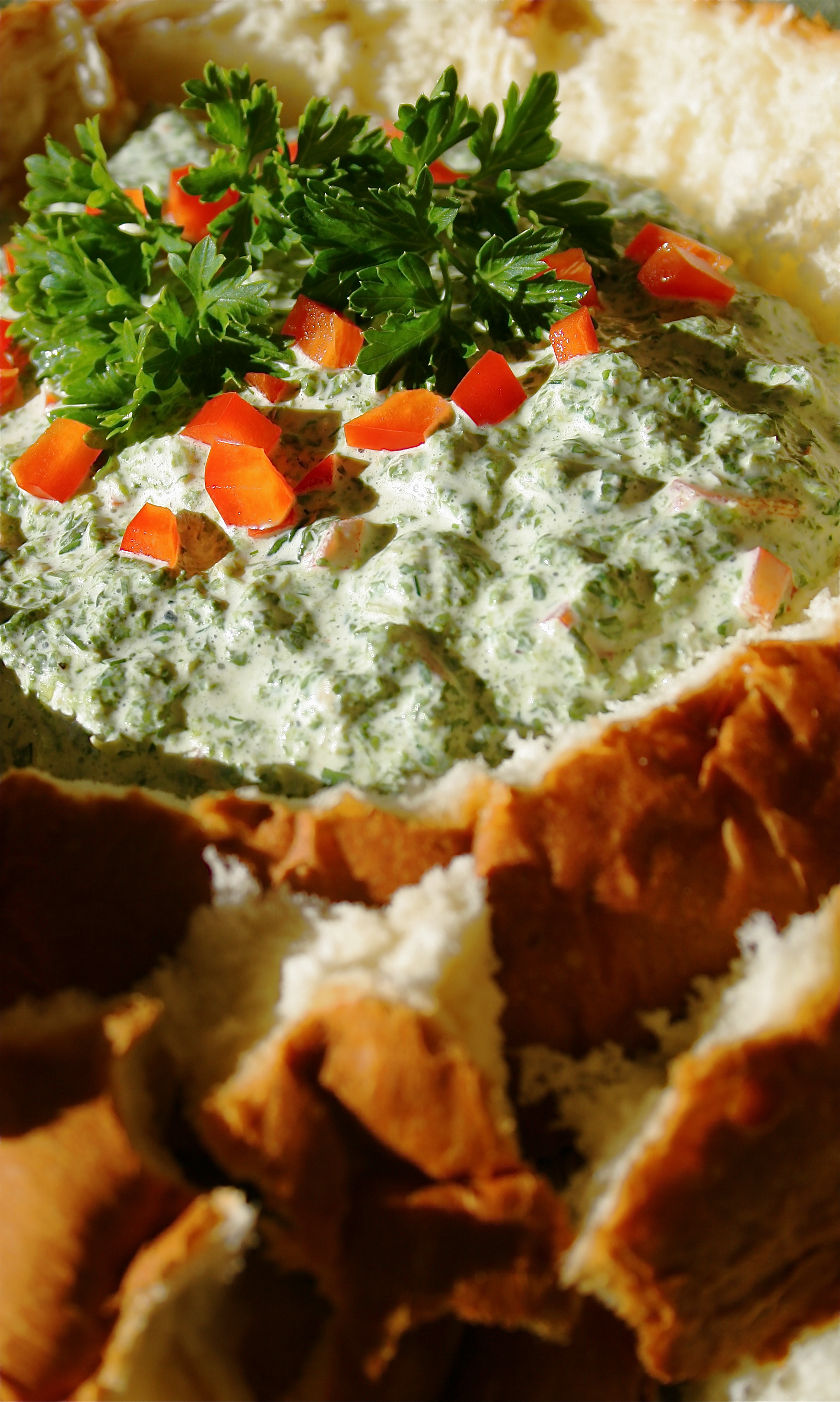 Spinach Dip.  It's good for you.
My super creative, fun, and inspiring friend Jenny B. threw a party one weeknight, and I brought this dip over to her house as a little thank-you for hosting.  I had tasted some similar spinach dip at a Fourth of July party, and I was craving more.  Honestly, I was in a rush when I got home from work (had to stop at the store on the way home to get the fresh herbs), and I had approximately 25 minutes to prepare the dip, take some pictures, rummage through my closet (Jenny was throwing a Clothes Swap and Donation Party), and get a cookie order together that I had prepared for a friend.  I was able to do all of it.  This dip took such a short time to prepare, and it was simple.  It also tasted pretty good, if I do say so myself. 😉
Herbed Spinach Dip
1 10-ounce box frozen chopped spinach
1/2 cup sour cream
1/2 cup mayonnaise
3 medium scallions, white parts only, sliced thin
1 tablespoon chopped fresh dill leaves
1/2 cup packed parsley leaves
1 small garlic clove, minced or pressed through a garlic press
1/4 teaspoon hot pepper sauce (I used sriracha, and I added WAY more than a teaspoon, just because I love it so much-just add to taste)
1/2 teaspoon salt
1/4 teaspoon ground black pepper
1/2 medium red bell pepper, cored, seeded and diced fine
Chips or bread for serving (I used a Hawaiian bread bowl…..ummm delicious…and some garlic pita chips)
Extra parsley/red pepper for garnish, optional (but it looks so much better with it!!!)
1. Thaw the spinach in a microwave for 3 minutes at 40 percent power (The edges should be thawed but not warm; the center should be soft enough to be broken into icy chunks.) squeeze the partially frozen spinach of excess water.
2. In a food processor, process the spinach, sour cream, mayonnaise, scallions, dill parsley, garlic, hot pepper sauce, salt, and pepper until smooth and creamy, about 30 seconds. Transfer the mixture to a serving bowl and stir in the bell pepper; serve. (The dip can be covered with plastic wrap and refrigerated for up to 2 days.)
Adapted from The Best New Recipe.