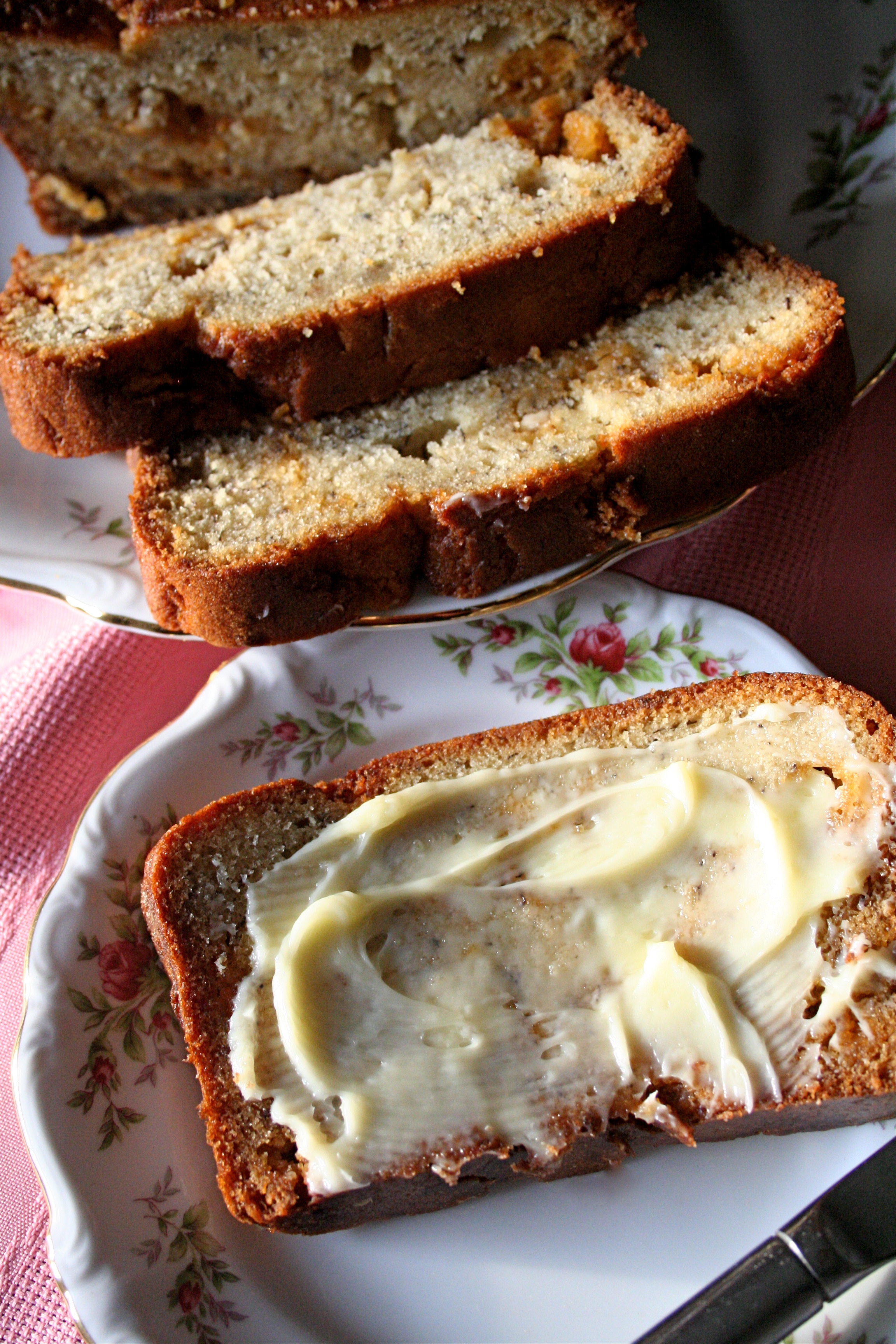 This recipe was given to our family by a dear friend who lived across the street from us when I was growing up.  Since then, I have made this recipe at least 50 times.  I have a tendency to overbuy on my fresh produce-especially with bananas.  Bananas are usually cheap, always appear to be "in season", and are compact, easy to eat on the go, and don't require any sort of slicing, chopping, or dicing.  So I always seem to have bananas on hand-but sometimes I have to admit, I don't eat them right away and let them get a little too ripe.
Thus, the perfect solution to this overripe banana issue: banana bread.
The other thing about this recipe?  I have modified it to suit my own selfish interests.  I add butterscotch chips.  You could probably add in walnuts or some other healthier option, but I just prefer butterscotch chips.  You can also omit an add-in all together, if that's what you prefer.  I'm working on some sort of butterscotch glaze, so if anyone has any good recipes or ideas, send them my way.  Did I mention I love butterscotch? OK.
Banana Bread
1 stick butter, softened to room temperature
1 1/4 cup granulated sugar (I actually used half sugar/half Splenda, and it was a beautiful thing).
2 overripe bananas
2 eggs, beaten
4 tablespoons sour cream (you could try low-fat)
1 1/2 cups flour
1 teaspoon baking soda
1 teaspoon vanilla
1/2 cup butterscotch chips, optional (but highly recommended)
1.  Pre-heat oven to 350 degrees.
2. Beat butter and granulated sugar together until creamy.
3. Add eggs and beat until combined.
4.  Add remaining ingredients until well-combined and dough is mostly smooth (there will be clumps of banana).
5. Pour mixture into a pre-greased and floured bread pan and bake for 45 minutes or until knife inserted into center of loaf comes out clean.  (I usually have to bake mine for 60 minutes..but that's just my oven).
Recipe courtesy of our family friend, Terry.  (we love you!)