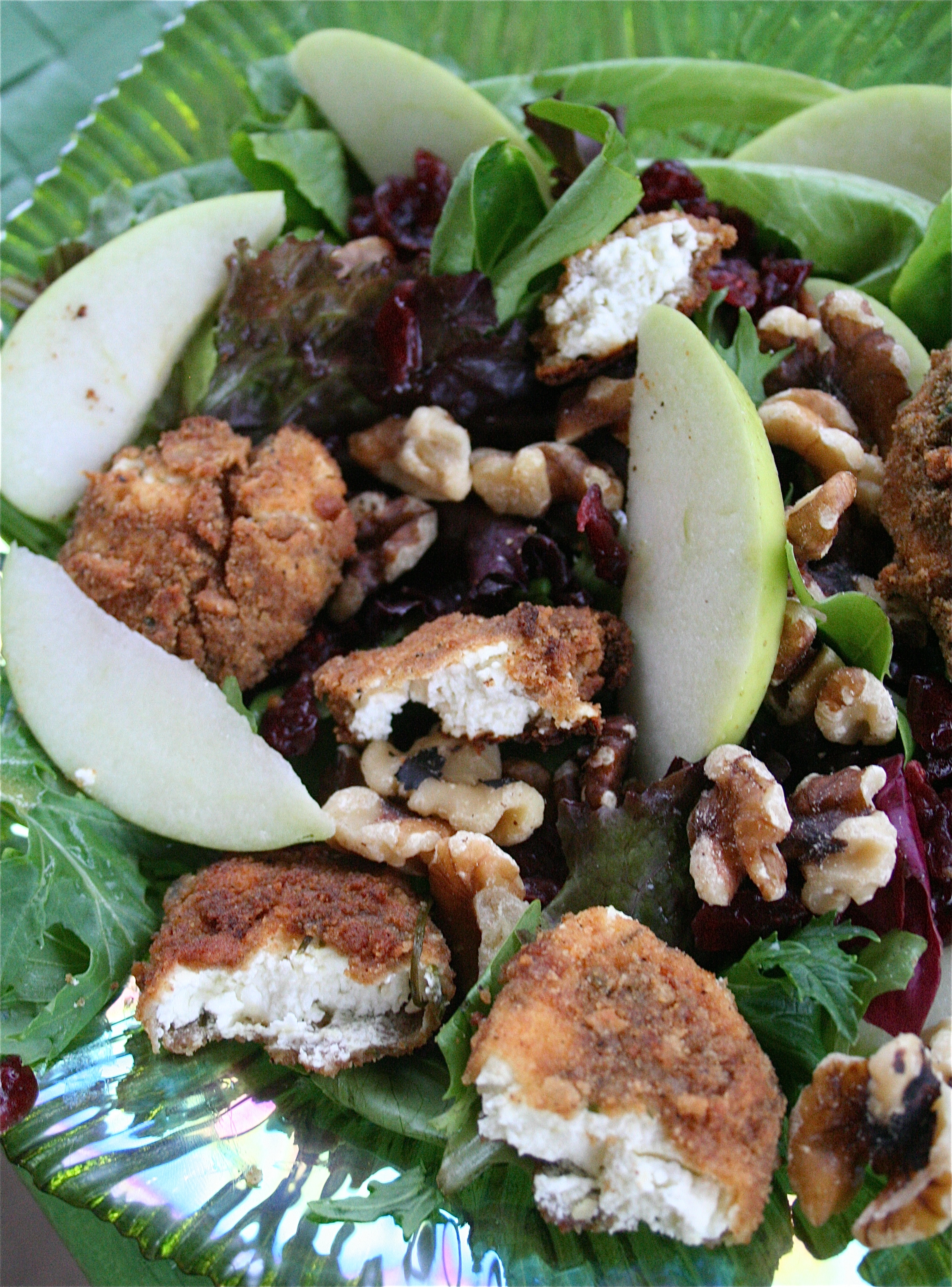 Before we move on to the post: let's all do a little happy dance.  I am now a Featured Publisher on Foodbuzz.com.  I am super excited to be joining such a supportive and inspirational community of fellow food bloggers, especially because I am just a little over a month into this blog.  But I owe Annie the biggest thank you for encouraging me to start this whole thing and  for asking me to come to Boulder with her for the Food and Light Workshop.  Trust me, she is as a good a friend as she is a food blogger.
Now…on to the post….
This salad deserves a trophy.  It's amazingly delicious.  I had to get a little creative, though, because I didn't have a few of the ingredients that it called for, so I improvised.  The original recipe calls for dried cherries (which would certainly be very good), but I substituted Craisins instead (just as good!).  I also decided to use a pre-packaged salad mix to cut down on time, but I am sure that you could substitute any kind of green.  The individual goat cheese "patties" were simple and easy to make-they packed a ton of flavor in such a little bite.  I'm taking the leftovers to work this week for lunch-it's easy to throw together, healthy, and full of protein.  Eating healthy was never so easy!
Herbed Baked Goat Cheese Salad with Apples, Walnuts, and Cranberries
Serves 6.
INGREDIENTS
Herbed Baked Goat Cheese
3
ounces Melba toasts , white (about 2 cups)
1
teaspoon ground black pepper
3
large eggs
2
tablespoons Dijon mustard
1
tablespoon chopped fresh thyme leaves
1
tablespoon chopped fresh chives
12
ounces goat cheese , firm
extra-virgin olive oil
Salad
1
cup dried cranberries (5 ounces)
2
Granny Smith apples (medium)
2
tablespoons cider vinegar
1
tablespoon Dijon mustard
1
teaspoon minced shallot
1/4
teaspoon table salt
1/4
teaspoon granulated sugar
6
tablespoons extra-virgin olive oil
Ground black pepper
14
cups hearty greens (mixed), washed and dried
1/2
cup walnuts , chopped coarse and toasted
INSTRUCTIONS
For Goat Cheese In food processor, process Melba toasts to fine even crumbs, about 1 1/2 minutes; transfer crumbs to medium bowl and stir in pepper. Whisk eggs and mustard in medium bowl until combined. Combine thyme and chives in small bowl.
Using kitchen twine or dental floss, divide cheese into 12 evenly sized pieces. Roll each piece into a ball; roll each ball in herbs to coat lightly. Transfer 6 pieces to egg mixture, turn each piece to coat; transfer to Melba crumbs and turn each piece to coat, pressing crumbs into cheese. Flatten each ball into disk about 1 1/2 inches wide and 1 inch thick and set on baking sheet. Repeat process with remaining 6 pieces cheese. Freeze cheese until firm, about 30 minutes. (Cheese may be wrapped tightly in plastic wrap and frozen up to 1 week.) Adjust oven rack to uppermost position; heat to 475 degrees.
Remove cheese from freezer and brush tops and sides evenly with olive oil. Bake until crumbs are golden brown and cheese is slightly soft, 7 to 9 minutes (or 9 to 12 minutes if cheese is completely frozen). Using thin metal spatula, transfer cheese to paper towel-lined plate and cool 3 minutes.
For Salad: Plump cherries in 1/2-cup hot water in small bowl, about 10 minutes; drain. Quarter and core apples and cut into 1/8-inch-thick slices.
Combine vinegar, mustard, shallot, salt, and sugar in small bowl. Whisking constantly, drizzle in oil; season to taste with pepper. Place greens in large bowl, drizzle vinaigrette over, and toss to coat. Divide greens among individual plates; divide cherries, apples, and walnuts among plates; and place 2 rounds goat cheese on each salad. Serve immediately.

Adapted from Cook's Illustrated.  (again….I swear by this cookbook…..)