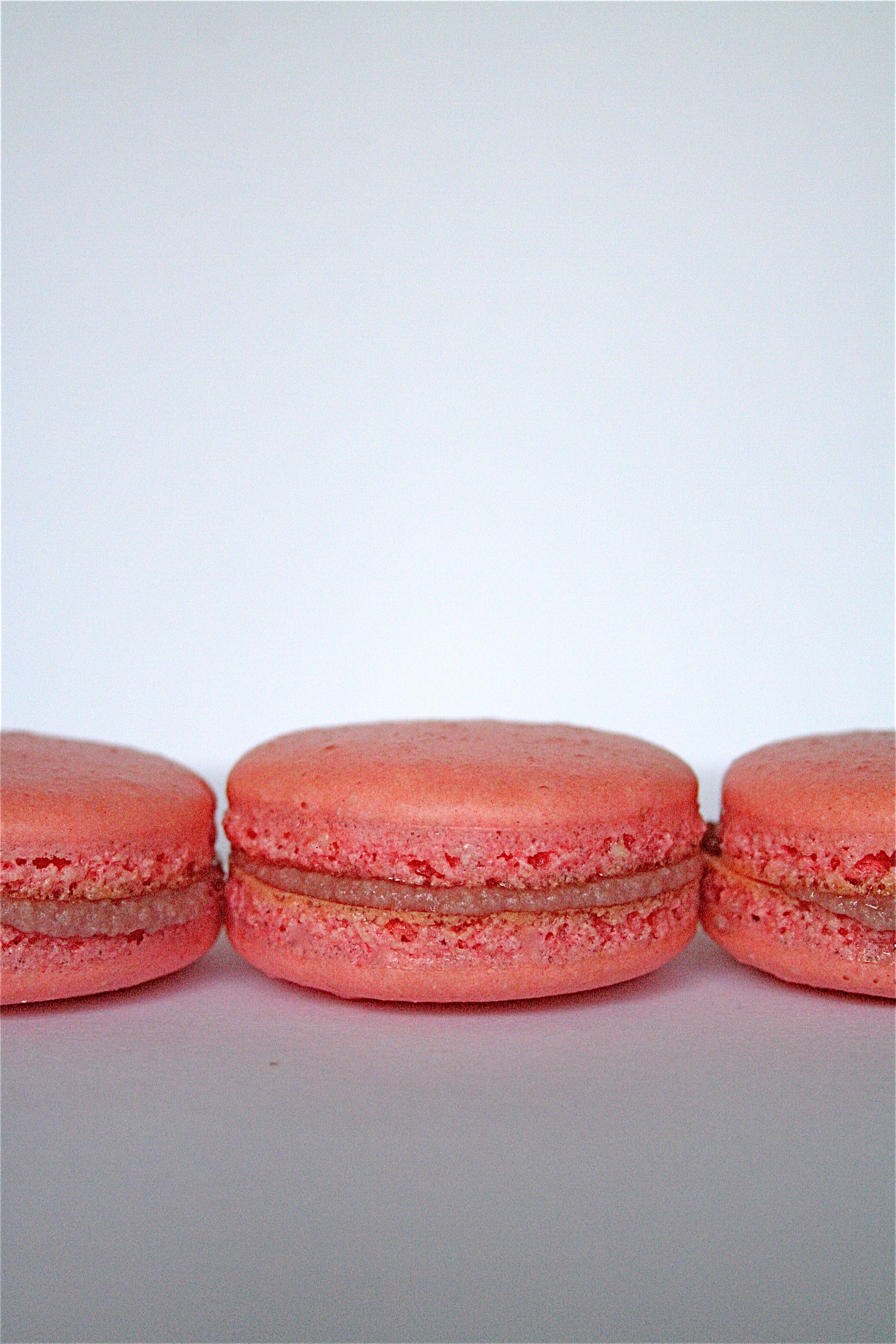 I did it.  I made macarons, and I could not wait to post this.  I originally had it scheduled a week from now, but I couldn't wait.  These were so good…they needed their spotlight immediately.  Ever since seeing Annie's excitement over these tiny little French desserts, I was intrigued.  And then, when we met Helen of Tartelette in June, I realized that I had to attempt them as well.  Helen is the Queen of Macarons, and she also happens to be incredibly down-to-earth, sweet, and funny as well.  I spent an afternoon baking away with some girlfriends (Annie included), and this was on my list of "must-do's".  Annie helped me step-by-step, since she is way more experienced with making these delicate little (as I referred to them that day) "babies".
First things first….you need a kitchen scale to accurately weigh out the ingredients.  The proportions matter.
Second….prep as many things as possible.  The egg whites need to "age", i.e. sitting in a bowl in the refrigerator for 3-5 days prior to baking.  Also, pulse the almonds to a fine powder BEFORE starting to whisk your eggs.  Have everything ready to go to add to the meringue because you don't want to risk overbeating your egg whites.
Be prepared to lose a few macarons in the process…some might stick to your Silpat and become hollow if you try to remove them from the mat.  This is also the most fantastic way to sneak a taste before they are ready to devour.  I just dipped any broken ones into my filling as I was assembling them…..fabulous!!
Raspberry Mascarpone Macarons
Ingredients
Makes approximately 12-15 macarons
For the shells:
Use the kitchen scale….it's indispensable.
90 gr egg whites (use eggs whites that have been preferably left 3-5 days in the fridge)
25 gr granulated sugar
200 gr powdered sugar
110 gr almonds (slivered, blanched, sliced, whatever you like)
powdered food coloring, to desired color—a little goes a long way….I used a red powder sparingly to get a pink color.
For the filling:
4 oz mascarpone, room temperature
2-3 tablespoon good quality raspberry preserves (I used 3 tablespoons, and my filling was a teensy too sweet for me…I would add and taste as you go…but beware….you may not be able to stop…it's good.)
1. Place the almonds in a food processor and pulse to a fine powder.
2. Add the powdered sugar to the almonds and pulse to combine.
3. In a stand mixer fitted with the whisk attachment, whisk the eggs to a foam (Helen says it should resemble bubble bath…..) then gradually add the granulated sugar until a glossy meringue is formed (like shaving cream).***Warning….do not overbeat.
4. At this point, I added a little of the colored powder and whipped a few times until I got the desired tint.
5. Add the almond/powdered sugar mixture to the meringue, give it a quick fold (use a rubber spatula…by hand!) to break some of the air and then fold the mass carefully until you obtain a batter that falls back on itself after counting to 10. Give quick strokes at first to break the mass and slow down. The whole process should not take more than 50 strokes. Test a small amount on a plate: if the tops flattens on its own you are good to go.
6.Fill a pastry bag fitted with a plain tip (Ateco #807 or #809) with the batter and pipe small rounds (1.5 inches in diameter) onto parchment paper or silicone mats lined baking sheets.
7. Let the macarons sit out for 30 minutes to an hour to harden their shells a bit. (We let them sit for about an hour, just to be on the safe side.) In the meantime, preheat the oven to 280F.
8.When ready, bake for 15 to 20 minutes, depending on their size.  (I did not rotate the baking sheets during the baking process, but this would be a good idea for the most uniform color.  I was too scared that I would mess them up.  Also, sidenote: this is the fun part when you can watch them through the oven door growing their "feet".)
9. Let them cool completely, even though you will want to eat them immediately.
10.  In the meantime, mix together the filling ingredients and place into a small piping bag with a large plain tip (you can just use the one you used to pipe the shells).
11.  Once cooled completely, pipe a small amount of the filling onto smooth side of a macaron and find a similarly sized partner….fit together and…VOILA!
12. Place the macarons in the refrigerator for at least 24 hours to allow the flavors to meld together.  However, I did not do this because I couldn't resist eating them all within 24 hours.  If you have more will power than me, I am sure that they will taste even better.
Adapted from Tartelette.