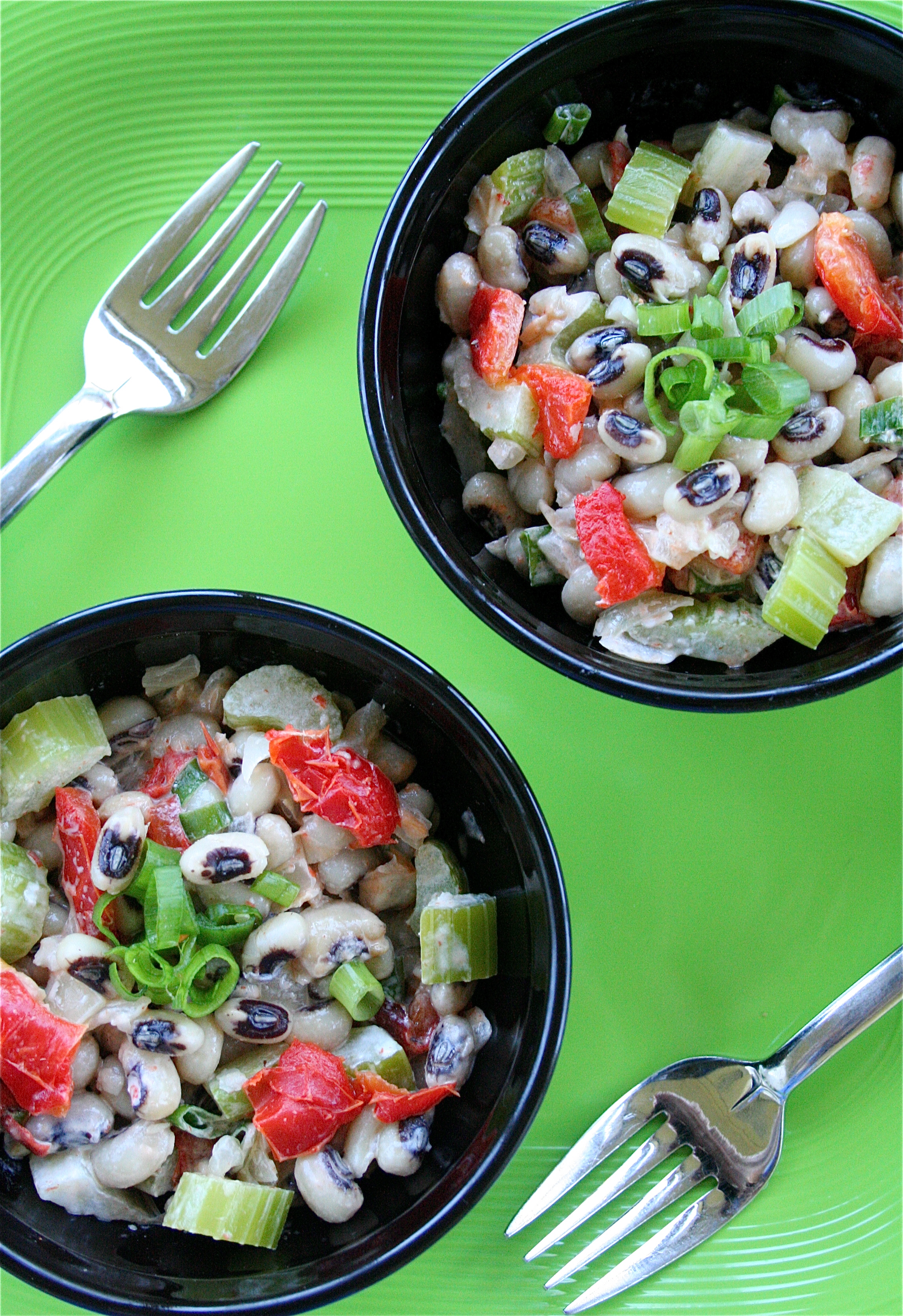 I love Top Chef.  And I especially loved watching Kevin Gillespie a season or two ago. In the September issue of Food and Wine magazine, Kevin features a line-up of vegetarian-friendly dishes.  Believe me, I felt like a kid in a candy store.  I had never really dabbled in black-eyed peas before, but I had always seen them in the grocery stores (knowing that they are good for me), but I always got too shy.  But, then, with a little persuasion from Kevin, I went for it.
And now I will never go back. They are delicious!  The salad was simple to throw together, a little spicy (the way it should be), and perfect as a lunch/leftovers.
Welcome to my world, little black-eyed peas.
Black-Eyed-Pea Salad
Servings: 4
Ingredients
1 cup dried black-eyed peas
2 tablespoons extra-virgin olive oil
1 medium sweet onion, finely diced
Salt
1 red bell pepper
2 large celery ribs, cut into 1/4-inch dice
2 tablespoons low-fat mayonnaise
4 teaspoons cider vinegar
4 large scallions, green parts only, thinly sliced
Freshly ground black pepper
Tabasco sauce, for seasoning (I actually used Sriracha)
Instructions
1. In a saucepan, cover the black-eye peas with water and bring to a boil.  Simmer over low heat until tender, 45 minutes.  Drain.
2.  Meanwhile, in a skillet, heat the oil. Add the onion, season with salt and cook over moderate heat, stirring, until softened.  Cover and cook, stirring occasionally, until browned, 8 minutes.  Transfer to a bowl.
3.  Roast the bell pepper directly over a gas flame or under the broiler, turning, until charred. Let cool.  Peel and seed the bell pepper; cut into 1/4-inch dice.
4.  In a saucepan of boiling salted water, cook the diced celery for 30 seconds.  Drain, rinse under cold water and drain again.
5.  Add the mayonnaise and vinegar to the onion.  Fold in the black-eyed peas, bell pepper, celery and scallions; season with salt, pepper, and Tabasco (ahem, Sriracha).  Chill before serving.
Barely adapted from Food and Wine Magazine, September 2010 issue.
And now since we've bonded over black-eyed peas, I will introduce you to another member of my family:  Coz.  He is a very sweet and hungry cat (and, yes, he really is that fat.)  Sometimes he just lays on the back of the chair like that.  I can't help but laugh.  Thank goodness for animals.