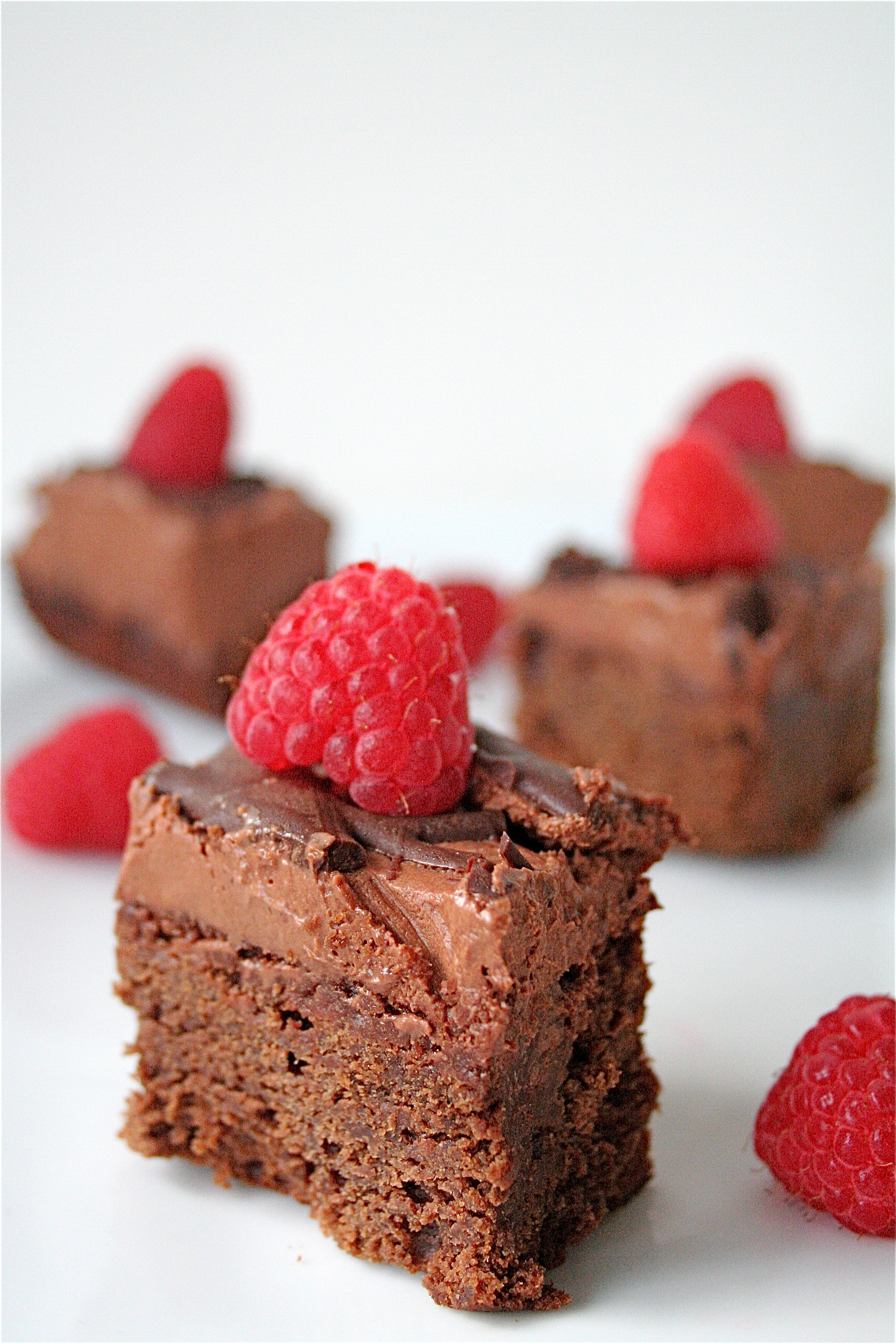 Hello, True Love.
These are chocolate raspberry truffle brownies. I have been making this recipe since I was in high school.  It's one of those recipes that I will always go back to…it's seriously one of the best things I have ever tasted.  A decadent, rich brownie base with an overlying cream cheese/chocolate/raspberry truffle, and then….even a chocolate drizzle on top.  Top it off with a fresh raspberry for garnish, give it to a boy/girl, and he/she might just fall in love with you. 😉
I made these for a party that my friend Kelli and I recently hosted.  I made them the day before and stored them overnight in the refrigerator.  They keep well for a few days if kept cold (that is, if you HAVE any left over…..)  The addition of a little instant coffee really brings out the richness of the chocolate.
But, I have a confession to make.  The recipe calls for semisweet chocolate.  I accidentally grabbed a couple of bags of bittersweet chocolate chips….which I used for the truffle and the chocolate drizzle.  I had enough semisweet chips left in my pantry to make the brownie base, though.  I really liked the slightly less sweet version of the brownie with the bittersweet chocolate chips…believe me, these are sweet enough as it is.
Chocolate Raspberry Truffle Brownies
Servings: about 20 bite-size brownies
Ingredients
For the brownies:
1/2 cup unsalted butter (1 stick)
1 and 1/4 cups semisweet chocolate chips
2 eggs
3/4 cup light brown sugar
1 teaspoon instant coffee crystals
2 tablespoons water
1/2 teaspoon baking powder
3/4 cup all-purpose flour
For the filling:
1 cup semisweet chocolate chips
1 package (8 ounces) softened cream cheese
1/4 cup powdered sugar
1/3 cup seedless red raspberry jam
For the glaze:
1/4 cup semisweet chocolate chips
1 teaspoon shortening
Instructions
For the brownies:
1.  Pre-heat the oven to 350 degrees.
2.  In a heavy saucepan, melt the butter and chocolate chips over low heat until melted, cool slightly.
3.  In a large bowl, beat the eggs and the brown sugar until well-mixed.
4.  Dissolve the coffee crystals in the water, add to the egg mixture with the melted chocolate and mix ingredients well.
5. Combine the baking powder and flour in a small bowl; stir into chocolate mixture.
6.  Spread mixture into a greased 9-inch square baking pan.
7.  Bake at 350 degrees for 30-35 minutes, cool completely.
For the filling:
1.  Melt the chocolate chips and let cool slightly.
2.  In a mixing bowl, beat the cream cheese until fluffy; add the powdered sugar and raspberry jam-mix well.
3.  Stir in the melted chocolate until combined.
4.  Spread the filling evenly over the cooled brownies.
For the glaze:
1.  Melt the chocolate chips and shortening; mix well.
2.  Drizzle the glaze over the brownies.
3.  Chill the brownies before serving.
4.  Garnish with a fresh raspberry, kick your feet up, and be prepared to fall in love.
Adapted from Georgia (aka my mother), originally from Country Woman Magazine (original publication date unknown).
HAPPY BIRTHDAY MOM.  I LOVE YOU AND AM SO THANKFUL FOR YOU.  🙂