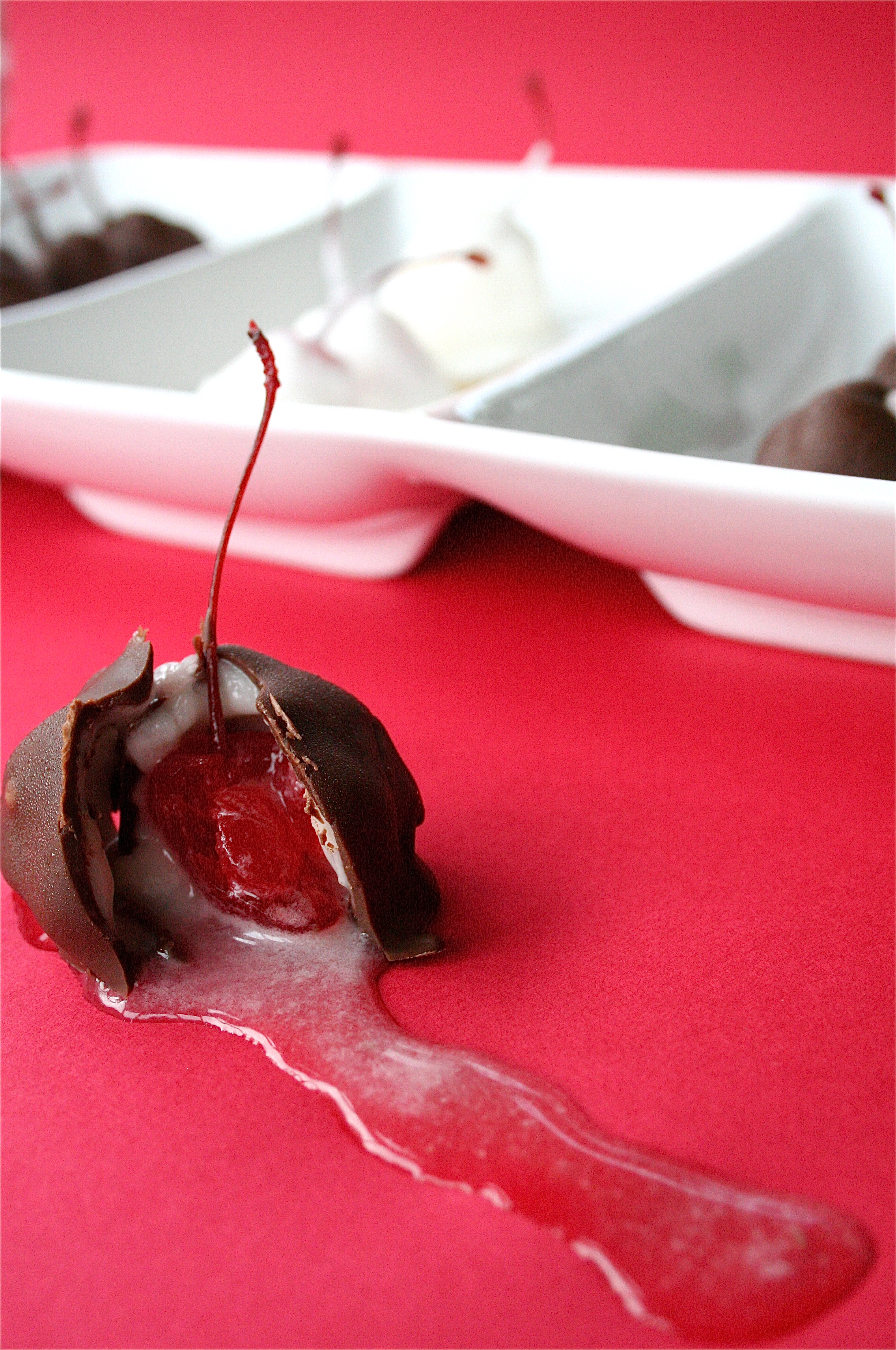 I bookmarked this recipe from Le Petit Pierogi way back in December, knowing that it was on my must-do list.  I have always been such a huge fan of chocolate covered cherries, and I thought that attempting them could be a good challenge.  Plus, I could adapt them to my own liking….i.e vanilla coating, dark chocolate, etc.
My friend Kelli and I were already planning on throwing a fun little get-together, so this was the perfect excuse to try my hand at them.  I actually made them one and a half weeks prior to the party-the extra time allows for the sugar paste to break down a little and create the sugary syrup.
These little delights were a favorite among the party guests.  Honestly, although they were a little messy to work with when making them, they were actually quite simple.  I will definitely be making these again sometime soon.
Chocolate Covered Cherries
Makes approximately 60 cherries
Ingredients
60 maraschino cherries with stems (I used two jars)
3 tablespoons butter, softened
3-4 tablespoons corn syrup
2 cups confectioner's sugar, sifted
1 lb. chocolate candy coating (I also used vanilla-flavored candy coating.  I found these in my grocery store's baking aisle.)
Instructions
1. Drain cherries and set on paper towels to dry.
2. In a mixing bowl, combine butter and corn syrup until smooth.
3.  Add confectioner's sugar gradually and mix until a dough forms (I used the paddle attachment for the mixer-this helped a lot.)
4. At this point, you may have to refrigerate the dough until it stiffens a little (about 10 minutes).  Wrap each cherry in about 1 teaspoon of dough.  (I actually ended up doing this in batches because the Indiana humidity was making the dough extremely sticky, and I had to chill the dough several times during this process.)
5. Chill the dough-covered cherries until ready to dip.
6. Melt the chocolate candy coating in a saucepan over low heat.
7. Dip each cherry in by its stem, rolling to completely cover.
8. Place cherries on waxed paper until hardened. (The bottoms will end up being a little flat…if anyone has any good suggestions on how to avoid this, let me know.)
9.  Place in an airtight container in the refrigerator for 1-2 weeks.
Adapted from Le Petit Pierogi.