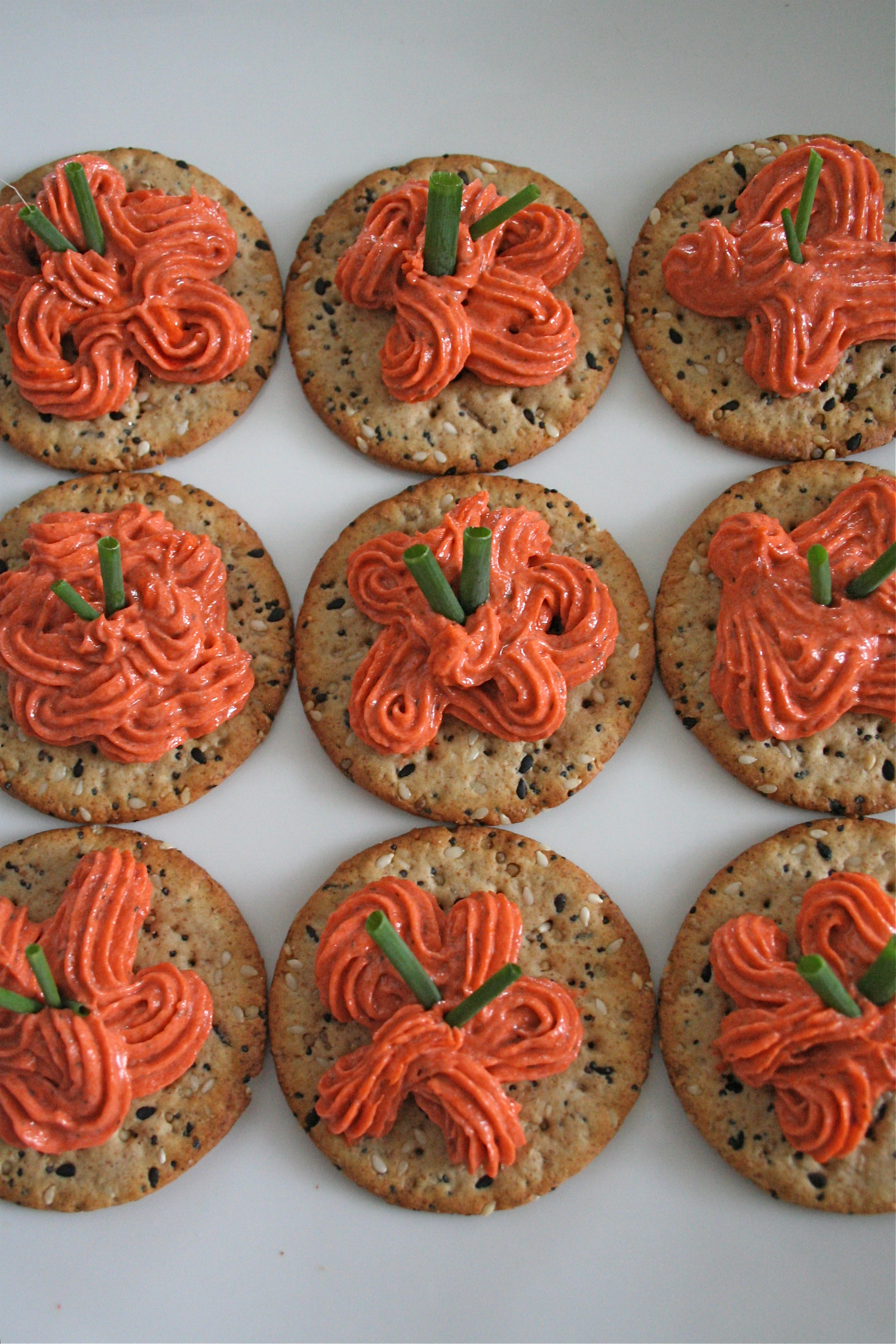 Sometimes I feel a little "iffy" about fish.  Sometimes I force feed it to myself….convincing myself that the essential fatty acids are worth the taste…and that I need the protein….and that it's soooo good for me.  But, let's face it.  Unless it's in a sushi roll with some (hopefully) cream cheese and a lot of wasabi…I'm not a big fish eater.  I'm learning.  I'm trying.  Bear with me.  It's just a fish thing.
So, when Annie had a dinner party a while back and she mentioned that she was having this amazing appetizer for the guests, I secretly thought, "Ewww.  Fish paste."  But, when she had it all piped out and looking so beautiful on the trays, and then when the other guests started raving about how awesome this salmon mousse was, I gave in.
And, so, I got my essential fatty acids that night because I ate about 15 of these little salmon mousse bites.  And, then, when my father purchased a smoker and decided to smoke about 80 fish (not really), freeze some, and give them to me, I thought, "All right.  Game on.  I'm making this salmon mousse."
And the funny thing is, that I know that I am not alone.  When I served this as an appetizer at a get-together, the guests were asking "What is that?  It looks so good!"  And when I said, "Amazing salmon mousse," they immediately thought "Ewww. Fish paste."  But, then, one by one, they tried it, and….they liked it!
So here I am, converting the population of my Midwestern corn-fed friends (one by one) onto this amazing salmon mousse.  Three cheers for essential fatty acids!  (well, and also for the cream cheese in this recipe…..).
Salmon Mousse
Ingredients:
8 oz. smoked salmon, flaked with a fork
8 oz. cream cheese
1 tsp. dried dill weed
Freshly ground black pepper and salt, to taste
1 clove garlic, finely minced
Fresh chives, for garnish (optional)
Instructions:
1.Combine all ingredients in the bowl of a food processor.
2.Pulse repeatedly until all the ingredients are blended and smooth.  (Make sure you taste test it, as mine tasted a little gritty at first)
3. Cover with plastic wrap and chill at least one hour.
4. I then placed everything in a pastry bag fitted with a coupler and a large pastry tip (I used a Wilton 4B) and piped it onto some herbed crackers.
5.  Garnish with some fresh chive or other herb and be prepared to enjoy.
Adapted from Annies Eats, passed on to Annie by Robin C. (her mother-in-law).