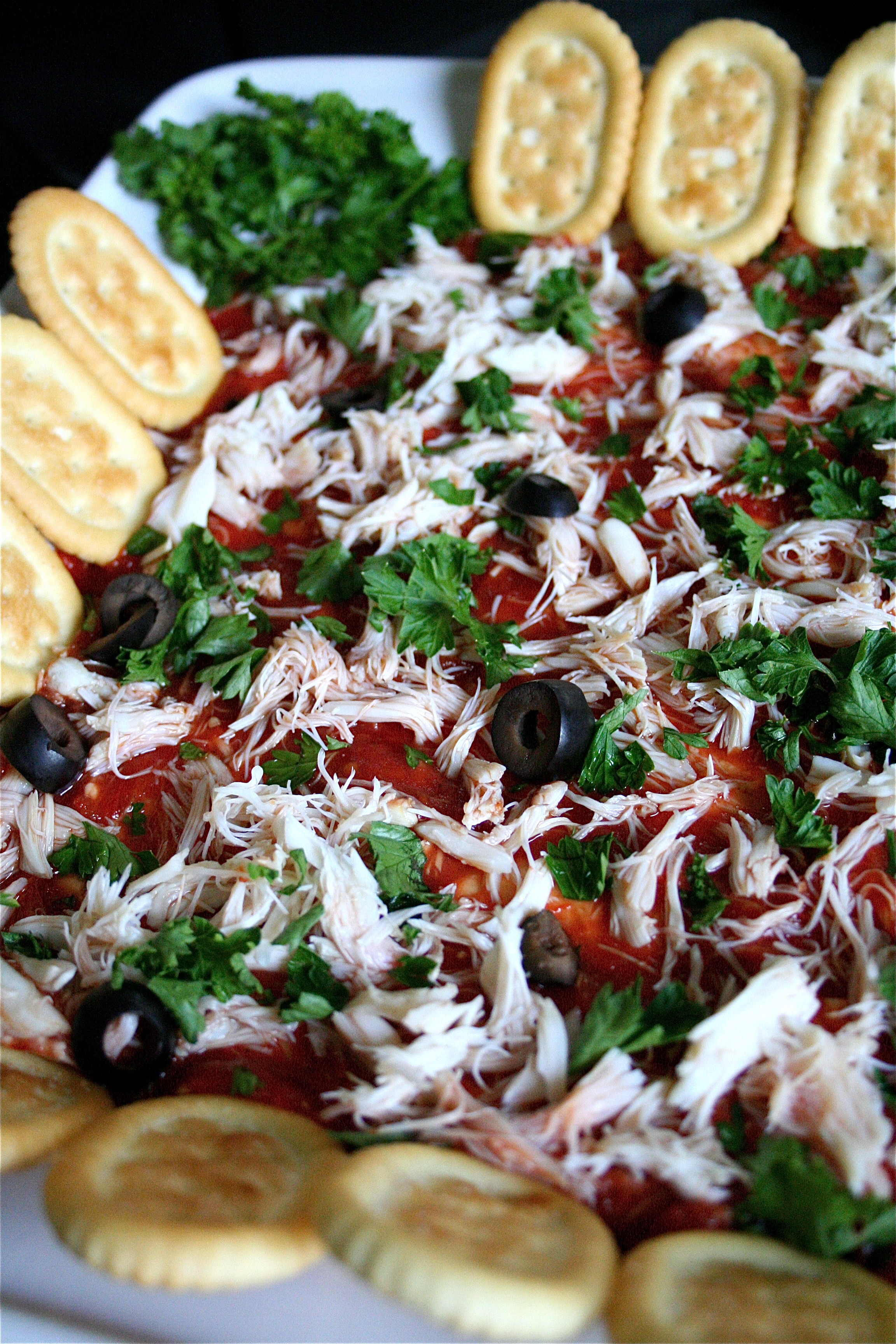 Ok. I know it sounds weird.  I thought so, too.
When I was selecting appetizers for a party, I had a list about a mile long.  I searched through old recipe boxes, binders, and cookbooks.  And then my mom suggested this one.
I thought it was weird.  But she assured me that I had eaten this as a kid and loved it.  She made it for special occasions and holidays.  I had no recollection of this.  Go figure.  Anyways, I did end up making it, and, as soon as I tasted it, I remembered.  I remembered how much I loved this dish.  It's purely awesome.
I made a very large batch and served it with your run-of-the-mill Townhouse crackers.  By the end of the evening, the entire platter was scraped clean.  I am glad I have rediscovered this one.
Pizza Crab Dip
Ingredients
2 tablespoons Worcestershire sauce
2 tablespoons mayonnaise
12 ounces (one and a half packages) of  cream cheese, softened
1 tablespoon finely minced onion
1 tablespoon lemon juice
1 bottle (12 ounces) of chili sauce (I prefer Red Gold brand, found usually near the tomato sauces/ketchup in your grocery store)
1 6.5 ounce can of lump crabmeat (I splurged on the expensive stuff)
Fresh parsley, chopped
Sliced black olives, for garnish
Hot sauce, optional (I used Sriracha)
Crackers, for serving
Instructions
1.  Lightly grease a pizza pan or large platter. I used a 9 x 13″ platter.
2.  In a large bowl, using a hand mixer or stand mixer, combine the Worcestershire  sauce, mayonnaise, cream cheese, onion, and lemon juice until well combined.
3.  Using a spatula, evenly spread the mixture on the greased pan/platter.
4. Spread the chili sauce and hot sauce (if using) over the cheese mixture to form an even layer.
5. Sprinkle with crab meat.
6. Sprinkle the parsley and black olives (if using) over the crab meat.
7.  Cover with plastic wrap and refrigerate for at least 4 hours, but preferably overnight.
8.  Serve with crackers.
Recipe courtesy of Georgia.