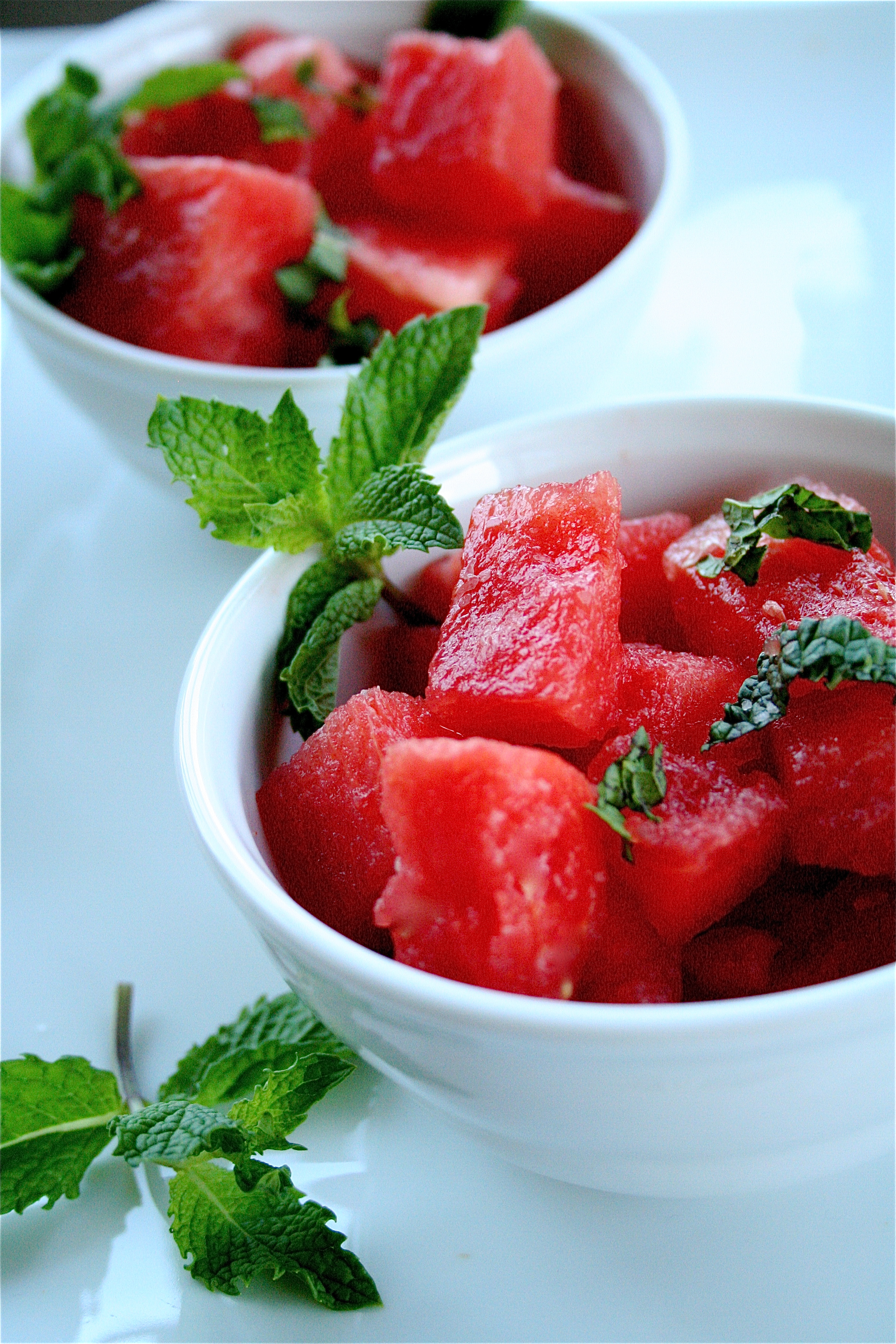 I needed a simple, healthy recipe immediately.  I was in a lazy mood.  I was getting ready to order a pizza.  But then….I realized that I had bought a watermelon a while back, and it was probably going to go bad.
Sidenote: Does anyone out there know when a watermelon goes bad….and is there any way to tell without cutting it open and making a mess?  Just wondering.
Anyways, I remembered that I had bookmarked this recipe in the September 2010 issue of Food and Wine Magazine.  The issue that I had particularly salivated over.  I read it cover to cover in one sitting one Sunday afternoon-oh yes.  It was a beautiful thing.  I had bookmarked several recipes in that issue, some to follow.
This recipe stood out as something extremely simple, healthy, and…even a little exotic?  The combination of the mint, lime, and cayenne intrigued me.  I have had feta on watermelon (like), and I have had salt on watermelon (also like), but these things?  Sure enough, the combination was surprisingly delicious, to say the least.  The cayenne (and, I admit, I like spicy, so I definitely added more than a "pinch") added a late kick to the flavors, while the lime and mint added tangy and sweet hints immediately.  I was generous with my sea salt (as usual), and this just rounded out the entire salad.  Another way to enjoy watermelon?  Absolutely.
Watermelon Salad with Mint and Lime
Servings: 8
Ingredients
8 cups seedless watermelon chunks (1 inch), from a 6-pound melon
1/4 cup fresh lime juice (I used 3 or 4 small  limes)
Pinch of cayenne pepper (Now, when they say "pinch", they probably mean a pinch.  I roughly added about 1/4 teaspoon to 1/2 teaspoon because I was in a rebellious mood.  I thought it was pretty spicy.  I encourage spicing to suit your own tastes.)
1/2 cup mint leaves, torn
Salt (I prefer sea salt, but use whatever kind you have).
Instructions
1. In a large bowl, toss the watermelon with the lime juice and cayenne.
2.  Fold in the mint leaves, season with salt and serve.
Look at that.  Only TWO steps in the entire recipe.  I call that wonderful.
A few things:  Matt Neal, the recipe creator, suggests adding splashes of rum if you are so inclined.  Also, the salad can be made ahead and refrigerated overnight, but wait to add those delicate little mint leaves until right before serving.
Barely adapted from the September 2010 issue of Food and Wine Magazine.