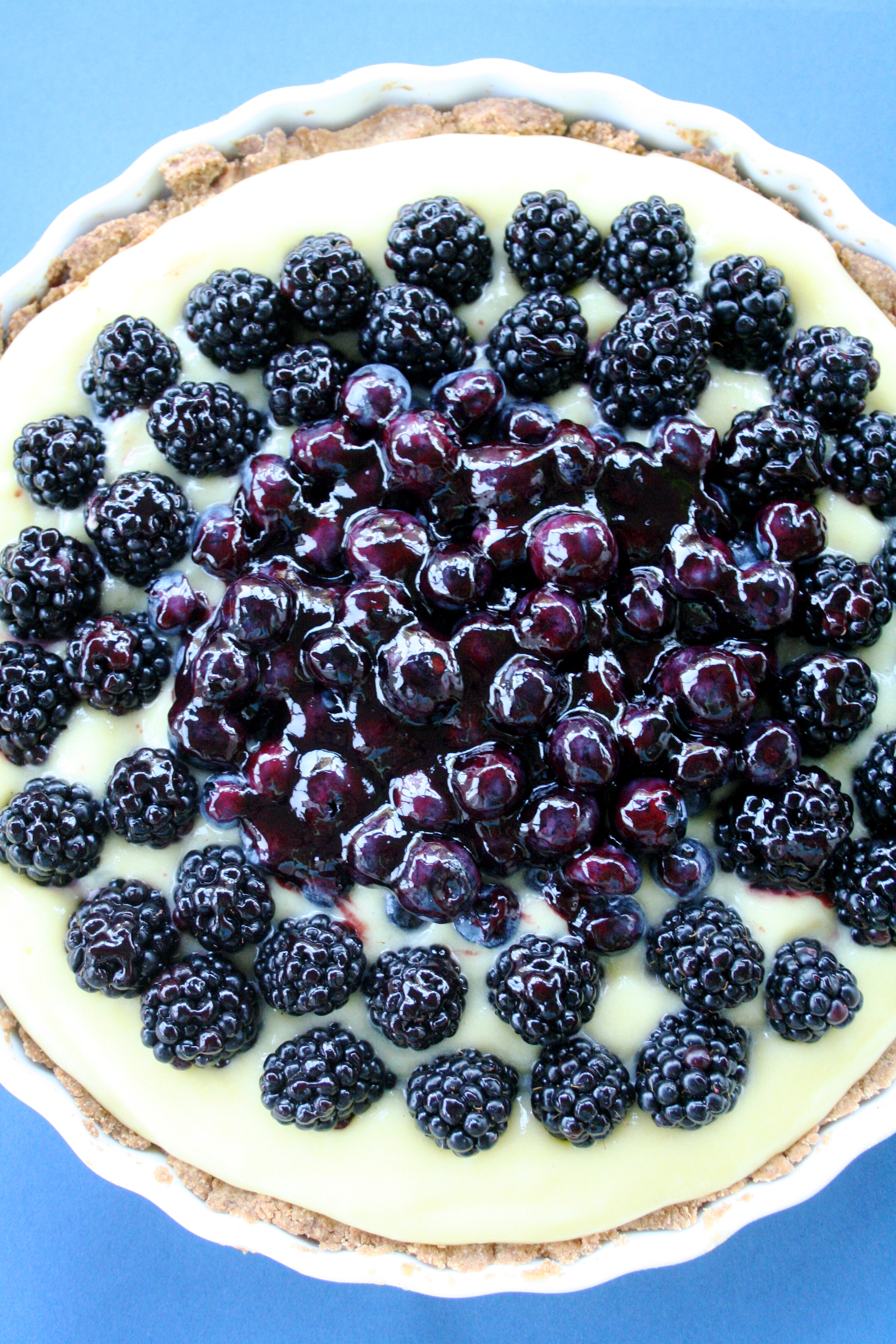 Happy Labor Day 2010!  Hopefully everyone is enjoying the long weekend and spending time with family and friends!
This was one of those recipes that I saw in the magazine and knew that I had to try it immediately, and I thought it would be a perfect addition to a Labor Day cook-out line-up.  The picture looked amazing.  I thought the lime curd would be challenging. Blackberries and blueberries were in season and on sale.  I had to do it.
While I must say that it was very time-consuming, it was not overwhelming.  The hardest part was whisking the curd continuously while making sure that the temperature was still increasing.  The recipe states that this whole process of whisking/increasing the temperature should take about 6 minutes.  It took me more like 16 minutes.  Not that I was counting….but, believe me, that was a lot of whisking.  🙂  Assembling the tart was the most fun part, though.  It was easy and the end product was elegant and beautiful.  It tasted fabulous, as well (and I am not so much of a curd fan).
Now go out there and celebrate the end of summer!  (What I am really celebrating is the beginning of my favorite time of year:  fall.  Which equals amazing fall-inspired meals and fun holidays like Thanksgiving and Halloween.  Aww, yeah!)
Lime Tart with Blackberries and Blueberries
Servings: 8 to 10
Ingredients:
For the lime curd:
3 large eggs
3 large egg yolks
1 cup sugar
3/4 cup fresh lime juice (I used about 10 limes)
6 tablespoons (3/4 stick) unsalted butter, cut into 6 pieces
For the crust:
1/2 cup (1 stick) unsalted butter, room temperature
1/4 cup sugar
1 large egg yolk
1 and 1/4 cups all-purpose flour
1 large pinch of salt
For the topping:
2 6-ounce containers fresh blackberries
1 -ounce container fresh blueberries
1 tablespoon blackberry jam
Instructions
For the lime curd:
1. Set a fine metal strainer over a medium bowl and set aside.
2.  Whisk the eggs, egg yolks, and sugar in another medium metal bowl.  Whisk in the lime juice.
3. Set the bowl over a large saucepan of gently simmering water (do not allow bottom of bowl to touch water.)
4.  Whisk constantly until curd thickens and instant-read thermometer inserted into curd registers 178-180 degrees, about 6 minutes (or 16, as in my case).
5.  Immediately pour the curd through the prepared strainer set over the bowl.
6.  Add butter to warm strained curd; let stand about 1 minute, then whisk until blended and smooth.
7. Press plastic wrap directly over the surface of the curd, covering completely.
8. Refrigerate until cold, about 4 hours.  ***The lime curd can be made up to 2 days in advance. Keep chilled.
For the crust:
1.  Using an electric mixer, beat butter and sugar in medium bowl until well blended, 1 to 2 minutes.
2. Add egg yolk; beat to blend.
3.  Add flour and salt and mix on low speed until mixture resembles large peas.
4.  Using your hands, knead the mixture in the bowl just until dough comes together.
5.  Transfer the dough to a 9-inch-diameter tart pan with a removable bottom.  (I didn't have one, so I used a standard tart pan, and it was fine.)  Break dough into pieces, then press dough evenly up sides and onto bottom of pan.
6.  Cover and chill one hour.  ***The dough can be made one day ahead.  Keep chilled.
7.  Preheat the oven to 350 degrees.  Uncover crust and bake until golden brown, about 35 minutes.  Cool completely in pan on rack.
For the topping:
1. Remove sides from tart pan and place crust on plate.  Spread lime curd evenly in baked crust.
2. Arrange blackberries in 2 concentric circles just inside edge of tart.  Mound blueberries in center of tart.
3.  Place jam in small microwave-safe bowl.  Heat in microwave until jam is melted, about 15 seconds.  Whisk to loosen and blend, adding water by teaspoonfuls if thick.
4.  Brush jam over berries. ****The tart can be made up to 8 hours ahead.  Chill uncovered.
Adapted from Bon Appetit Magazine, June 2010 issue.