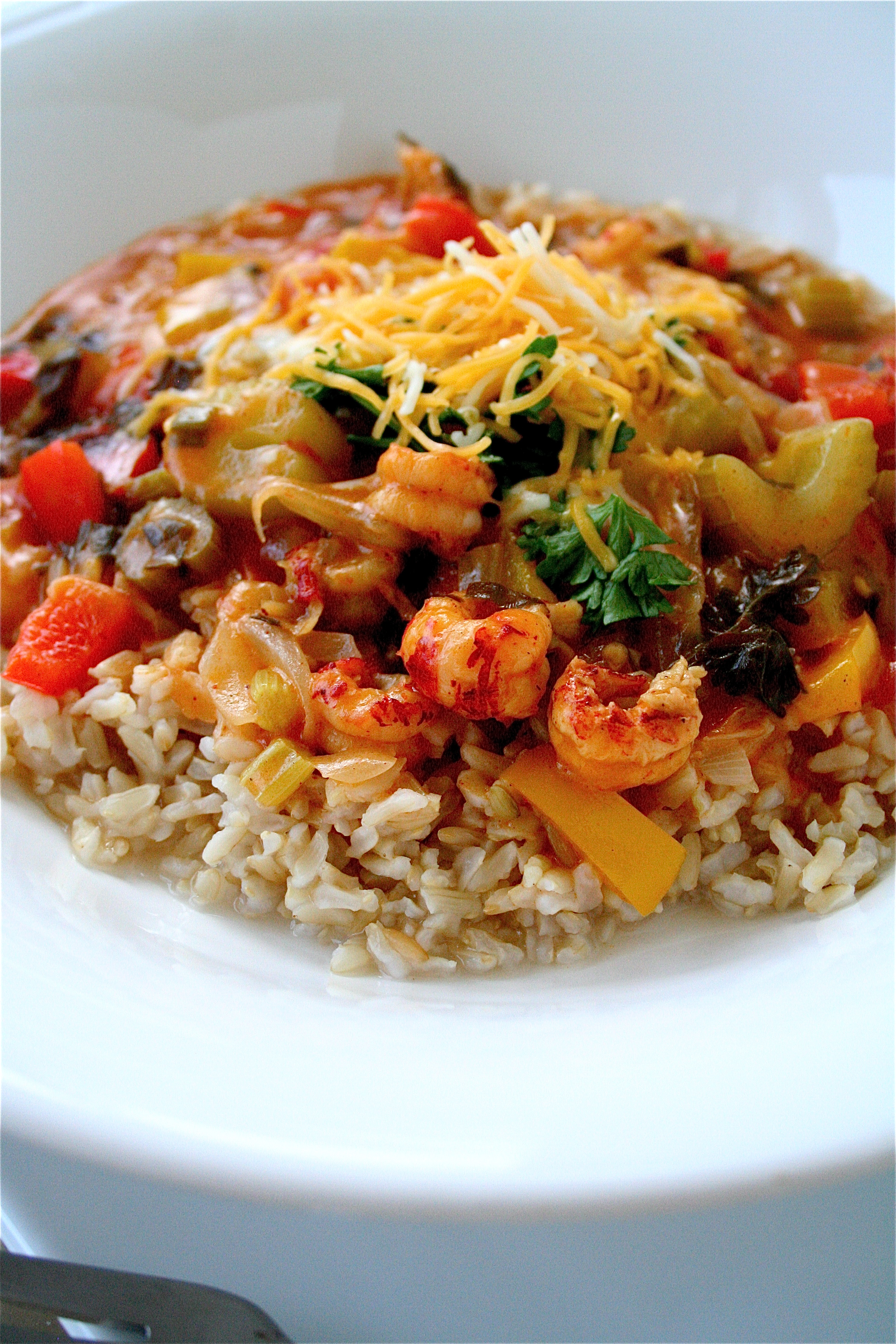 People of central Indiana, join me in celebration of this fabulous entree.  If you are from Indianapolis, you may be aware of a local chain of restaurants called Yats.  Owner Joe Vuskovich has been single-handedly turning on the palates of us corn-fed Midwesterners for years now, offering Cajun and creole-inspired homemade dishes for about $5 a plate.  Served alongside their delicious buttered bread (seriously, what is in that butter?), the menu changes daily.  I love this place.
And, like so many others in Indianapolis, my favorite dish at Yats is their Chili Cheese Etouffee….with extra cheese and onions, please.  I had never tried crawfish until I had eaten here, and I love the sweet, almost lobster-like texture of the crawfish.
So, in an attempt to re-create my favorite dish here in my own kitchen, I have scoured recipes and websites for something that could come close.  I fell a little short, of course, with this one-but it was still delicious.  This version is a little bit more chunky, a little less cheesy, but still a lot of deliciousness!  The recipe I used does not call for cheese, so, it's actually a pretty healthy dish if you don't add the cheese.  I actually found frozen crawfish in the freezer of my grocery store (you know, the one right next to the cornfield), and I taught myself how to remove the shells and devein the crawfish (for someone who can't stand the sight of the live lobsters in the seafood section without wanting to set them all free-this was somewhat of an emotional and moral challenge for me).  You could definitely substitute shrimp, which is what the original recipe calls for.
Chili Cheese Etouffee…inspired by Yats…..it's a good thing.
Chili Cheese Etouffee with Crawfish
Servings: 8
Ingredients:
4 tablespoons butter
1 medium yellow onion, finely chopped
3 green onions, finely chopped
2 bay leaves
1 teaspoon chopped thyme
1/2 cup white wine
1 red bell pepper, cored, seeded and chopped
1 yellow bell pepper, cored, seeded and chopped
3 stalks celery, chopped
3 tablespoons flour
1/2 cup vegetable stock ****The original recipe calls for fish stock, but since this is Indiana and I only wanted to go to one store, I substituted vegetable stock.
1 teaspoon tomato paste
1 teaspoon Tabasco (I substituted Sriracha, of course)
1 teaspoon Worcestershire sauce
4 tomatoes, chopped
1/4 cup parsley, chopped, plus more for garnish
1 pound crawfish, peeled and deveined (I used an entire 3-pound bag from the freezer section….I ended up with a little less than 1 pound of meat in the end).
Optional (but highly recommended):
1 teaspoon chili powder (or more, to taste)
1 cup cheddar cheese, shredded
1 cup Colby Jack cheese, shredded, plus additional for garnish
Rice
Instructions:
1. Melt 1 tablespoon of the butter in a medium pot over medium heat.
2. Add yellow and green onions and cook until fragrant. Add bay leaves, thyme and wine. Cook down for 5 minutes, then add bell peppers and celery. Reduce heat to low.
3. In a separate medium pot, melt the remaining 3 tablespoons butter over low heat. Remove from heat and stir in flour until smooth.
4. Return to heat and cook, stirring constantly for 10 minutes, until roux is dark brown.
5. In a bowl combine vegetable stock and tomato paste, then whisk the mixture into the roux. Pour this into pot with onion mixture and stir well.
6. Add Tabasco (ahem, Sriracha), Worcestershire, tomatoes, parsley and crawfish and cook just until heated through. Remove and discard bay leaves.
7. Add shredded cheese and chili powder and stir until fully melted.
8. Serve étouffée over steamed white rice (or brown, just to be a little more healthy).  Garnish with extra onions, cheese, or parsley.
P.S.  It's even better the next day…….
Adapted from Whole Foods.