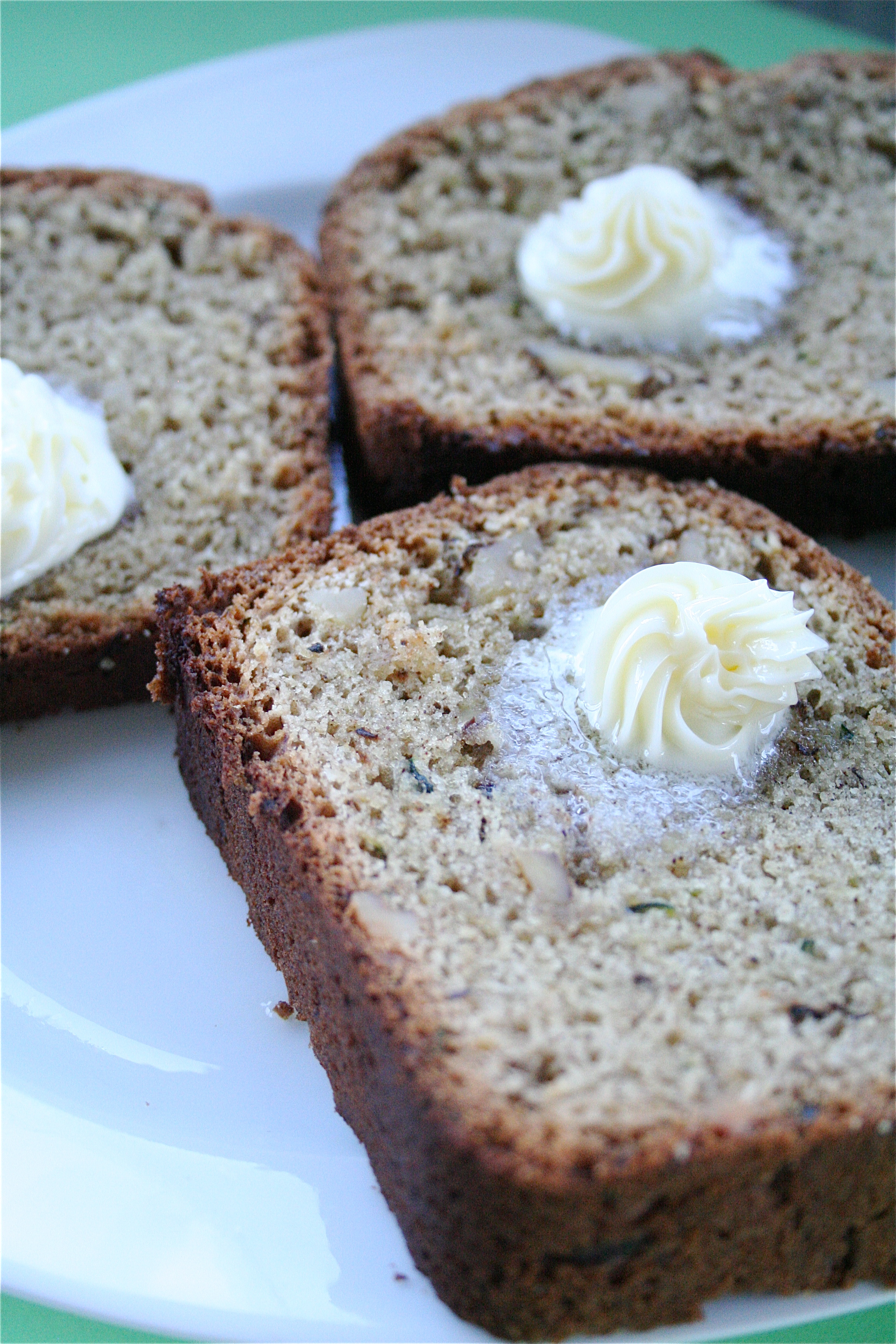 Everyone has a go-to recipe for zucchini bread.  It's a common thing, I know.  Maybe your recipe has been passed down to you from generations before you, maybe a friend passed it along, or maybe you have a newfound favorite from a brand new cookbook.  All I know is that when I was growing up, my mom had this amazing vegetable garden in the backyard.  One of my favorite things to do as a kid was to go out and check on the vegetables.  We attempted everything from pumpkins to tomatoes to green beans.  And, oh yes, there were these giant zucchinis.  They were my favorite to pull out of the garden.  We never went without zucchini in the late summer…hence, there was a lot of zucchini bread.
But, nowadays, I don't have a go-to zucchini bread recipe.  I was determined to find one after a family friend brought over a GIANT zucchini.  (ummm, it was enormous.)
Baking Illustrated (one of the best gifts I have ever gotten, by the way…) is my saviour.  If I am having trouble finding the perfect recipe….it's my go-to baking guide.  And since I needed a go-to recipe, this made sense.
The texture of this bread is amazing.  Dense enough to be considered a dessert, but light enough to still count as a side or a breakfast on-the-go.  The spices pop.  The zucchini taste is subtly there.  Oh, dear.  I'm hungry.
So, if you don't have a go-to zucchini bread recipe, here is mine.  Let's share.
Zucchini Bread
Makes: One 9-inch loaf
Ingredients:
2 cups unbleached all-purpose flour, plus more for dusting the pan
1 pound zucchini, washed and dried, ends and stems removed, cut in half lengthwise and seeded (if using a larger zucchini), each half cut into 1-inch pieces.  OR-you can shred the halved zucchini on the large holes of a box grater****Confused yet?  Because I was.
3/4 cup sugar
1/2 cups pecans or walnuts, chopped coarse
1 teaspoon baking soda
1 teaspoon baking powder
1/2 teaspoon salt
1/4 cup plain yogurt
2 large eggs, beaten lightly
1 tablespoon juice from one lemon
6 tablespoons (3/4 stick) unsalted butter, melted and cooled
Instructions
1.  Adjust and oven rack to the middle position and heat the oven to 375 degrees..  Grease the bottom and sides of a 9 by 5-inch loaf pan; dust with flour, tapping out the excess.
2.  In the bowl of a food processor fitted with the metal blade, process the zucchini and 2 tablespoons of the sugar until the zucchini is coarsely shredded, twelve to fifteen 1-second pulses.
3. Transfer the mixture to a fine-mesh strainer set at least 2 inches over a bowl and allow to drain for 30 minutes. (Or, you can use your shredded zucchini here and skip to #4.  See ingredient list above.)
4. Toss shredded zucchini with two tablespoons of sugar  and drain.****A very important step.  You don't want your bread to be soggy.
5.  Meanwhile, spread the nuts on a baking sheet and toast until fragrant, 5 to 7 minutes.  Transfer the nuts to a cooling rack and cool completely.
6. Transfer the nuts to a large bowl; add the flour, baking soda, baking powder, and salt, and whisk until combined.  Set aside.
7. Whisk together the remaining 1/2 cup plus two tablespoons sugar, yogurt, eggs, lemon juice, and melted butter in a 2-cup glass measure until combined.  Set aside.
8.  After the zucchini has drained, squeeze the zucchini between several layers of paper towels to absorb excess moisture.  Stir the zucchini and the yogurt mixture into the flour mixture until just moistened.  Scrape the batter into the prepared pan and smooth the surface with a rubber spatula.
9. Bake until the load is golden brown and a toothpick inserted into the center comes out clean, 55 to 60 minutes, rotating the pan halfway through baking.  Cool in the pan for 10 minutes, then transfer to a wire rack and cool for at least 1 hour before serving.
Barely adapted from Baking Illustrated.