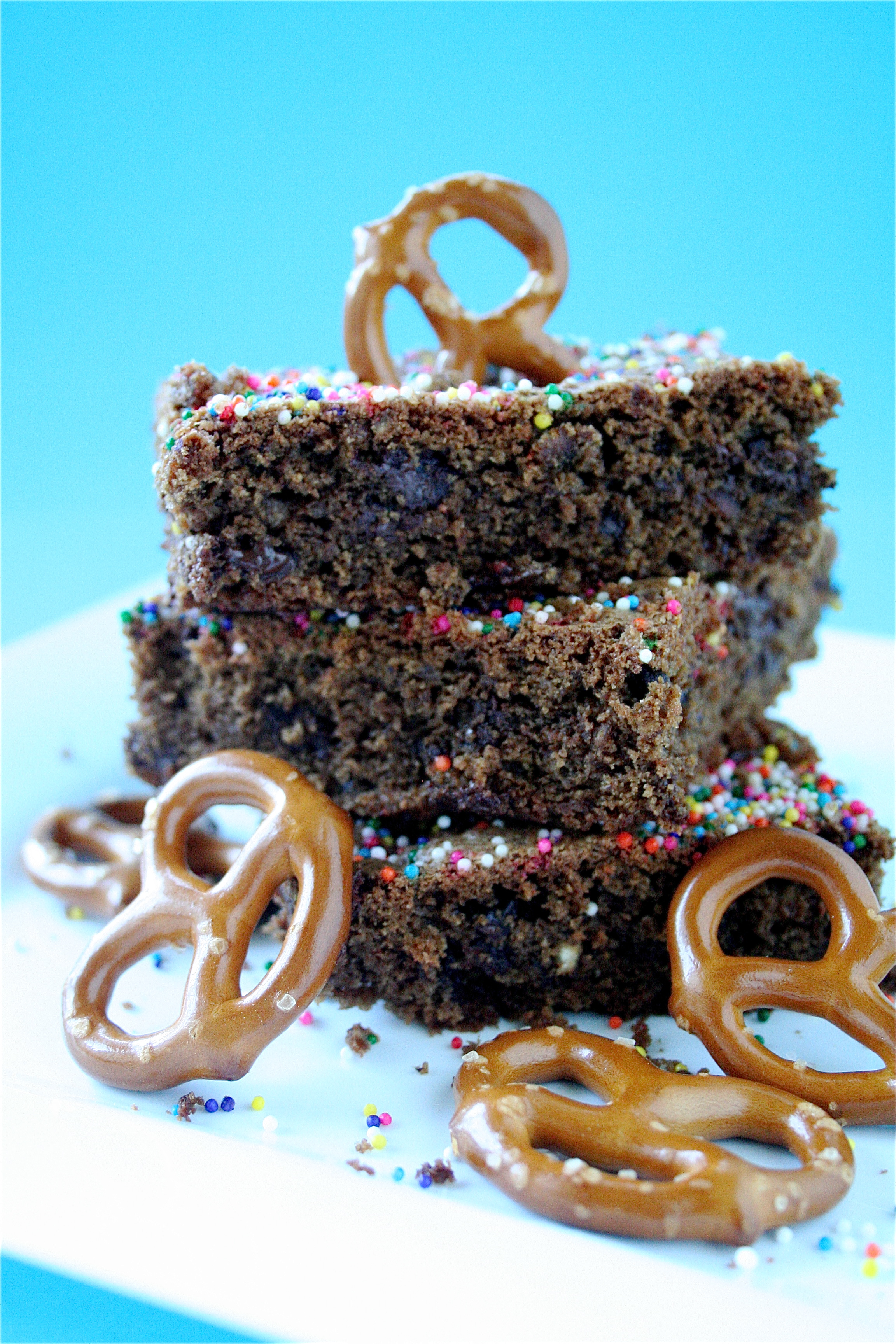 So this is pretty awesome.  I saw this recipe as I was going through my old issues of Food and Wine Magazine that I had saved.  I knew at once that I needed to make them.  Sweet and salty?  Sign me up!
I will say this:  I messed this recipe up a little.  When I added the pretzels (already chopped) to the batter, I was going too fast and didn't stir the pretzels as recommended, so I over-mixed with my mixer and the pretzel bits ended up being really tiny.  I wish that I would have been a little less vigorous because I think I would have enjoyed a more chunky cookie bar.  But, either way, I ate these directly out of the pan….no cutting necessary.  Yes, I admit it.  I just broke off pieces from the pan because I was too chocolate-crazy to cut them into pieces…and the ones I photographed?  Consumed immediately after taking the pictures…..:)
Chocolate Chip-Pretzel Bars
Makes: 2 dozen 2-inch squares
Ingredients
2 cups all-purpose flour
1 teaspoon baking powder
1/2 teaspoon salt
1 and 1/2 sticks unsalted butter, softened
1 cup light brown sugar
1/2 cup sugar
2 large eggs
2 teaspoons pure vanilla extract
1 12-ounce bag bittersweet chocolate chips
1 and 1/2 cups mini pretzels, coarsely chopped
Sprinkles, for garnish (optional)
Instructions
1. Preheat the oven to 350 degrees.
2. Line a 9 x 13 inch metal baking pan with parchment paper.
3. In a bowl, whisk the flour, baking soda and salt.
4. In a large bowl, using a mixer, beat the butter with both sugars at medium speed until light, one minute.
5. Beat in the eggs and vanilla.
6. At low speed, beat in the dry ingredients.
7. Stir in the chips and the pretzels.
8. Spread the batter in the pan and top with the sprinkles.
9.  Bake for 30 minutes, until golden; the center will still be a little gooey (just the way it should be, right?).
10. Transfer the pan to a rack and let cool completely.
Source: Food and Wine Magazine, August 2009 issue