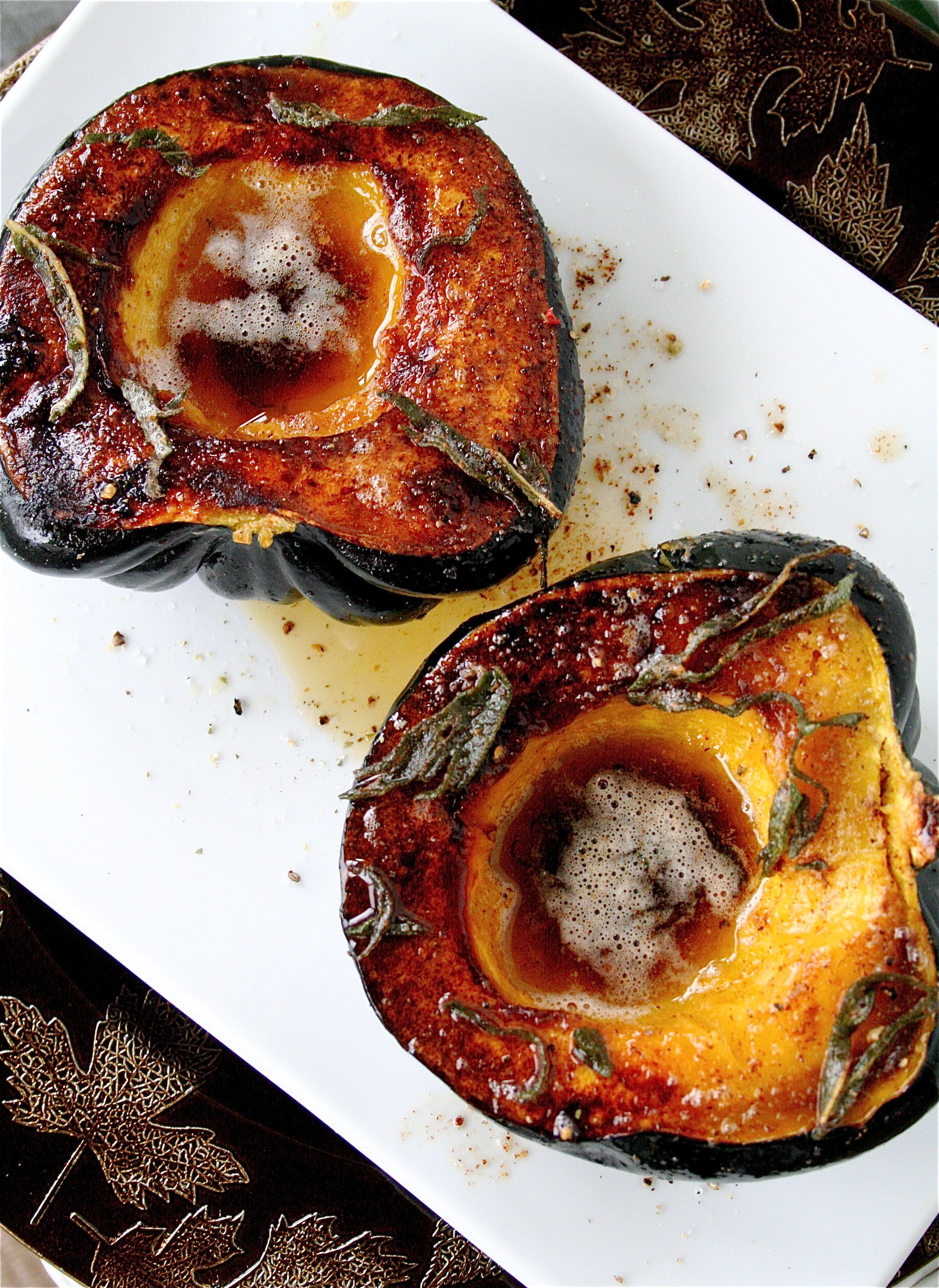 I could not wait to tell you about this recipe.  Not only is the squash part of it healthy and delicious, but the addition of the sage really makes a difference in the taste.  (The browned butter, well, not so healthy, but I suppose that you could decrease the amount of butter if you want to cut back a little).
I decided to use an acorn squash for the recipe, but you could substitute really any type of winter squash.  I immediately went for my comfort zone (butternut), but then I decided to branch out a little and try something new.  What the heck?  It's that time of year.
The recipe was simple.  The most challenging part was bisecting the squash….I ended up using a very sharp knife (or even a cleaver would do well, if you happen to have one) and a mallet to push the blade down through the squash so that I wouldn't cut myself.  Once I got the hang of it, it was pretty easy, but I recommend being extra cautious.  Regardless, roasting the squash was simple…just pop it in the oven for about 50 minutes and let it cool a bit.  The browned butter part was also simple…took about 5 minutes total.  The colors, the texture, the sage….oh my.  I will definitely be making this again in the very near future.
Roasted Acorn Squash with Browned Butter and Sage
Servings:  Approximately 4
Ingredients:
2 tablespoons extra-virgin olive oil
1 medium winter squash, halved lengthwise and seeded
6 tablespoons (3/4 stick) unsalted butter
6 medium fresh sage leaves, sliced thin
Salt and ground black pepper
Instructions:
1. Adjust an oven rack to the lower-middle position and heat the oven to 400 degrees.
2. Line a rimmed baking sheet with aluminum foil.
3. Brush the oil on the foil and the cut sides of the squash.
4. Roast until a skewer inserted in the squash meets no resistance, about 40-50 minutes.  (Mine took 50 minutes, and I made sure that it was super soft…had a bad experience with a butternut squash once by undercooking it and then trying to serve it to 3 other people….not so great……)
5.  When the squash is almost done, melt the butter in a small skillet over medium heat.
6. Add the sage and cook, swirling the pan occasionally, until the butter is golden brown and the sage is crisp, about 4 to 5 minutes.  Remove the skillet from the heat.
7.  Remove the squash from the oven and turn cut-side up and season with salt and pepper.
8.  Drizzle or brush with the sage butter sauce and serve immediately.
Congratulations, you've just entered a world of deliciousness.
Source:  The Best New Recipes.