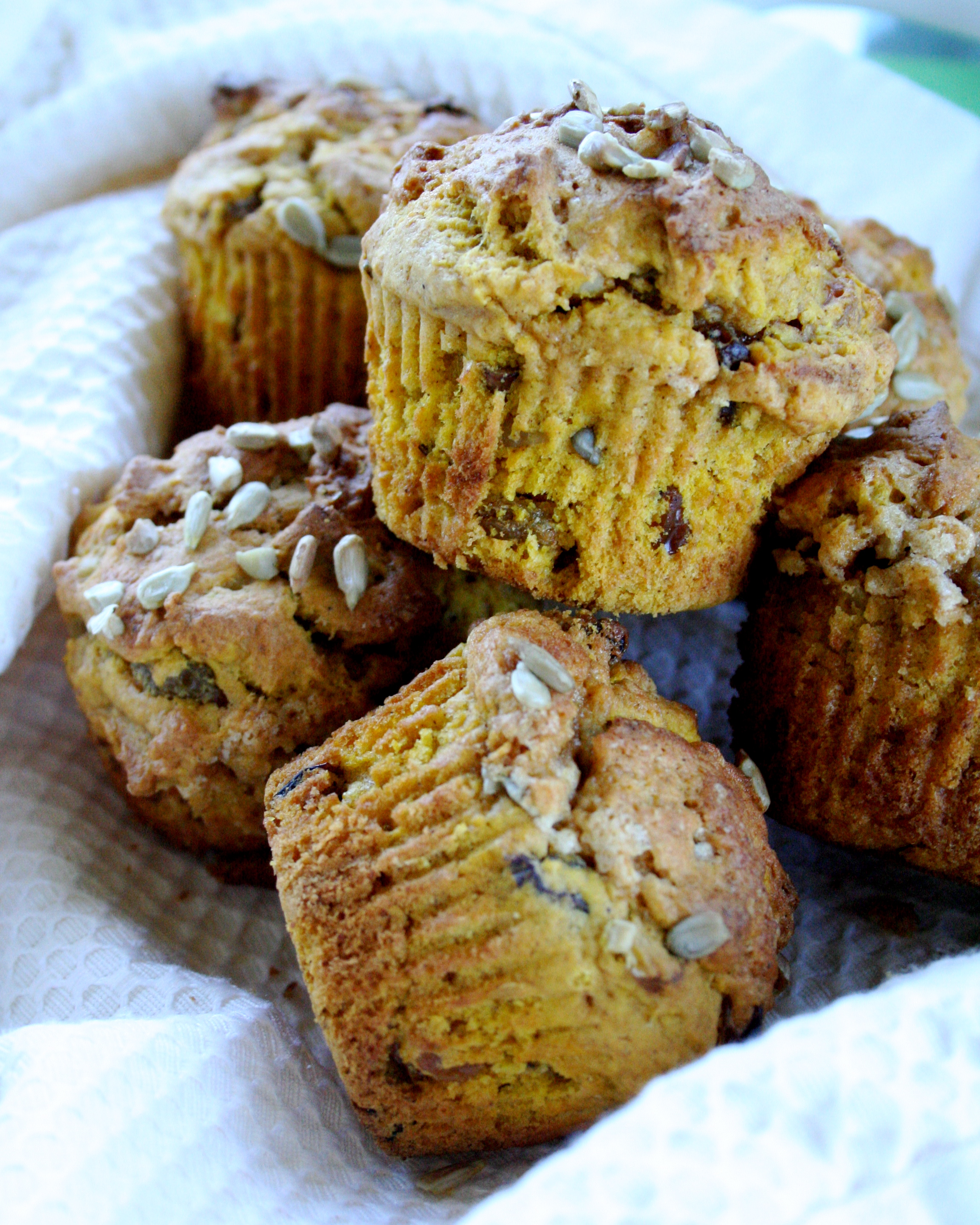 Hello, Fall.
These muffins are the first in a series of pumpkin-inspired recipes that I have been dying to make.  Thank God that my local grocery store has now stocked its baking aisle with canned pumpkin-I actually had some cans stocked away from last Thanksgiving in my pantry, but I made a point to stock up on several cans while I was there today.  And I was not alone.  Several customers were loading their carts with the stuff.  Get yours while you can!  🙂
Anyways, these muffins deserve their place on my list of favorite muffins of all time.  The golden raisins, the spices, the walnuts….and especially the sunflower seeds on top-all make these the perfect Fall breakfast or brunch addition.  I served these warm with regular unsalted butter; however, I wish I would have had the foresight to have made a cinnamon-butter or pumpkin butter to spread on top.  I'm sure that they would have been even more delicious that way.
It's been absolutely beautiful here in Indiana-the leaves are starting to change colors, and the nights are cooling off.  While I am definitely NOT ready for winter, I am going to celebrate Fall for as long as I can.
Pumpkin Muffins
Servings: 12 muffins
Ingredients:
2 cups all-purpose flour
2 teaspoons baking powder
1/4 teaspoon baking soda
3/4 teaspoon ground cinnamon
1/2 teaspoon ground ginger
1/8 teaspoon freshly grated nutmeg
Pinch of ground allspice
1 stick (8 tablespoons) unsalted butter, at room temperature
1/2 cup sugar
1/4 cup (packed) light brown sugar
2 large eggs
1/2 teaspoon pure vanilla extract
3/4 cup canned unsweetened pumpkin puree
1/4 cup buttermilk
1/2 cup moist, plump golden raisins
1/2 cup chopped pecans or walnuts
About 1/3 cup unsalted raw sunflower seeds, for topping
Instructions:
1. Center a rack in the oven and pre-heat the oven to 400 degrees.
2. Line a muffin or cupcake pan with 12 liners.
3.  Whisk together the flour, baking powder, baking soda, salt, and spices.
4. Working with a stand mixer fitted with the paddle attachment, beat the butter at medium speed until soft.
5.  Add both the sugars to the butter and continue to beat until light and smooth.
6.  One by one, add the eggs, beating for a minute after the eggs are incorporated, then beat in the vanilla.
7.  Lower the mixer speed and mix in the pumpkin and buttermilk.
8. With the mixer at low speed, add the dry ingredients in a steady stream, mixing only until incorporated.  (You can alternatively use a rubber spatula for this last part to avoid over-mixing.)
9.  Stir in the raisins and nuts.
10. Divide the batter evenly among the muffin cups and sprinkle a few sunflower seeds over the top of each muffin.
11.  Bake for about 25 minutes, or until a thin knife inserted into the center of the muffins comes out clean.  Transfer the pan to a rack and cool the muffins for 5 minutes in the pan, then carefully remove each one from its mold and finish cooling on the rack.
Happy Sunday!