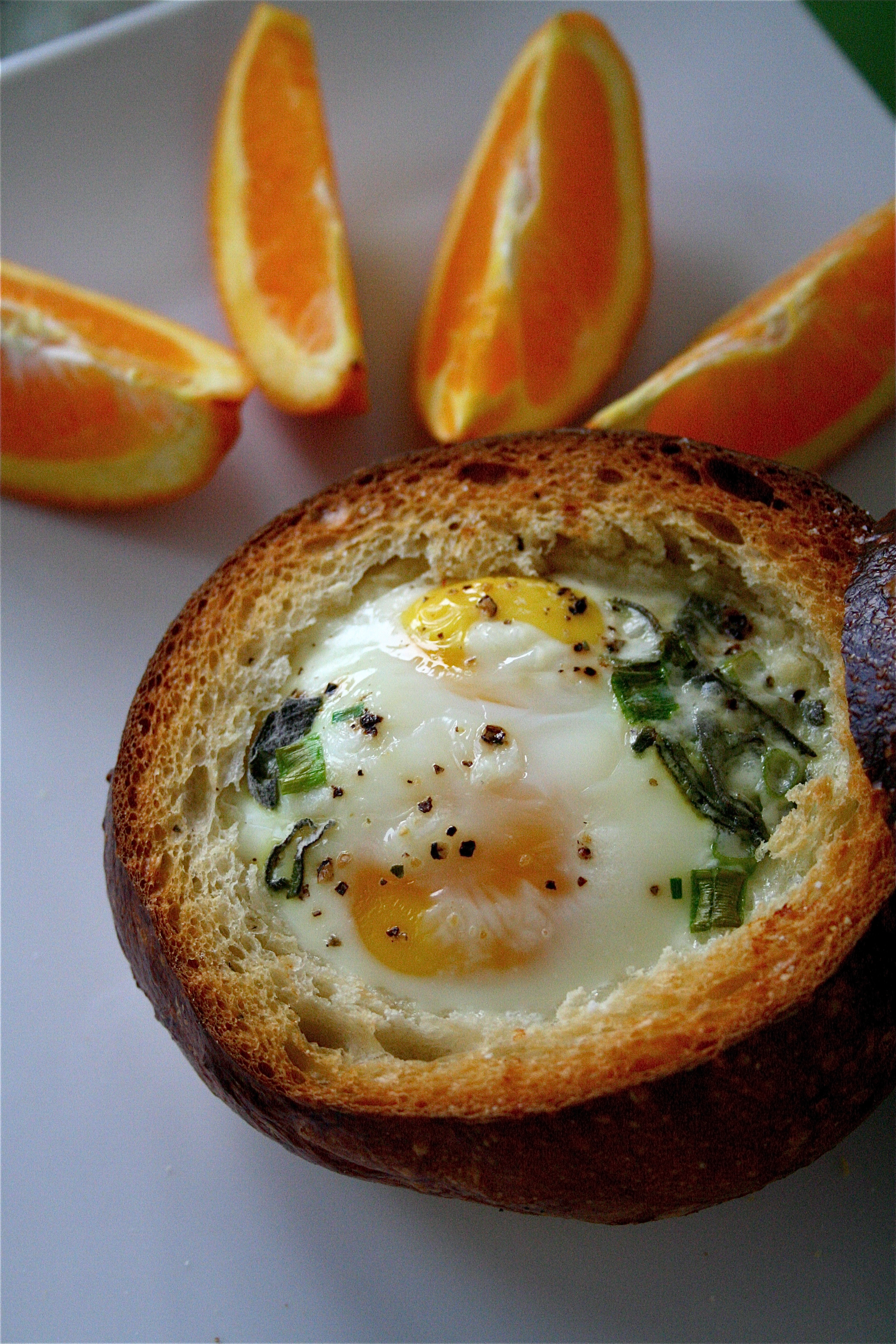 Happy Weekend.
I'd been thinking about making these for a while now.  I used to be a huge breakfast person.  I know it's bad, but nowadays I usually just drink coffee in the mornings and eat lunch later instead.  All the excuses I ever had about making a breakfast do not apply with these baked eggs, though.
This recipe is simple.  The baking time isn't too long.  They are delicious.  And the presentation?  They look pretty fabulous for only taking 5 minutes to prepare.
Baked Eggs with Brie and Herbs
Servings: 3
Ingredients:
3 large sour dough bread bowls (if I had enough time, I would have tried making them, however, I purchased these at my local Panera)
6 eggs
3 teaspoons heavy cream
2 teaspoons Brie****I eyeballed this.  I bought a Brie "log" in the cheese section of my grocery store, and I cut the log into thin slices.  I put enough cheese in the bowls to completely cover the bottoms.  You can add as much or as little as you like.
2-3 tablespoons of chopped green onions
2-3 tablespoons of fresh sage, chopped
Salt and pepper, to taste
Instructions:
1. Pre-heat the oven to 350 degrees.
2. Cut the tops off of the bread bowls and hollow out the bowls, if not already done and place on a rimmed baking sheet.
3. In each bowl, place your desired amount of cheese to cover the bottom of the bowls.
4. Crack two eggs into each bowl.
5. Place a teaspoon of the heavy cream over the eggs.
6.  Sprinkle with herbs and salt and pepper.
7.  Bake in an oven for about 20 minutes or so, until the eggs are completely cooked.  (**My oven is a little challenged, so I ended up baking mine for about 30-just keep an eye on them).
8.  In the last 5 minutes or so, place the tops of the bread bowls on the baking sheet to toast.
Adapted from My Recipes.