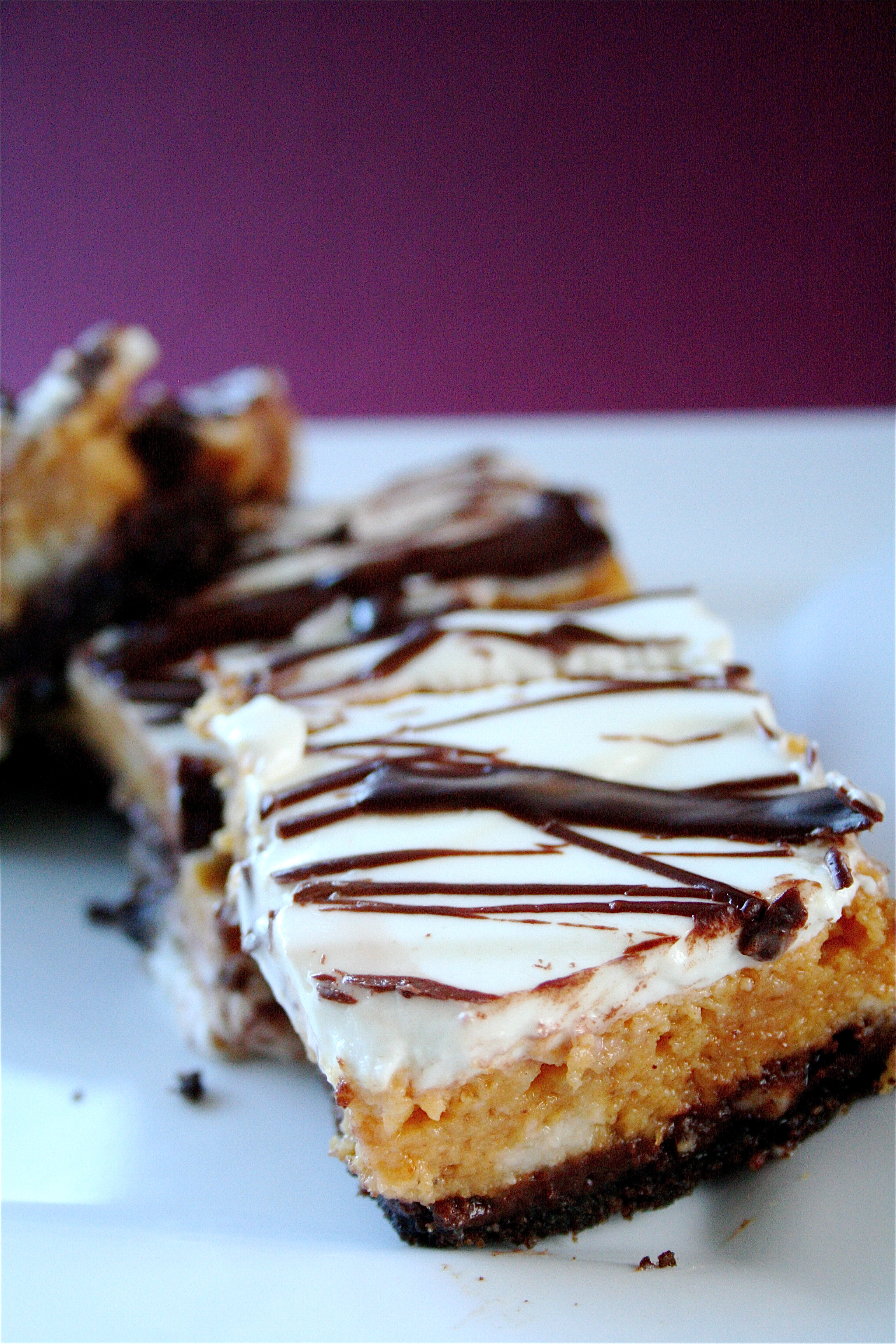 Pumpkin?  Check.  Cheesecake? Check.  Chocolate?  Check.
Allow me to introduce you to the perfect dessert for this time of year.
The pumpkin chocolate cheesecake bar aka a little bit of perfection.
Not only are these straightforward to put together (albeit a little time consuming), they are one of the best Fall desserts I have ever made.  These will probably be making a comeback at my Thanksgiving dinner this year.  Yes, they make my official "Thanksgiving Meal" cut, which is a pretty big deal.
I changed the recipe a bit to suit my own selfish needs. I made a chocolate version of the crust, and I decided to add a chocolate drizzle on top.  I bet you could add some nuts, too, which would be pretty good as well.
I hope you make this.  You will not be disappointed.
Pumpkin Chocolate Cheesecake Bars
Servings: 24 bars
Ingredients:
For the crust:
1 and 1/4 cups chocolate graham cracker crumbs***I pulsed mine in a food processor until fine
1/4 cup sugar
1/3 cup melted unsalted butter
For the filling:
2 8-ounce packages cream cheese, softened
1 and 3/4 cups sugar
3 large eggs
1 cup canned pumpkin
1/2 teaspoon pumpkin pie spice
1/2 teaspoon vanilla
1/4 teaspoon salt
6 ounces (half a bag) of semisweet chocolate chips
2 tablespoons unsalted butter
1 and 1/4 cups sour cream
1/4 sugar
Instructions:
1. For the crust: Pre-heat the oven to 325 degrees.  Lightly grease a 13x9x2-inch baking pan.
2. In a large bowl, stir the together the graham cracker crumbs and sugar.
3. Add the melted butter; mix well.
4. Press the crumb mixture evenly into the bottom of the prepared pan.
5. For the filling: In a large mixing bowl. beat the cream cheese and the 1 and 3/4 cups sugar with an electric mixer on medium speed until combined.
6. Add the eggs, one at a time, beating on low speed after each addition until just combined.
7. Stir in pumpkin, pumpkin pie spice, vanilla, and salt.
8. Transfer 1 and 1/4 cups of the filling to another medium bowl.  Set both bowls aside.
9. In a small saucepan, heat and stir the chocolate and butter over low heat until smooth.
10. Stir the melted chocolate mixture into the 1 and 1/4 cups filling.
11.  carefully spread the chocolate filling over the graham cracker crust and bake for 15 minutes.
12. Carefully pour the remaining pumpkin filling over the baked chocolate layer, spreading evenly.
13.  Bake for 40 t0 45 minutes more or until mixture is slightly puffed around eggs and just set in the center. Let stand in pan on a wire rack for 30 minutes.
14.  Meanwhile, in a small bowl, stir together the sour cream and 1/4 cup sugar.  Cover; let stand at room temperature while cooling.
15. Gently spread the sour cream mixture over the partially cooled baked mixture; cool completely.
16.  Cover and chill at least 4 hours.
Adapted from: Better Homes and Gardens: The Ultimate Cookie Book.