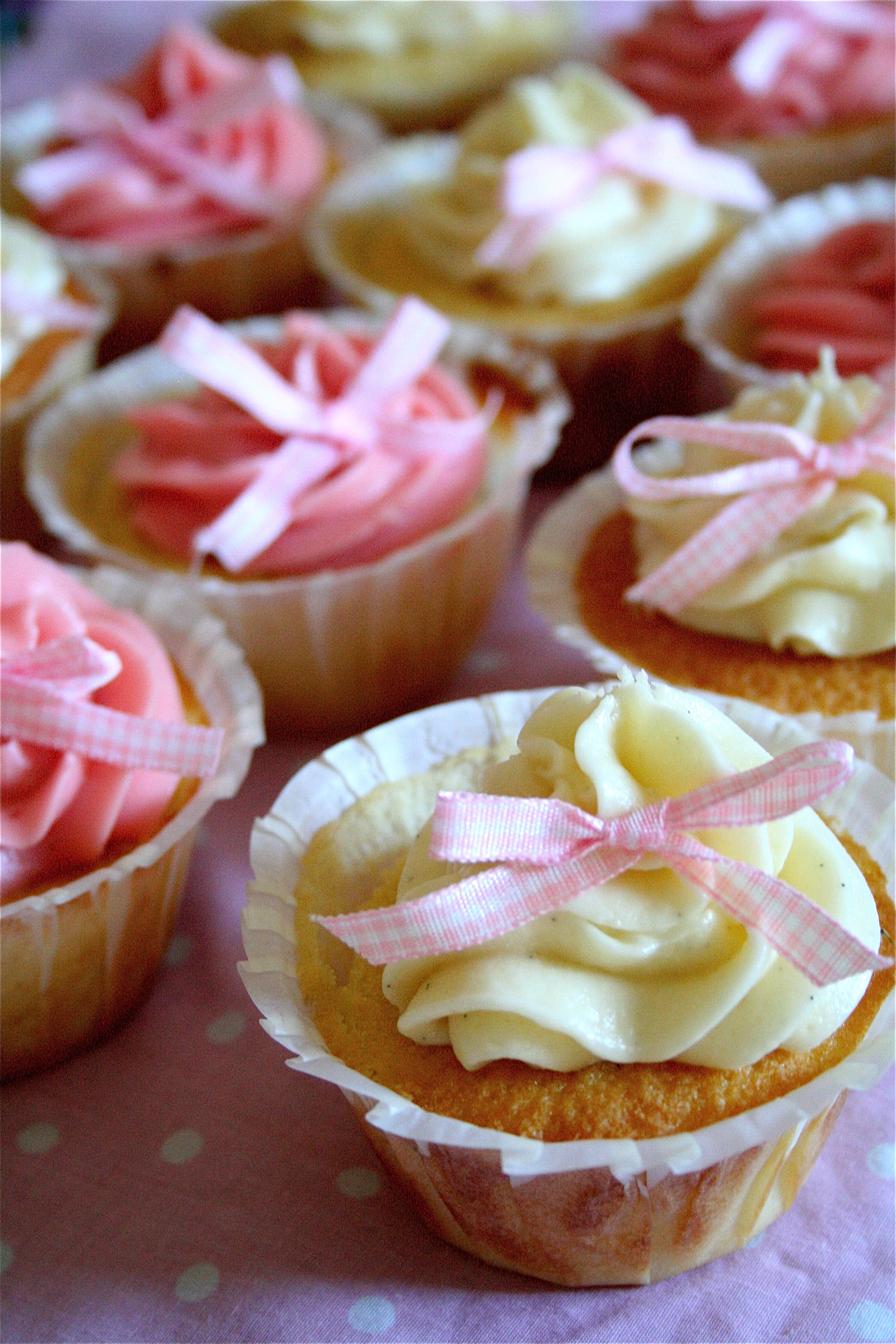 My friend, Bridget, is having a baby.  A little girl.  But, if you ask Bridget's perfectly healthy identical twin sons, Max and Tyler, who are 2, what is in her belly, they will tell you "a Baby Robot."
I find this to be one of the cutest and funniest stories of all time.
The point is, Bridget's boys were born severely premature at 26 weeks and 1 day-and, because of their early arrival, Bridget never had a baby shower for her first pregnancy. Well, it was not the case this time.  Bridget's sisters threw her a very elegant and beautiful baby shower a few weeks back, and I had the honor of providing cupcakes for the occasion.  Bridget is a friend from way, way back from the land of college.  I may have met her on the first day I moved into the dorms.  Regardless, Bridget has always been a true blue friend-no matter what the distance, time, or space is-we always pick right back up where we left off.  And I am astonished by her strength and patience, and I am so so happy that this little baby girl has officially entered the land of "full term pregnancy".
I am "borrowing" this recipe from Annie.  (You know you can never go wrong with an Annie cupcake.)  She made these vanilla bean cupcakes for our friend, Alden, when we threw a little impromptu baby shower for the arrival of his son.  I immediately thought I had died and gone to heaven.  The difference between vanilla extract (what I was used to) and a true vanilla bean is amazing.  The flavor pops, it's sweet and light, and almost a little flowery.  I ended up doubling the recipe for the buttercream to make sure I had enough frosting for each cupcake.  Vanilla beans may be expensive, but they are so worth the cost.  Just be careful slicing them-they can be a little hard to slice sometimes. 🙂
Congratulations to Bridget and little "Baby Robot!"  I can't wait to meet you!
Vanilla "Baby" Bean Cupcakes with Vanilla Bean Frosting
Servings:  Approximately 24
Ingredients:
For the cupcakes:
3 cups cake flour
1 tbsp. baking powder
½ tsp. salt
1 vanilla bean, split lengthwise***I recommend using the highest quality you can find for ease of removing the seeds.
16 tbsp. unsalted butter, at room temperature
2 cups sugar
5 large eggs, at room temperature
1¼ cups buttermilk, at room temperature
1 tbsp. vanilla extract
For the frosting:
20 tablespoons unsalted butter, softened (yep, that's a whole lot of butter)
1 vanilla bean, halved lengthwise
2 and 1/2 cups confectioners' sugar
Pinch table salt
1 teaspoon vanilla extract
2 tablespoons heavy cream
Food coloring, to desired color
Instructions:
For the cupcakes:
1. Preheat the oven to 350° F and line two cupcake pans with paper liners.  Set aside.
2. In a medium mixing bowl, combine the cake flour, baking powder and salt.  Whisk together and set aside.
3. Add the butter to the bowl of an electric mixer fitted with the paddle attachment.
4.Scrape the vanilla bean seeds into the bowl of the mixer with the butter and discard the pod.
5. Beat on medium-high speed for 3 minutes, until light and creamy in color.  Scrape down the sides of the bowl and beat for one more minute.
6. Add the sugar to the butter mixture, ¼ cup at a time, beating 1 minute after each addition.
7. Mix in the eggs one at a time until incorporated.  Scrape down the sides of the bowl after each addition.
8. Combine the buttermilk and the vanilla extract in a liquid measuring cup.
9. With the mixer on low speed, add the dry ingredients alternately with the wet ingredients, beginning and ending with the dry ingredients and mixing just until incorporated.  Scrape down the sides of the bowl and mix for 15 seconds longer.
10. Divide the batter between the prepared paper liners, filling each about 2/3 of the way full.
11. Bake 18-22 minutes, or until a toothpick inserted in the center comes out clean.
12. Allow to cool in the pans 5-10 minutes, then transfer to a cooling rack to cool completely.
For the frosting:
1.In standing mixer fitted with whisk attachment, beat butter at medium-high speed until smooth, about 20 seconds.
2. Using paring knife, scrape seeds from vanilla bean into butter and beat mixture at medium-high speed to combine, about 15 seconds.
3. Add confectioners' sugar and salt; beat at medium-low speed until most of the sugar is moistened, about 45 seconds.
4. Scrape down bowl and beat at medium speed until mixture is fully combined, about 15 seconds; scrape bowl, add vanilla and heavy cream, and beat at medium speed until incorporated, about 10 seconds, then increase speed to medium-high and beat until light and fluffy, about 4 minutes, scraping down bowl once or twice.
5. Add desired food coloring to mixture.
6.  Using a pastry bag and your desired tip shape, pipe the frosting mixture onto each (completely) cooled cupcake.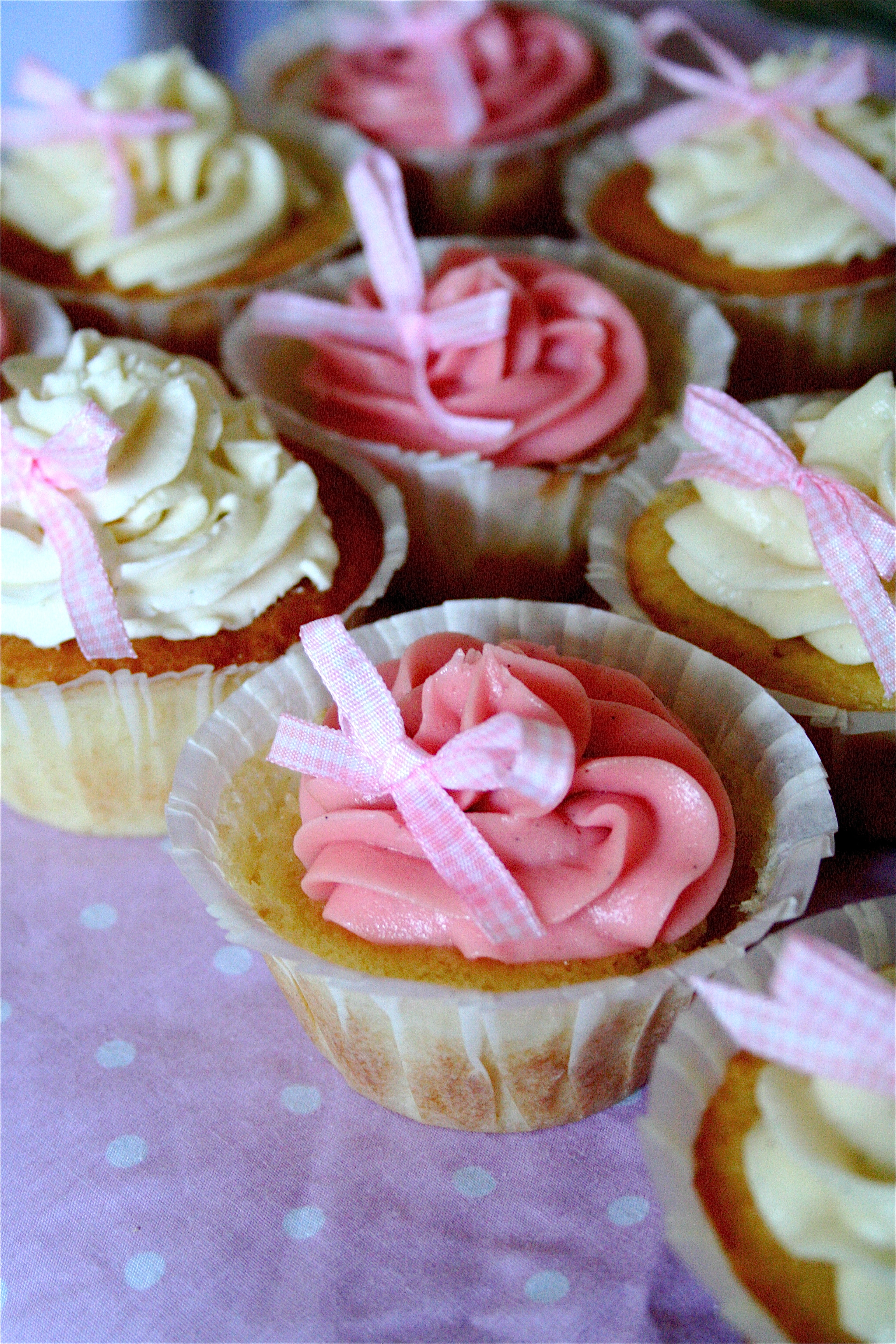 Sources:  Vanilla Bean Cupcakes from Annie's Eats and Vanilla Bean Frosting from Cook's Illustrated.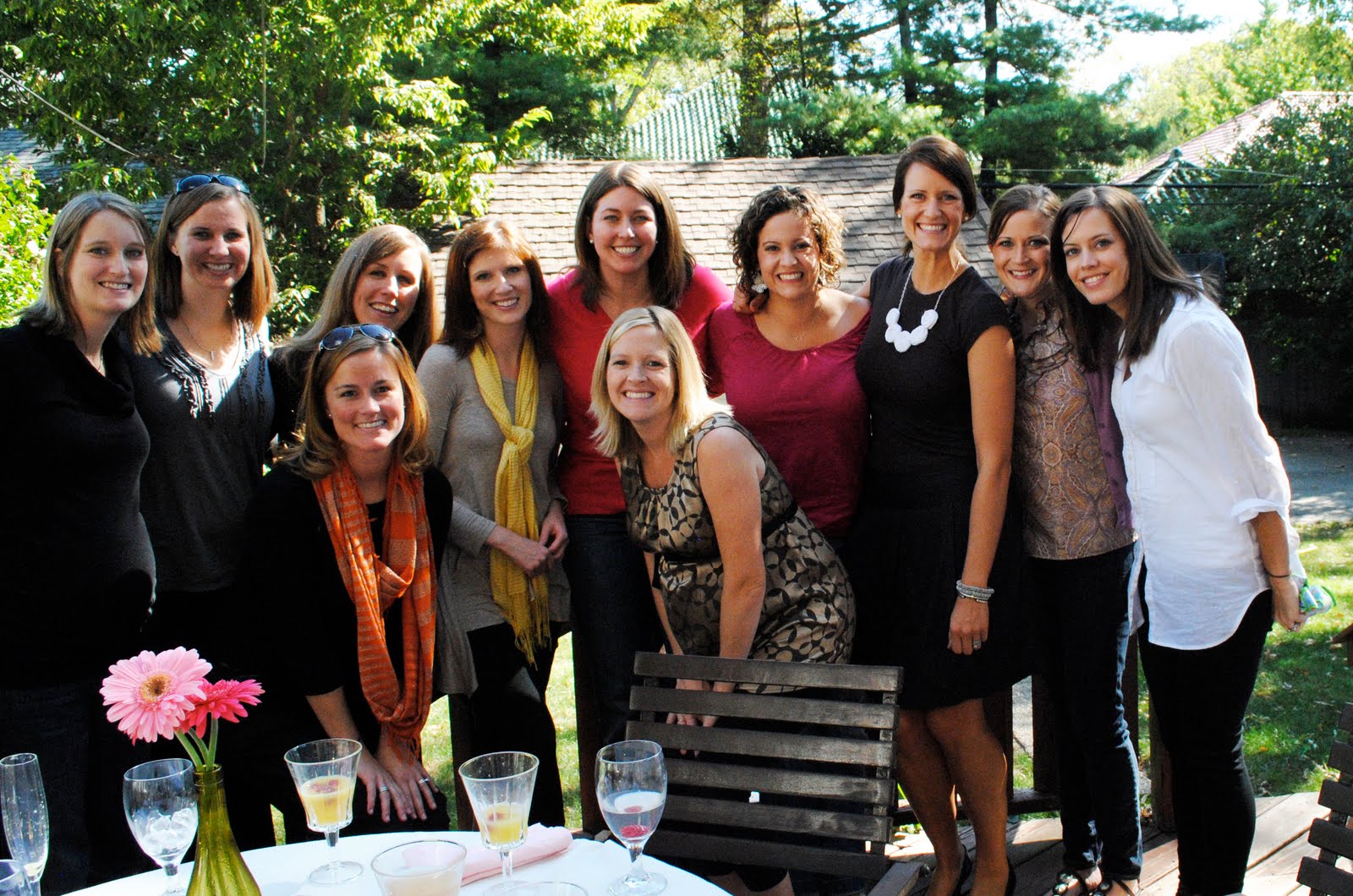 The girls.  Look at the beautiful mom in the center with the blond hair.  That's Bridget. (It's official that this photo will go onto every blog of guests at this party-haha.)