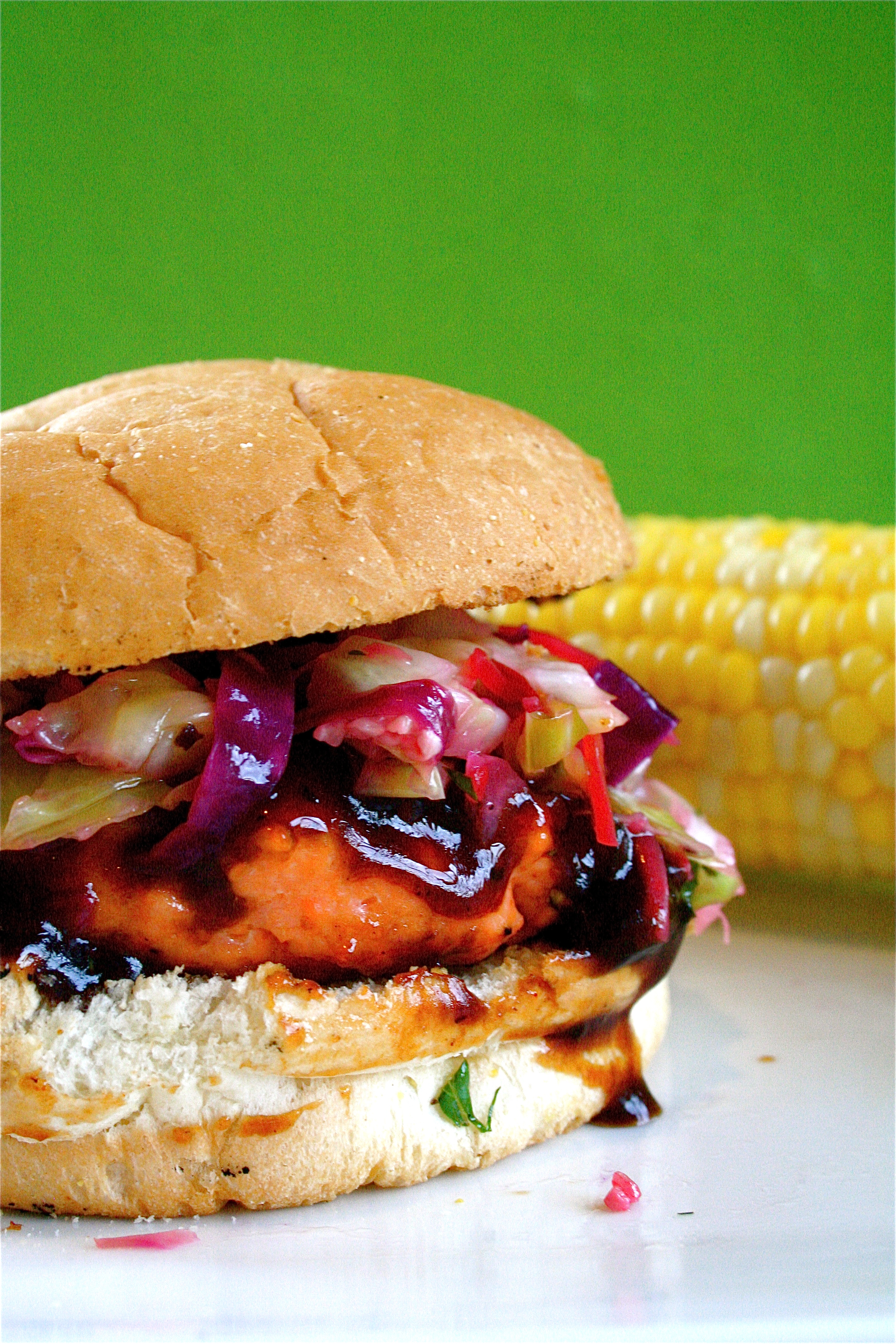 I got on another dessert roll, didn't I?  I'm trying to limit the not-so-healthy posts and instead insert some deliciously-healthy posts.
Let's be honest.  Sometimes it's a losing battle.  I'm noticing that since my birthday is next week, I am (for pretty much the entire month of October) using the "well, my birthday is coming up, and I deserve it" excuse.  And, a million cookies and cakes and calorie-laden drinks later….I'm looking for something to relieve a little of the guilt from my trip last week where I definitely over-indulged.  Candy bars, bagels loaded with cream cheese, extra cream in the coffee, free happy hour appetizers in the hotel..yikes.
So….meet this burger.  I eat fish, and I especially eat salmon.  It's packed with essential fatty acids, vitamins, and a good hearty dose of protein for my wimpy muscles.  I shy away from anything super complicated with the preparation of fish.  I don't know-maybe it's the fact that I've lived in the Midwest my whole life (but thankfully that's changing in a few months….), but I really get nervous about the proper preparation and cooking of seafood.  If you have any helpful tips or suggestions, I would love to hear.  This Midwestern chick is heading to the East Coast soon and will be trying a whole new realm of cuisine (heaven).
This recipe caught my eye, and I gawked at the list of ingredients.  Yep, it's a lot.  More than what I am used to.  But, definitely worth a shot.  The idea of a super flavorful sauce for the fish was definitely appealing, and the slaw?  I've never had a slaw on salmon before.  What the heck?  Since cabbage is cheap, and I actually had the rest of the ingredients on hand, I was in.  Healthy and delicious may not cancel out my recent acts of gluttony, but it certainly gets me back on track (until tomorrow….)
Salmon Burgers with Hoisin Barbeque Sauce
Servings: 4
Ingredients:
For the BBQ Sauce:
2 tablespoons canola oil
2 large shallots, coarsely chopped
2 cloves garlic, coarsely chopped
1/2 cup hoisin sauce***You should be able to find this in the Asian section of your local grocery.
2 tablespoons ketchup
2 tablespoons honey
2 teaspoons soy sauce
2 teaspoons fish sauce
1 tablespoon rice wine vinegar
For the salmon burgers:
1 and 1/2 pounds fresh salmon
2 tablespoons canola oil
Kosher salt and freshly ground black pepper
4 hamburger buns, split and toasted
For the slaw:
2 tablespoons canola oil
1/4 cup thinly sliced pickled ginger, plus more for garnish
2 cloves garlic, finely chopped
1/4 small head of red cabbage, finely shredded
1/2 medium head of napa cabbage, finely shredded
Kosher salt and freshly ground black pepper
1/4 cup rice wine vinegar
2 teaspoons toasted sesame oil
3 tablespoons finely chopped fresh cilantro leaves
Instructions:
1. For the hoisin barbeque sauce: Heat the oil in a medium saucepan over medium heat.
2. Add the shallots and garlic and cook until soft, about 2 minutes.
3.  Add the hoisin, ketchup, honey, soy sauce, fish sauce, and vinegar and cook until heated through and slightly thickened, about 10 minutes.
4. Set aside to cool.
5. For the burgers: Cut the salmon into large pieces and coarsely chop in a food processor, making sure not to overprocess.
6. Divide the salmon into 4 equal portions and form into 3/4-inch thick burgers, making a deep depression into the center of each patty.
7.  Place on a plate, cover with plastic wrap, and let chill in the refrigerator for at least 30 minutes before cooking.
8. For the slaw: Meanwhile, heat the oil in a large sauté pan over high heat.
9. Add the ginger and garlic and cook, stirring once, until soft, about 1 minute.
10.  Stir in the cabbage, season with salt and pepper, and cook, stirring once, until slightly wilted, about 3-4 minutes.
11.  Remove from the heat and stir in the vinegar, sesame oil, and cilantro.  Let sit at room temperature.
12. To cook the burgers: Heat the oil in a sauté pan or griddle (nonstick or cast iron) until it begins to shimmer.
13. Season both sides of each burger with salt and pepper.
14.  Cook the burgers until golden brown on the bottom sides, about 3 minutes.  Turn over, brush with some of the hoisin barbeque sauce, and continue cooking until medium-well, about 3 minutes longer.
15.  Place the burgers on the bun bottoms, drizzle some hoisin barbeque sauce over them, and top with the slaw.  Garnish with pickled ginger, if desired.  Cover with the burger tops and serve immediately.