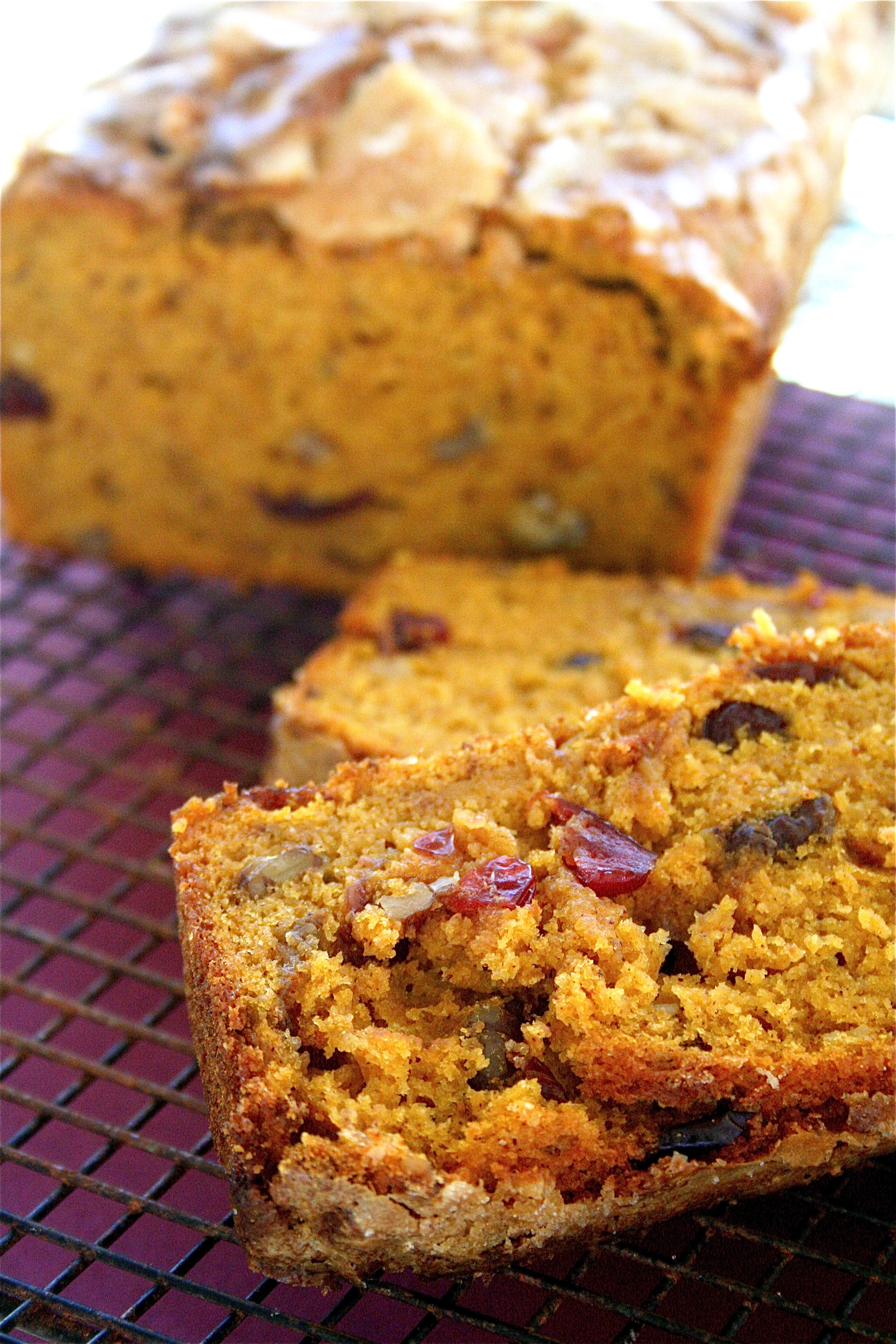 Ah, the days of Fall are upon us, it seems.  The leaves have suddenly changed color and are falling from the trees, the wind has a chill in it, and there are Halloween decorations everywhere.  It's my favorite time of year.
And this equals pumpkin recipes.
I made this bread, attracted to the addition of cranberries (sweet) and walnuts (good for you) over a plain old pumpkin bread (which is also delicious, but I'm branching out here….).  I was not disappointed.  I added extra sugar on the top before I baked it, and this made a crunchy, almost caramelized topping to the bread (bonus).  The bread is moist, flavorful, and the bits of cranberries and walnuts really add something special.
Have a wonderful Fall weekend.  🙂
Pumpkin Cranberry Walnut Bread
Yield: 1 loaf
Ingredients:
2 cups all-purpose flour
2 teaspoons pumpkin pie spice
1 teaspoon baking powder
3/4 teaspoon salt
1/2 teaspoon baking soda
6 tablespoons (3/4 stick) unsalted butter, softened
1 cup, plus 1/3 cup sugar
2 large eggs
1 cup canned pure pumpkin
1 teaspoon vanilla extract
2/3 cup buttermilk
1/2 cup dried sweetened cranberries
1/2 cup coarsely chopped walnuts
Instructions
1.  Preheat oven to 350 degrees.
2. Butter a loaf pan (regular size) and line the bottom and two long sides with parchment paper.
3.  Whisk flour, pumpkin pie spice, baking powder, salt, and baking soda in a medium bowl, set aside.
4.  In your mixing bowl, beat the butter until fluffy.  Gradually add 1 cup of the sugar and beat until blended.
5. Beat in eggs, one at a time.
6. Beat in pumpkin, then vanilla.
7.  Beat in dry ingredients alternately with buttermilk in 2 additions each.
8.  Fold in cranberries and walnuts.
9.  Transfer batter to the loaf pan, and sprinkle with the remaining 1/3 cup of sugar.
10. Bake until bread is done and a toothpick inserted into the center comes out clean, approximately 1 hour and 10 minutes.
11.  Cool bread on rack for 15 minutes.
12.  Remove bread from loaf pan and cool completely.
Source:  Bon Appetit, October 2003.