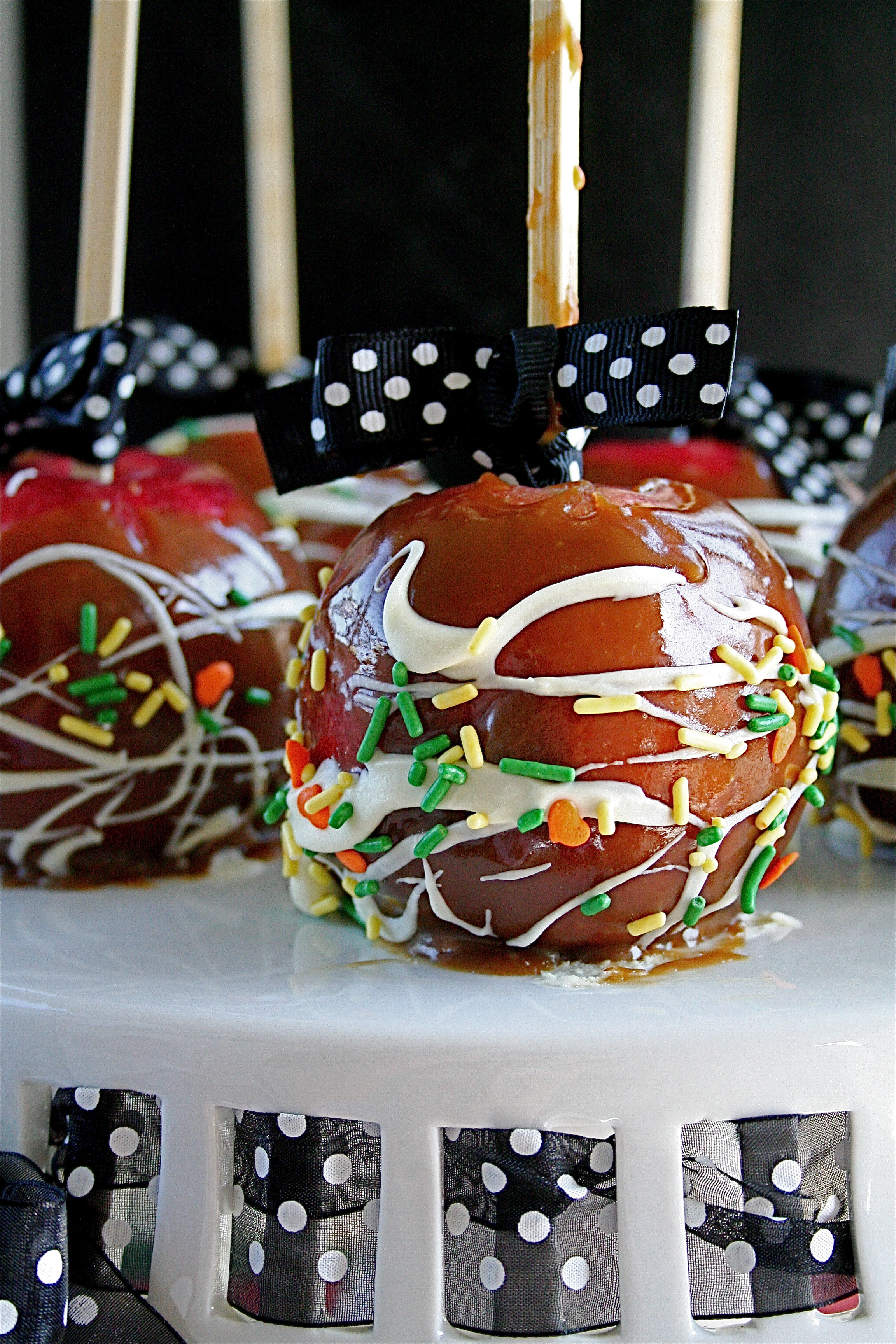 It wouldn't be Fall without these treats, would it?  I absolutely love caramel apples, and, sadly enough, this was only my second time making them.  I think my first experience was when I was 12, and I made them with the pre-packaged individually wrapped caramels.  But now that I'm officially a grown-up (birthday is tomorrow……), I wanted to make my caramel from scratch, over a stove, and decorate with a more "sophisticated" look.
I'll be honest with you. I got pretty frustrated while making these.  For some reason, my caramel wasn't setting right, and my apples were drippy and unevenly dipped.  I even rigged a special stand (a shower caddy on its side because it had holes in it through which I could slide the chopsticks for the apples to set and harden), but that didn't seem to work.  I finally just turned them upside down on a baking sheet and put them in the refrigerator for about a half hour to harden, which seemed to do the trick, until I actually burned the semisweet chocolate chips that I was going to so beautifully drizzle over the set caramel.  I mean, seriously, who burns semisweet chocolate chips in the microwave?  *This girl*.  I was near waving the white flag and ditching the whole idea when I decided to just use the white chocolate chips (which I magically did not burn) and the sprinkles that my boss had given me one day.
And then I tied them with polka dot ribbons, and that seemed to make it all better.
Caramel Apples
Servings: 6
Ingredients
Chopsticks
6 apples, your choice of type (I used Michigan Empires)
1 1-pound box of dark brown sugar
16 tablespoons unsalted butter, room temperature, plus extra for buttering foil
1 14-ounce can sweetened condensed milk
2/3 cup dark corn syrup
1/3 cup pure maple syrup
1 and 1/2 teaspoons vanilla extract
1 teaspoon robust-flavored (dark) molasses
1/4 teaspoon salt
1 cup white chocolate chips (mmmmm Ghiradelli)
Sprinkles, or other desired garnishes
Instructions
1.  Combine brown sugar, butter, condensed milk, corn syrup, maple syrup, vanilla, molasses, and salt in a heavy 2 and 1/2-quart saucepan.
2.  Stir with a wooden spoon or spatula over medium-low heat until sugar dissolves, occasionally brushing down sides of pan with a wet pastry brush, about 15 minutes.
3.  Attach a clip-on candy thermometer to side of pan.
4.  Increase heat to medium-high, cook caramel at rolling boil until thermometer reads 236 degrees, stirring constantly but slowly with a clean wooden spoon or spatula and occasionally brushing down the sides of the pan with a wet pastry brush, about 12 minutes.
5.  Pour caramel into a metal bowl (do not scrape pan).
6.  Submerge thermometer bulb in caramel; cool, without stirring until thermometer reads 200 degrees, about 20 minutes.
7.  While caramel cools, line 2 baking sheets with foil.
8.  Butter foil.
9.  Push a chopstick into the stem end of each apple.
10.  Holding the chopstick, dip one apple into the caramel, submerging all but the very top of the apple.
11. Lift the apple out, allowing excess caramel to drip back into the bowl.
12.  Tur the apple caramel side up and hold for several seconds to help set caramel around apple.
13.  Place coated apple on prepared foil.
14.  Repeat with remaining apples and caramel, spacing apples apart (caramel will pool on foil).
15.  Chill apples on sheets until caramel is partially set, about 15 minutes.
16.  Lift one apple from foil.  Using hand, press pooled caramel around apple; return to foil.  Repeat with remaining apples.
17. Melt the white chocolate (or semisweet, whatever you are using), in the microwave at 30 second increments until fully melted.
18.  Drizzle chocolate over caramel-coated apples and decorate with sprinkles, if using.
19.  Chill until decorations are set, about 1 hour.  Cover; chill up to 1 week.