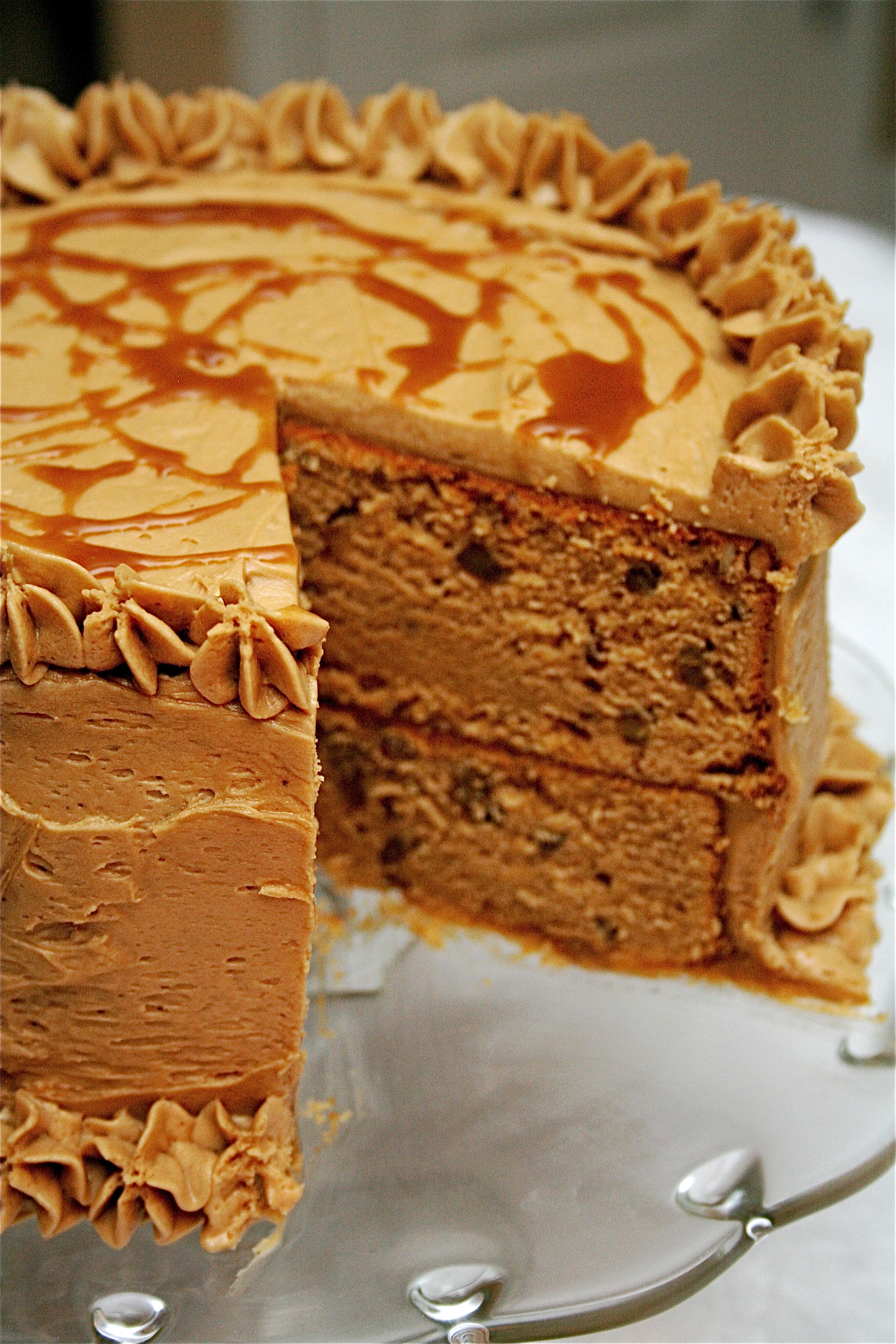 This is a very special post.
It's my 30th birthday.
And, I'll be honest. I  have a lot of emotions running through me: excitement, determination, anticipation…just to name a few.
I'm ready to leave my 20's behind me and embrace a new decade of change and fulfillment.  I'll finish residency, begin and complete my fellowship, move across the country, and hopefully find a job somewhere in the country and be able to finally settle down….after having been in school/training since age 4.  The best part about this birthday is that the celebration with various friends began 5 days ago, and I am so blessed to have so many people in my life to share my birthday with this year.
But I must warn you.  The following recipe IS NOT good for you.  I am fully aware of the ungodly amount of butter in the frosting, the amount of calories in the butterscotch sauce, and the number of eggs in the cake.    I chose butterscotch simply because it's my favorite flavor in the whole world.  And with it comes a lot of fat and sugar. But I must ask you to be patient and hold all judgement aside with this post.  Why?  Because I only turn 30 once, and this is my day.  🙂
Triple Butterscotch Cake
Yield:  One (2 layer) 8-inch cake
Ingredients
For the cake:
2 1/2 sticks (10 ounces) butter, softened***I splurged and used my favorite European butter….because it's my birthday.
2 1/2 cups dark brown sugar, packed
2 tablespoons canola oil
4 large eggs
2 tablespoons dark rum
1 tablespoon vanilla extract
4 cups flour
1 teaspoon baking powder
1 teaspoon baking soda
1 1/2 teaspoons salt
1 1/2 cups sour cream
1 1/2 cups finely chopped pecans
For the butterscotch buttercream:
1 pound butter, softened  (Yep, a pound.  You read it correctly.)
2 cups dark brown sugar, packed
1 cup heavy cream
1/2 teaspoon salt
1 tablespoons dark rum
2-2 1/2 cups confectioner's sugar***I actually ended up using about 3 cups because the consistency was not what I wanted.
For the butterscotch sauce:
3/4 cup dark brown sugar
6 tablespoons butter
1/2 cup light corn syrup
1/4 teaspoon salt
1/2 cup heavy cream
Instructions
1. For the cake: Preheat the oven to 325F degrees.
2. In the bowl of an electric mixer fitted with the paddle attachment, beat the butter with the brown sugar until light and fluffy, about 3 minutes.
3. Beat in the oil until well combined.
4. Add the eggs, one at a time, beating well after each addition and stopping to scrape down th sides of the bowl as necessary.
5. Beat in the rum and the vanilla.
6. In a medium bowl, whisk together the flour, baking soda, baking powder, and salt.
7. Add the flour mixture to the batter in two additions, alternating with the sour cream.
8. Mix in the chopped pecans, and continue to beat at medium speed for one minute more.
9. Butter and flour your 8-inch cake pans.
10. Divide the cake batter among the pans, filling about 2/3 full.
11. Bake the cake at 325F degrees for 40-50 minutes, until it is golden brown and a cake tester inserted emerges clean.
12. Transfer both the cake to a wire rack to cool completely.
13. For the buttercream:  Melt 8 tablespoons of the butter in a medium saucepan over medium heat until it turns deep golden brown and fragrant, about 6 minutes.
14. Add the brown sugar, cream, and salt, stirring constantly until the sugar dissolves.  Bring the mixture to a boil, stirring constantly, and cook for 3 minutes longer.
15. Transfer the mixture to the bowl of an electric mixer fitted with the paddle attachment, and beat it at high speed until the bowl feels cool to the touch, 8-10 minutes.
16. Beat in the rum.
17. With the mixer running on medium speed, add the remaining butter, one tablespoon at a time, beating until incorporated.  Continue to beat the mixture until it is smooth and creamy.
18. Add enough confectioner's sugar to the mixture to achieve a thick and spreadable consistency.  Cover and refrigerate until ready to use.
19. For the sauce: Place the brown sugar, butter, corn syrup, and salt in a medium saucepan set over medium heat.  Cook, stirring constantly, until the sugar dissolves.
20. Bring the mixture to a boil and cook for 2 minutes, stirring frequently.
21. Remove the mixture from the heat and mix in the cream.
22. Return the saucepan to the heat and cook for 2 minutes more; let cool to lukewarm.
23.  Once everything is completely cooled, place a layer of frosting on one top of a cake, followed by a thin layer of the butterscotch sauce.
24.  Place the other cake layer on top, and spread a thin layer of frosting over the entire cake.
25.  Refrigerate for at least one hour (this will help "glue" crumbs down and serve as a nice, smooth canvas for you to apply the "real" frosting later.)
26.  Once set, decorate the cake as desired.  Garnish with extra pecans (optional.)
27.  Top with a birthday candle, say some thanks, make a wish, and happy birthday!
Adapted from Peanut Butter and Julie.