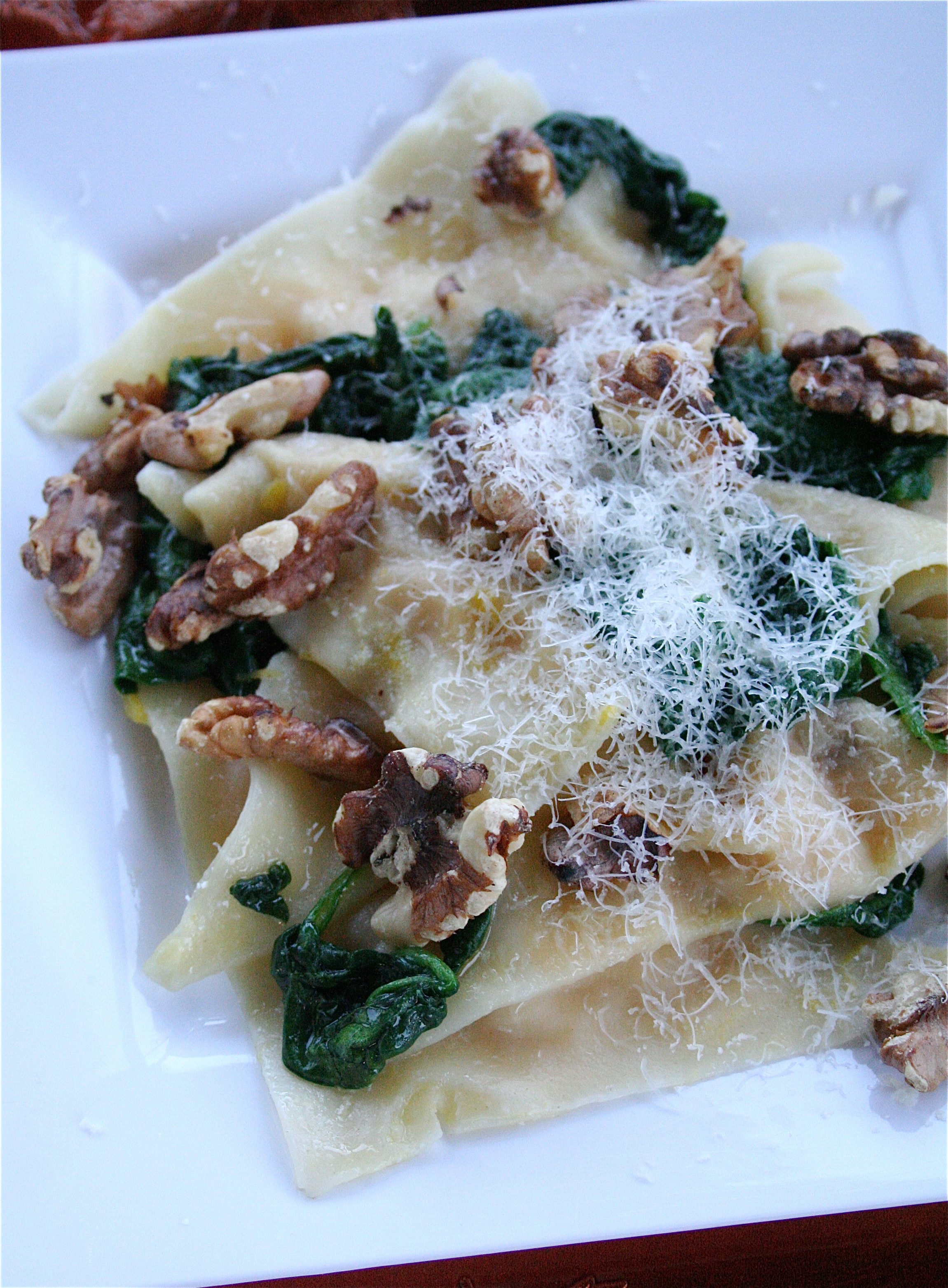 It might be a long name.  But it's truly fabulous.  This was one of those recipes that I had bookmarked for quite some time.  For one thing, I had never really worked with wontons before (yes, a travesty, I know), and I was a little nervous about my ability to form decent ravioli shapes.
Oh, man.  Wontons are the greatest thing in the world.  I can't wait to use them again.  I feel a crab rangoon recipe coming soon…maybe a baked one?  Anyways, these were SO easy to put together.  Granted, a few fell apart in the boiling water, but, overall, they turned out pretty nice.
And the best part about this recipe is that it's pretty healthy and quick to put together if you pre-bake the pumpkin ahead of time.  The pumpkin is good for you, I substituted low fat ricotta cheese, went sparingly on the Parmesan, and the added bonuses of spinach and walnuts add enormous amounts of heart-healthy antioxidants. There's no need for a creamy sauce.  I had toyed with the idea of a browned butter and sage sauce, but I'm so glad that I didn't attempt it.  If you add a decent amount of seasoning to your pumpkin filling (and feel free to get creative here…I only used salt and pepper, but I am sure you could add savory or sweet spices, depending on what kind of mood you are in), you really don't need anything else.  This would be the perfect quick weeknight dinner, or it could be fancied up for a more special occasion.
Pumpkin Ravioli with Salted Spinach and Toasted Walnuts
Servings: 4
Ingredients
1 baking pumpkin, about 2-3 pounds
3/4 cup (total) extra-virgin olive oil
4 cloves garlic, crushed
4 sprigs fresh thyme
Coarse sea salt and pepper, to taste
1/4 cup ricotta cheese (I used low-fat)
1/2 cup Parmesan cheese, freshly grated, plus more for garnish
16 square wonton wrappers
1 egg, beaten
2 cups baby spinach leaves
1/2 cup walnuts, chopped and toasted
Instructions
1. Preheat oven to 375 degrees.
2. Slice top off of pumpkin and scoop out seeds and stringy "guts".  Discard.  (Or save pumpkin seeds for a delicious snack later…..)
3. Quarter pumpkin and arrange in a roasting pan.
4.  Drizzle pumpkin with 1/4 cup of olive oil and scatter garlic cloves and thyme sprigs on top.  Season with salt and pepper.
5.  Bake pumpkin until tender when pierced with a fork, about 30-40 minutes.  Let cool.
6.  Discard thyme sprigs and transfer pumpkin and garlic to a bowl.
7. Crush pumpkin and garlic cloves with a fork until a rough paste forms.
8. Stir in cheese and season with salt and pepper to taste.
9.  Arrange 6 wonton wrappers on a clean surface.  Lightly brush edges of each wrapper with beaten egg, spoon about 1 and 1/2 tablespoons of pumpkin mixture into center of each wrapper, fold into a triangle, and press edges to secure.
10.  Arrange filled wontons on a baking sheet and cover with a damp kitchen towel to keep them from drying out.
11.  Repeat with remaining wontons and filling.
12.  Bring a large pot of salted water to a boil.
13.  Meanwhile, heat 1 tablespoon of olive oil in a sauté pan over medium heat.
14.  Add spinach and a sprinkling of coarse sea salt and sauté until just wilted, about 2 minutes.
15. Remove from heat.
16. Add ravioli to pot of boiling water and cook until they rise to the surface and are semitranslucent, about 2 minutes.
17.  Carefully remove ravioli with a slotted spoon and add to pan with spinach.
18.  Gently toss over medium heat to warm, about 1-2 minutes.
19. Divide ravioli and spinach evenly among pasta bowls, top with walnuts, and garnish with freshly grated Parmesan cheese.  Serve immediately.
Adapted from Williams-Sonoma:  Cooking For Friends.