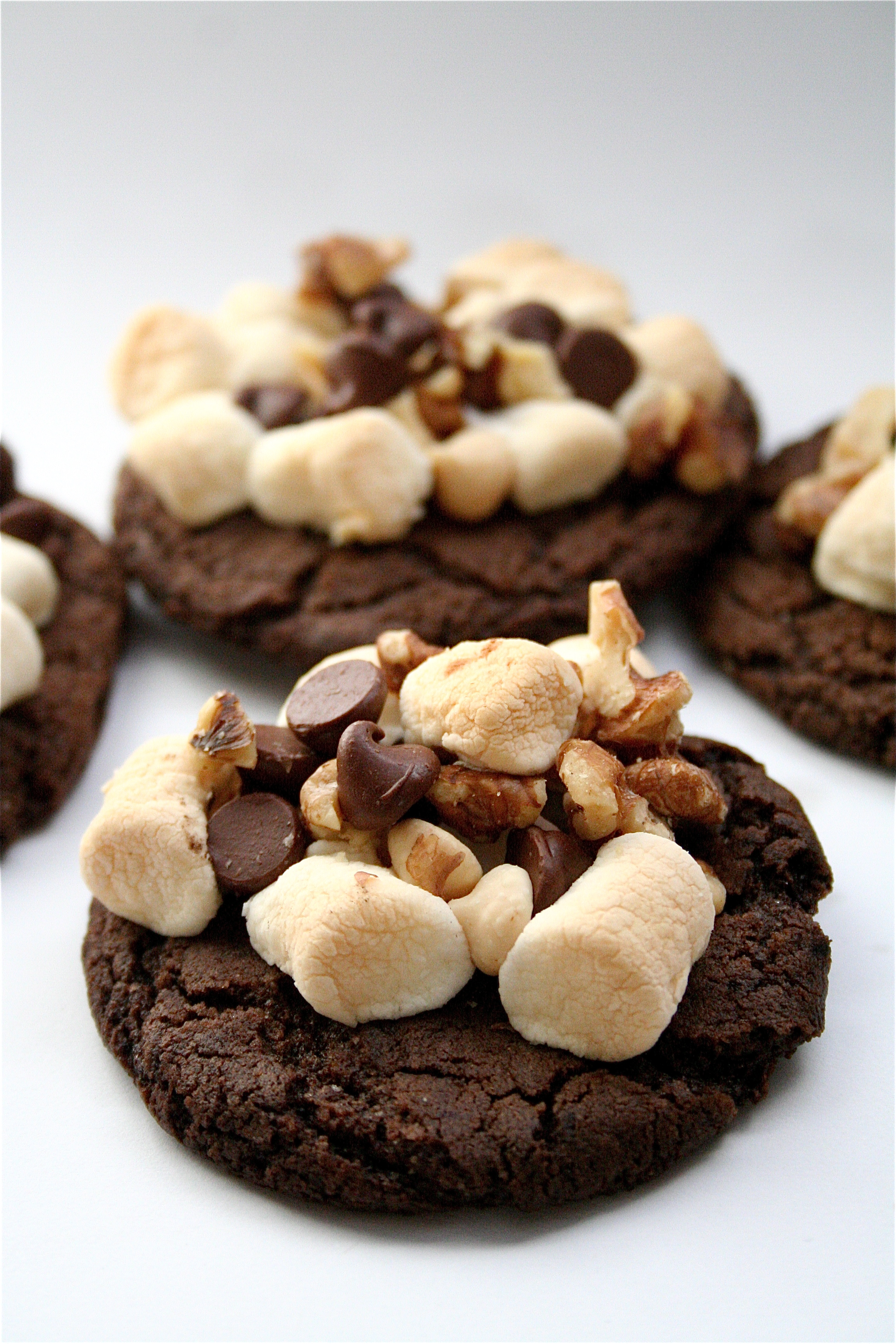 It's time for a chocolate break, everyone.
But, what exactly, is hash?  Does anyone know?  Just wondering because I don't.
I saw these in one of my cookbooks (bookmarked for who knows how long), and I knew that I needed to try them.  All in all, they were very straightforward to make, and they definitely are a treat to look at.
If you like crispy chocolate cookies, then this is the recipe for you.  The cookies flatten out substantially while baking, and then the marshmallow/chocolate/walnut combo adds height and even more texture to the cookies.  I added some white chocolate chips in the mix to add a little variety, and I actually used half dark chocolate cocoa powder and half regular cocoa powder (you know, to add those antioxidants in an attempt to outweigh the calories…ha!)  And once again, my kitchen smelled like a chocolate-y, heavenly bakery while making these.  I think you could play around with the ingredients-add peanuts instead, maybe a drizzle of caramel, and, of course, you could always use butterscotch chips instead.  Serve these with a big glass of cold milk or on top of vanilla ice cream and….voila!  You have found the perfect chocolate craving cure!
And, for those of you who have so sweetly asked, "Baby Robot" has arrived.  Born on Wednesday, October 20th, Margaret "Maisie" Susan is beautiful.  Congratulations to Bridget, Andy, Max, and Tyler on the new addition!  🙂
Top-Heavy Heavenly Hash
Servings: 14 cookies
Ingredients
1 and 1/3 cups semisweet chocolate chips**I substituted about 1/3 cup white chocolate chips in mine for variety
1 and 1/3 cups walnuts, coarsely chopped
1 cup unbleached all-purpose flour
1/4 cup unsweetened Dutch-process cocoa powder***I used about half regular and half dark chocolate cocoa powder
1 teaspoon baking soda
1/2 teaspoon salt
1/2 cup (1 stick) unsalted butter, melted
1 cup sugar
1 large egg
1 teaspoon vanilla extract
1 and 3/4 cups miniature marshmallow
Instructions
1.  Position a rack in the middle of the oven.  Preheat the oven to 325 degrees.  Line two baking sheets with parchment paper.
2.  In a medium bowl, stir the chocolate chips and walnuts together; set aside.
3. Sift the flour, cocoa powder, baking soda, and salt into a small bowl and set aside.
4.  In a large bowl, using a large spoon, stir the melted butter and sugar to blend them.
5. Stir in the egg and vanilla until the mixture looks smooth and shiny.
6.  Stir in the flour mixture to incorporate it.
7. Drop heaping tablespoons of dough onto the prepared baking sheets, spacing them 4 inches apart.
8.  Bake one sheet of the cookies until the tops feel firm, about 14 minutes.
9. Remove the hot cookies from the oven, and, leaving a 1/2-inch plain edge al around, scatter about 12 marshmallows over each cookie.
10.  Sprinkle 2 tablespoons of the walnut-chocolate chip mixture over the marshmallows.
11.  Return the cookies to the oven, immediately turn off the oven, and leave the cookies in the oven for 5 minutes.  Remove the cookies.
12.  Cool the cookies for 10 minutes on the baking sheet, then use a wide metal spatula to transfer the cookies to a wire rack to cool thoroughly.
13.  Preheat the oven again and bake and top the second sheet of cookies.
Adapted from:  Big Fat Cookies by Elinor Klivans.