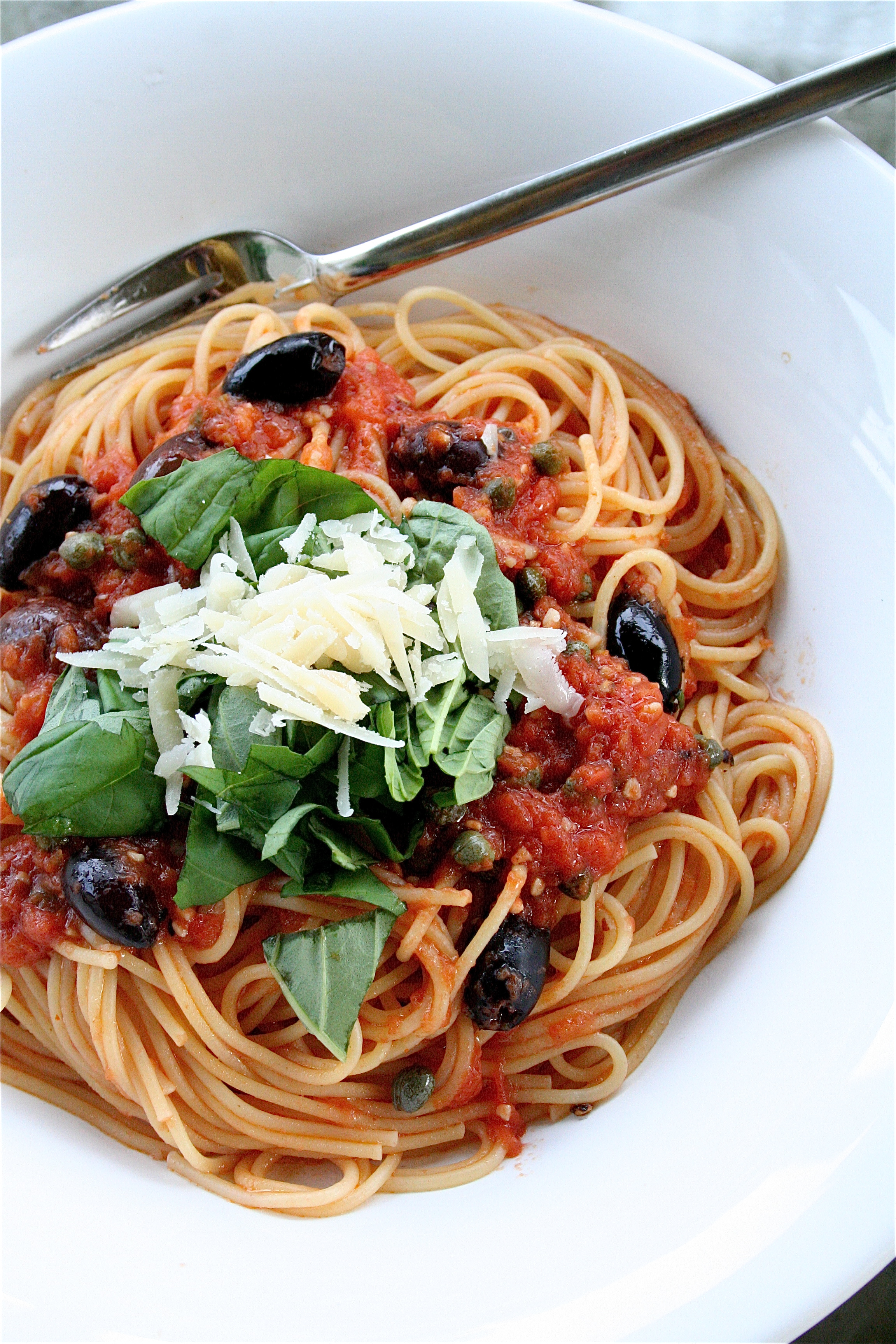 Pasta Puttanesca.  Say it with a fake Italian accent (or a real one, if you have one, of course.)  It sounds great, doesn't it?
I haven't posted too much pasta on here, because, well, pasta is one of those foods I tend to overeat.  See the giant serving above?  Yep-I can down the whole thing.  You know, one serving of pasta is about a 1/2 cup or so.  The above bowl?  Probably at least 8 of those.  However, every once in  a while, I endulge.
But this recipe allows me to easily do it without so much guilt.  Usually, I go for the creamy things: fettucine, ravioli, manicotti.  Lots of cheese and cream sauce.  Mmm…..I'm sure some of those things will be popping shortly on this blog, but, for now:  Pasta Puttanesca.
This recipe is SUPER simple.  You can make the entire thing within 15 minutes-from start to finish.  I also used anchovy paste for the very first time in this recipe.  I didn't even know where to find it in the grocery store…..(near the canned tuna, by the way), and I quickly got over my disgust of "fish paste" when I realized that it truly does add a lot of flavor to this recipe.  But not a fish flavor.  More of a savory type flavor.  I'm not so scared of it anymore.  If you still have some reservations, I am sure that this pasta dish would still be delicious without the anchovy paste.  It has a lot of other things to add flavor: Kalamata olives, capers, basil.  Serve this with some red wine and "That's Amore!"  (ok, that was cheesy. Yes, I know.)
Pasta Puttanesca
Servings: 6
Ingredients
1 pound dried spaghetti, spaghettini, or linguine
5 garlic cloves, forced through garlic press (or use pre-minced, from the jar-much easier)
2 teaspoons anchovy paste
1/2 teaspoon hot red-pepper flakes
1 teaspoon salt
1/2 teaspoon pepper
1/3 cup extra-virgin olive oil
1 28-ounce can whole tomatoes in juice (preferably Italian)
1/2 cup pitted Kalamata olives
2 tablespoons drained capers
Pinch of sugar (optional)
3/4 cup coarsely chopped basil
Fresh Parmesan cheese, grated (optional, but, seriously worth it)
Instructions
1. Cook spaghetti in a pasta pot of boiling salted water according to package directions.
2. While pasta is boiling, heat oil in a large sauté pan on medium-high heat until shimmering.
3.  Add garlic, anchovy pasta, red-pepper flakes, salt, and pepper to pan and cook until fragrant and pale golden, stirring occasionally, about 2 minutes.
4.  Meanwhile, puree the tomatoes with their juices in a blender.
5. Add the tomato puree, olives, and capers to the sauté pan and simmer, stirring occasionally, until the pasta is ready.  Stir in the sugar, if using.
6.  Drain the pasta and add it to the sauce.
7.  Simmer, stirring and tossing the pasta with tongs, until heated through, about 2 minutes.
8.  Sprinkle with basil and Parmesan (if using).
Source:  Gourmet Magazine, June 2008.