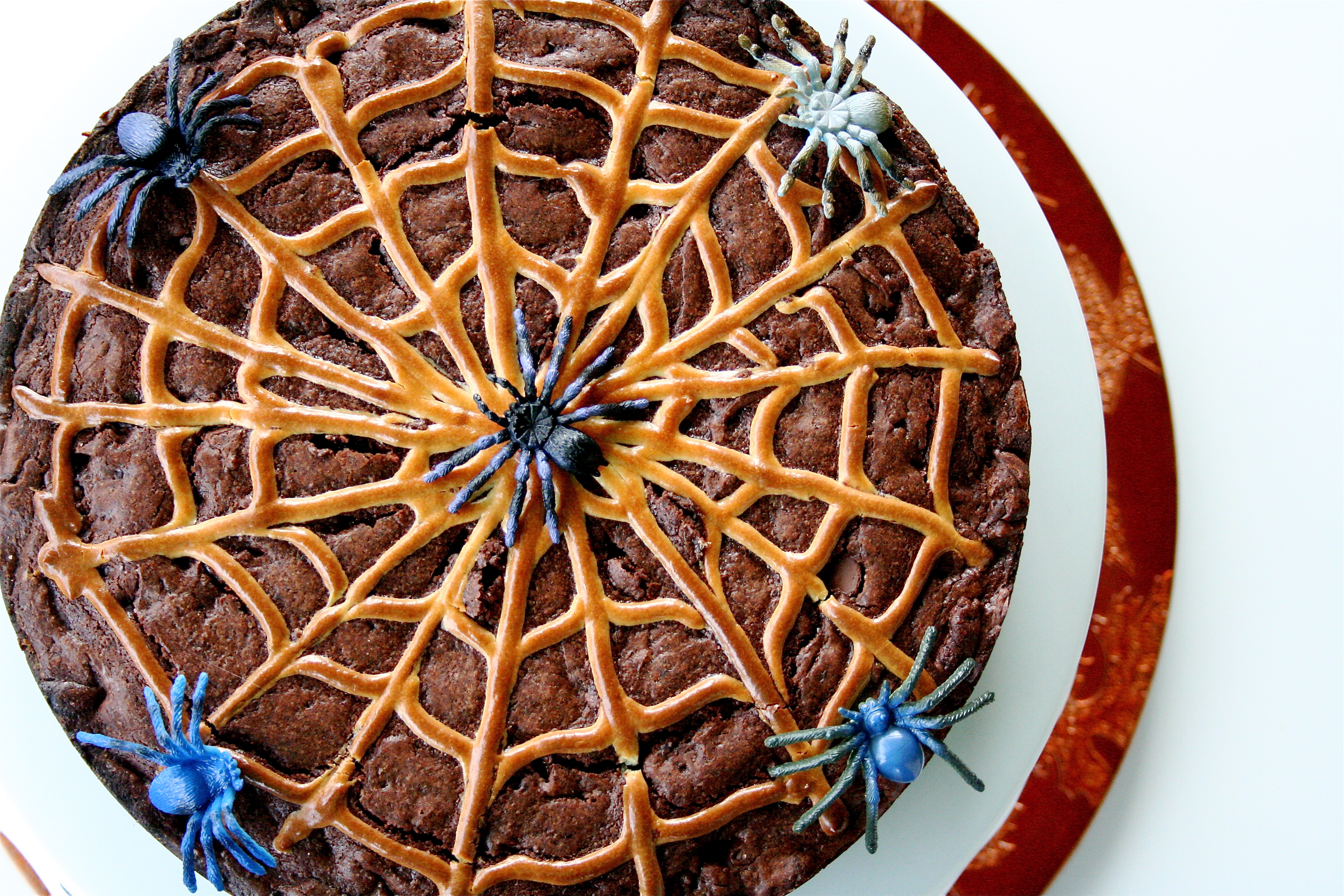 Happy Halloween, everyone!
Wherever you are, I hope you are able to enjoy the day.  This weekend has been big for parties galore-for both grown-ups and children alike.  I've definitely done my fair share of celebrating this year already.  But now I'm looking forward to spending the afternoon today with my nephews, Elliott and Oliver, aka Woody and Buzz Lightyear.  What are YOU dressing up as this year?
This Spiderweb Brownie Cake came at the perfect time.  I had originally planned to make some red velvet bleeding heart cupcakes for one of the parties, but my call schedule at work last week was incredibly hectic.  I wasn't able to devote as much time to it (who does, really?) as I wanted to, so I scratched the whole idea all together…and then I saw this.  Simple, but still festive.  Not too much preparation needed.  Not too much creativity, endless frosting colors, or crazy ingredients.  In fact, I had all that I needed.  I wanted it to look festive….but I really wanted it to taste even better.  In fact, if you want….you still have time to make this today in time for your Trick or Treaters!
So, from me to you….Happy Halloween!
Spiderweb Brownie Cake
Ingredients
For the Brownie:
1 cup (2 sticks) unsalted butter
2 and  1/4 cups sugar
4 large eggs
1 and 1/4 cups Double-Dutch Dark Cocoa or Dutch-process cocoa
1 teaspoon salt
1 teaspoon baking powder
1 teaspoon espresso powder
1 tablespoon vanilla extract
1 and 1/2 cups unbleached all-purpose flour
2 cups chocolate chips
For the cream cheese "web":
4 ounces cream cheese, at room temperature
2 tablespoons sugar
1 tablespoon unbleached all-purpose flour
1 large egg yolk
1/2 teaspoon almond flavoring (optional)
1. For the brownies: Preheat the oven to 350°F. Lightly grease a 9″ x 13″ pan, or 9″ springform pan. (You can also use 2 8-inch cake pans.)
2. In a medium-sized microwave-safe bowl, or in a saucepan set over low heat, melt the butter, then add the sugar and stir to combine.3. Return the mixture to the heat (or microwave) briefly, just until it's hot (about 110°F to 120°F), but not bubbling; it'll become shiny looking as you stir it.
4. While the sugar heats a second time, crack the 4 eggs into a bowl, and beat them with the cocoa, salt, baking powder, espresso powder, and vanilla till smooth.
5. Add the hot butter/sugar mixture, stirring until smooth.
6. Add the flour and chips, again stirring until smooth.
7. Spoon the batter into pan.

8. For the spiderweb: Combine the cream cheese, sugar and flour in a small bowl, and mix until smooth.9. Add the egg yolk and almond flavoring (if using), mixing until smooth once again.

10. Transfer the mixture to a disposable pastry bag fitted with a standard piping tip (I used Wilton #1).

11.Place a small pool of the mixture in the center of the brownie batter. Draw circles around this pool, about 1 inch apart, moving out from the center each time.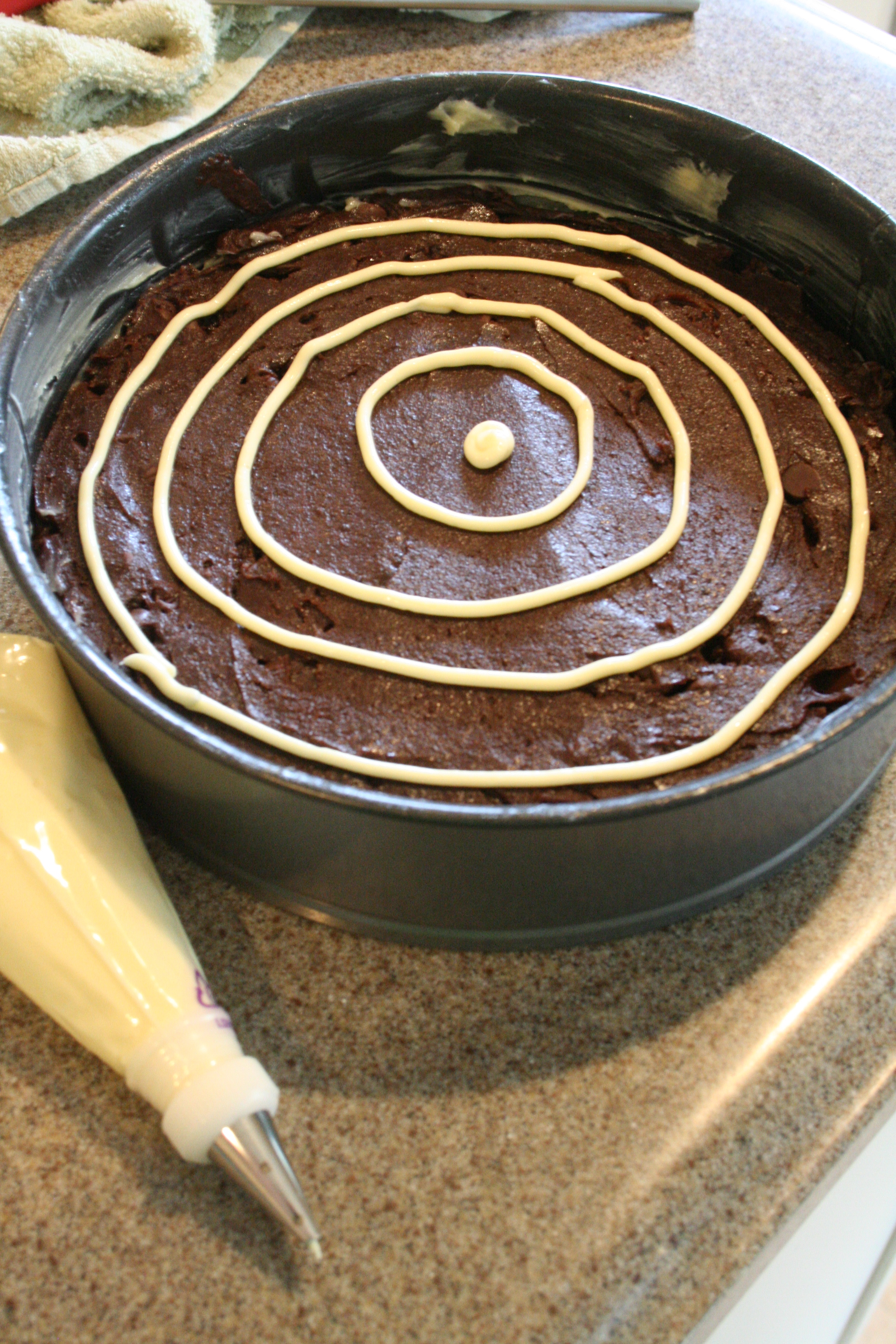 12. Once the circles are drawn, take a table knife, wet the tip, and draw it back and forth through the circle.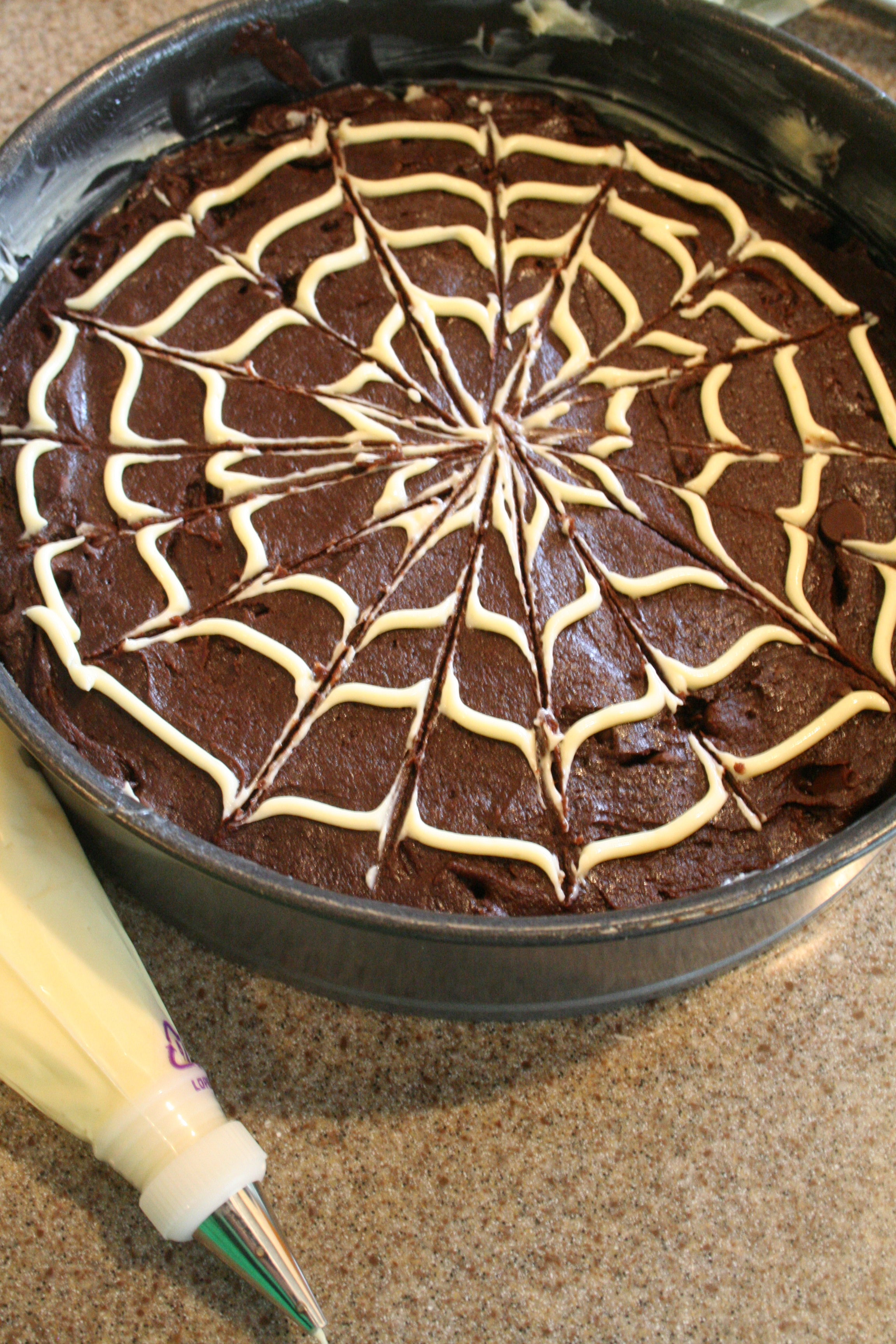 13. Use the remaining filling to trace the path where the knife travelled, to create the spokes of the web.

14. Bake the brownies for 30 minutes, until the brownies just barely pull away from the edge of the pan. The center will rise while baking, but will sink back level once the brownies are cool. Remove them from the oven and cool before cutting.Decorate with fake plastic spiders from the Halloween store (since you don't have time to make cute ones by hand…….) and pretend it's scary!  🙂

Source:  King Arthur Flour Company.