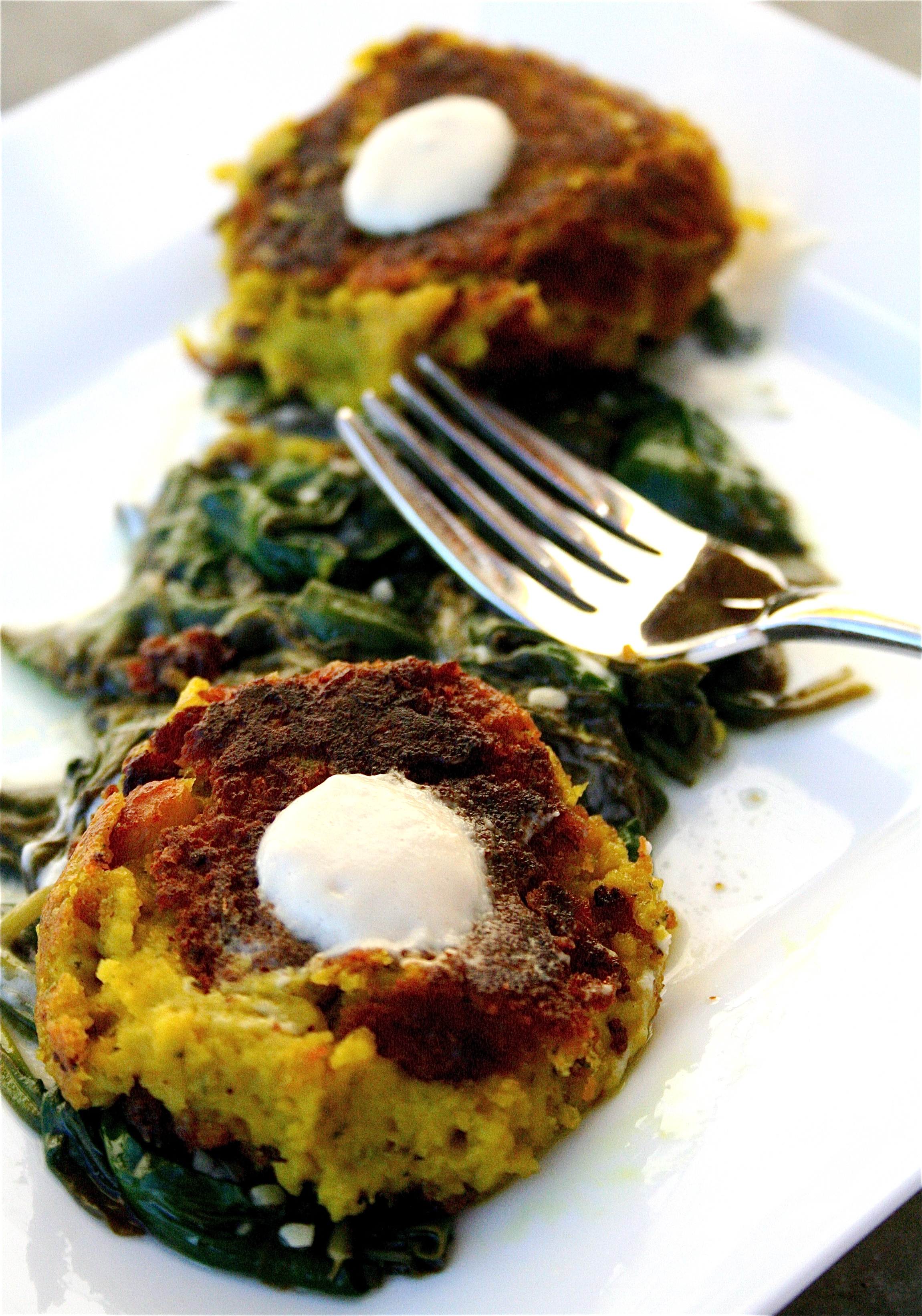 Happy World Vegan Day!
In 1994, World Vegan Day was established in order to promote awareness for the environment, as well as healthy eating choices for all humans.  No matter where you stand on the issue…meat or no meat….animal products or no animal products…November is officially Vegan Awareness Month.  Even though I am not a vegan myself, I completely respect those that are.  I appreciate the efforts and beliefs that vegans have, and my salute to them is by this 100% vegan post.
While I love all things dairy, I wanted to challenge myself to create a completely vegan meal…from start to finish.  And what I ended up with actually begins as a funny story.
When I was 15 years old, I decided to become a vegetarian.  I was successful until around age 21, when I let my own instincts and beliefs fall to the wayside as I let those around me influence my decision….and I slowly delved back into the world of poultry, meat, and pork.  I never felt completely right with it…morally, ethically, or, as I learned more about mass production of meat for American consumers (has anyone seen Food, Inc.?)..I realized that my own personal choice had been made at age 15, and I needed to go "back to my roots".  Simply put, while I do not care one bit if you or your brother/son/sister/mother consumes meat…I choose not to.  And, while I try not to be a giant consumer of animal products (which is why you will never ever find a recipe on this blog that uses gelatin…), I understand that my choices should, in no way, be assumed as the "right" way or the "only" way.
Back to the story.  So, Thanksgiving has always been one of my favorite holidays, if not my ultimate favorite.  But I never really liked the turkey anyways as a kid.  I always went for the sides and desserts (so what else is new?).  So, one year, my loving mother tried to overcome my seeming lack of an entree by creating some falafel balls to substitute for the turkey.  (The year before that was my Tofu Turkey aka cardboard….which was an ultimate fail.)  They were not my favorite, I will admit.  They looked like unappetizing brown balls of goop on my plate….everyone laughed at them…and they were quickly coined "Awful Falafel."
All things aside, as my tastes have changed, and I have become a lot more interested in branching out from my Midwestern-heavy cooking habits, I decided to give the old "Awful Falafel" another go-round. To my surprise, they were delicious, a snap to prepare, and my 1-year-old nephew, Oliver, LOVED them.  I served them with some wilted spinach and a Tahini-Lemon sauce….and…wow.  Super flavorful.  Super healthy (minus the oil to cook them in…).  And Super Vegan.
Happy World Vegan Day.  This is NOT Awful Falafel.  🙂
Falafel with Tahini-Lemon Sauce
Servings: about 24 2-inch falafel balls (4-6 per serving)
Ingredients
For the Falafel:
2 15-ounce canned chick peas
4 medium garlic cloves, minced
2 teaspoons cumin
1 teaspoon turmeric
1 teaspoon salt
1/2 cup minced scallions (aka green onions)
1/4 cup minced cilantro
1/4 cup water
1 tablespoon fresh lemon juice
Pinch cayenne
1/3 cup flour
Oil for frying
For the Tahini-Lemon Sauce:
3/4 cup sesame tahini
5 tablespoons fresh lemon juice
1 small to medium garlic clove, minced
3/4 to 1 and 1/2 cups water, depending on desired thickness
1/2 to 1 teaspoon salt, to taste
Instructions:
1. For the falafel: Rinse the chickpeas, and drain them well.
2. Combine all the ingredients except flour in a food processor until smooth.
3.  Transfer to a large bowl and add the flour. (At this point, you can refrigerate the "batter" for up to 3 days.)
4.  In the meantime, add about 3 tablespoons of oil to a heavy skillet over medium heat.
5.  Once heated and shimmering, drop rounded tablespoons of the falafel batter into to oil, flattening each slightly with a spatula.
6. Sauté for about 10 minutes on each side, until golden and crisp.
7.  Place the cooked falafel on a plate line with paper towels, and, if necessary, keep warm in a 300 degree oven until serving time.
8. For the Tahini-Lemon Sauce:  Place tahini, lemon juice, and garlic in a food processor fitted with the steel blade (or you can use a blender).
9.  Keeping the motor running, slowly drizzle in the water, checking every now and then to monitor the consistency.
10.  Transfer to a small bowl or container, and cover tightly.  Refrigerate until ready for use.
Who loves Falafel with Tahini-Lemon Sauce???  Oliver does!!!  (Yep, that's what he did while eating them….for real!)  🙂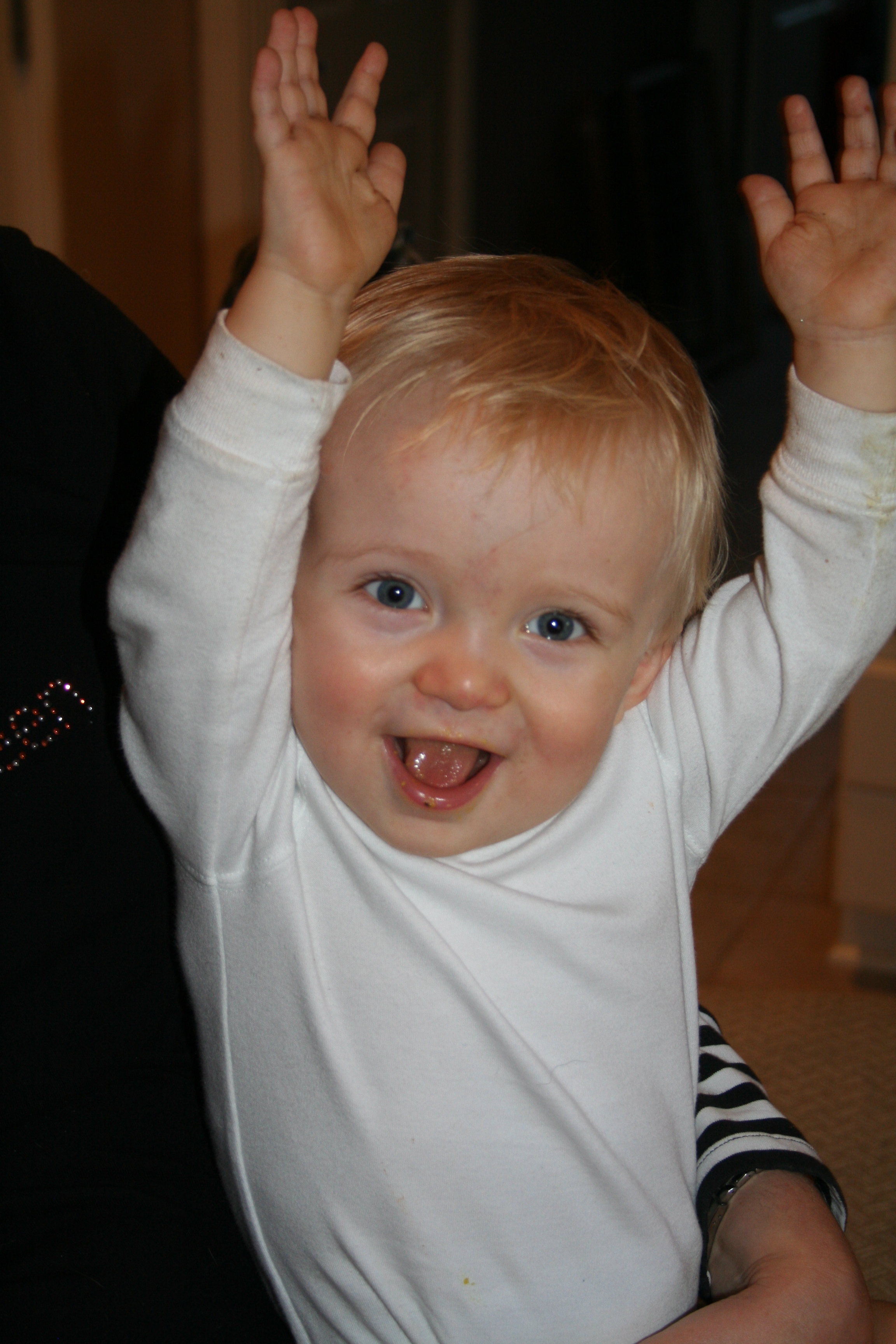 Adapted from:  The New Moosewood Cookbook by Mollie Katzen.