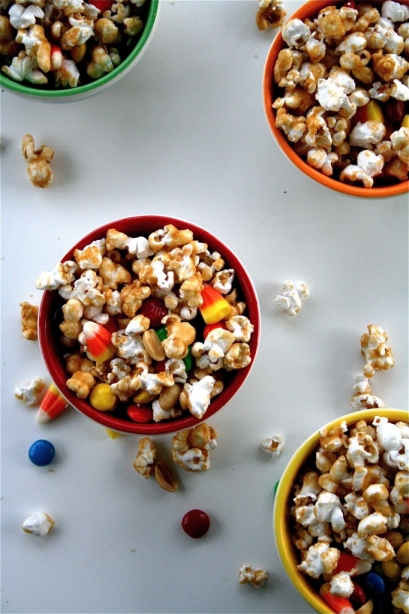 Yeah, I didn't know what to call this one.
I wanted to take a fun snack to a recent party, but I wanted something salty and sweet.  I immediately thought of my usual Caramel Corn recipe, but I wanted to jazz it up a little.  And this is an ode to my college girlfriends.  When we lived in the dorms and would have movie nights, we would inevitably pop a whole bunch of popcorn in our dorm rooms, but we always wanted something sweet to go with it.  One night, with billions of extra meal points to use up, we raided the cafeteria and bought a whole bunch of peanut M&M's to have with our popcorn.  We ended up just throwing in the M&M's with the popcorn and ate it all together in the big bowl.
And from that point on, a tradition was born.
So, in order to be a little festive, I added some candy corn (awesome!!) and some salted peanuts to the mix.  I tossed in some regular M&M's (didn't want to go overboard on the peanuts, of course).  Together?  This combination was a giant hit at the party.  Everyone loved it!
Candy Caramel Corn Snack
Servings:  A LOT! 20 cups
Caramel Corn
Makes about 20 cups
Ingredients
20 cups popped popcorn
1 cup (2 sticks) unsalted butter
1/2 cup corn syrup
2 cups packed light brown sugar
1 teaspoon salt
1/2 teaspoon baking soda
1 teaspoon vanilla
1 and 1/2 cups salted peanuts
2 cups M&M's
1 and 1/2 cups candy corn
Instructions
1. Pre-heat oven to 250 degrees.
2.  Melt the butter in a medium saucepan over medium-high heat.
3. Add the corn syrup and brown sugar, mixing well.
4. Bring and maintain mixture to a boil without stirring for 5 minutes.
5. Add the salt, baking soda, and vanilla to the boiling mixture and immediately remove from heat, stirring rapidly.
6. Pour the hot liquid over the popcorn (be careful!!)
7. Place the covered popcorn in a deep large pan or stainless steel bowl.
8. Bake at 250 degrees for 1 hour, stirring every 15 minutes.  Add the salted peanuts to the bowl while stirring the caramel corn when you still have 15 minutes left
9. Let cool until barely warm, add the candy corn and M&M's, and enjoy!!!
A Curvy Carrot original.  Caramel Corn originally from my mother.