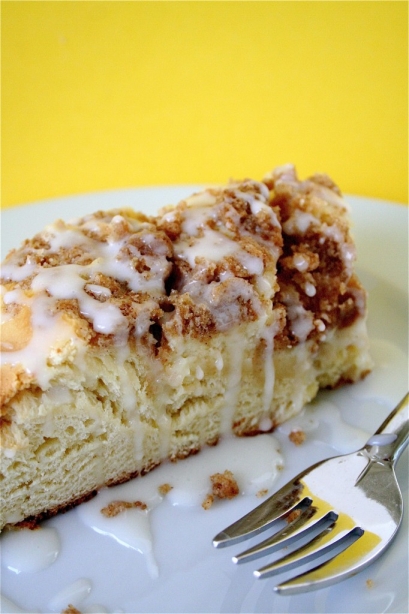 Now….that's a title, isn't it?
And, just to let you know, this is some coffeecake, too.  I couldn't wait to post it.  Especially on a Sunday morning.  What a perfect day for a coffeecake.
I came across this recipe a while back, but, to be honest with you, the amount of time needed during the preparation of this treat did not satisfy my need for instant gratification when it comes to cravings.  Also, the word "yeast" in the ingredient list scared me off a little.  But, as I am learning more about yeast doughs, I am pleasantly surprised that even I (more of a cook it seems than a baker…..) can manage to create palatable breads/doughs/etc with yeast.  And if I can do it?  You can, too!
Now, this recipe takes some time.  It's not good if you want it for Sunday morning breakfast, and it's already 9am.  I pre-planned to have this Saturday morning, around 10 or 11 am or so, so I went ahead and prepped the night before.  The dough definitely needs the 3-4 hours to rise, then another 1 1/2 to 2 hours to rise again when you twist it.  Now, I wish I had a nice picture of the twisting, however, by the time I did all this, it was night and dark outside (I take my pictures in natural light….).  And when I had it in the oven, baking away and smelling divine, I realized that I had completely forgotten to take the picture. So I owe you.
So, as I write this, I just want to let you know that I ate half of the coffeecake today.  Half of it.  It's that good……
Rich Coffeecake with Sweet Cheese Filling
Servings: 8-10 (makes 2 coffeecakes)*****You can half the ingredients if you only want one coffeecake.
Ingredients
For the coffeecake dough:
2 envelopes instant yeast (about 4 and 1/2 teaspoons)
1/4 warm water (about 110 degrees)
1/2 cup granulated sugar
4 large eggs
2 tablespoons milk (I used whole…because I was going ALL out on my fat content, of course…..)
1 teaspoon vanilla extract
4 and 1/4 cups unbleached all-purpose flour
1 and 1/2 teaspoons salt
16 tablespoons (2 sticks) unsalted butter, cut into 1-inch pieces and softened but still cool
For the sweet cheese filling:
8 ounces cream cheese, softened but still cool
1/4 cup granulated sugar
2 and 1/2 tablespoons unbleached all-purpose flour
Pinch salt
2 teaspoons finely grated zest from 1 lemon
1 large egg
1/2 teaspoon vanilla extract
For the streusel topping:
1/3 cup packed light or dark brown sugar
1 tablespoon granulated sugar
1/2 cup unbleached all-purpose flour
1/2 teaspoon ground cinnamon
1/4 teaspoon salt
5 tablespoons cold unsalted butter, cut into 8 pieces
For the icing:
3/4 cup confectioners' sugar, sifted
3 and 1/2 teaspoons milk
1/2 teaspoon vanilla extract
For the egg wash:
1 large egg
1 teaspoon heavy cream
Instructions:
1. For the dough: Sprinkle the yeast over the warm water in the bowl of a standing mixer; stir to dissolve.
2.  Add the sugar, eggs, milk and vanilla; attach the paddle and mix at the lowest speed until well combined.
3.  Add 3 and 1/4 cups of the flour and the salt, mixing at low speed until the flour is incorporated, about 1 minute.
4.  Increase the speed to medium-low and add the butter pieces 1 at a time, beating until incorporated, about 20 seconds after each addition (total mixing time should be about 5 minutes.)
5.  Replace the paddle with the dough hook and add the remaining 1 cup flour; knead at medium-low speed until soft and smooth, about 5 minutes longer.
6.  Increase the speed to medium and knead until the dough tightens up slightly, about 2 minutes longer.
7. Scrape the dough into a lightly oiled bowl and cover tightly with plastic wrap.
8.  Let the dough rise at warm room temperature until doubled in size, 3 to 4 hours.
9.  Press down the dough, replace the plastic and refrigerate until thoroughly chilled, at least 4 or up to 24 hours (aka overnight).  If you are in a rush, you can spread the dough about 1 inch thick on a baking sheet, cover with plastic, and refrigerate until thoroughly chilled, about 2 hours.
10.  For the filling: Beat the cream cheese, sugar, flour, and salt in the bowl of a standing mixer at high speed until smooth, 2 to 4 minutes.
11.  Add the lemon zest, egg and vanilla.
12.  Reduce the speed to medium and continue beating, scraping down the sides of the bowl at least once, until incorporated, about 1 minute.
13.  Scrape the mixture into a small bowl and chill thoroughly before using.
14.  For the streusel: Mix the brown sugar and granulated sugars, flour, cinnamon, and salt in a small bowl.
15.  Add the butter and toss to coat.
16.  Pinch the butter chunks and dry mixture between your fingertips until the mixture is crumbly (fun part).
17.  Chill thoroughly before using.
18.  For the icing: Whisk all the ingredients in a medium bowl until smooth.
19.  When you are ready to shape the coffeecake, remove the chilled dough from the refrigerator and turn it out onto a lightly floured work surface.  Divide the dough in half.
20.  Shape the dough into a log about 8 inches long and 2 inches in diameter.
21.  Roll the dough evenly into a 40-inch rope about 1 inch in diameter.
22.  With your fingers together, gently press the log to flatten slightly into a 1 and 1/2-inch-wide strip.
23.  Using both hands, twist the rope.
24.  Loosely coil the rope in a spiral pattern (think….it should look like the yellow brick road with all the Munchkins standing by when Dorothy starts her journey), leaving a 1/4-inch space between the coils.
25.  Tuck the end under and pinch to secure.
26.  Place the coil on a parchment paper-lined baking sheet and cover with plastic wrap.
27. Proof until slightly puffed, 1 and 1/2 to 2 hours. ***See step #31 if you are going to make this now, so you can get the oven pre-heated while you do the next steps.
28. For the egg wash: In a small bowl, whisk the egg and heavy cream together.
29. Brush with the egg wash and place the filling over the center of the top, leaving a 1 and 1/2-inch border around the perimeter (WARNING: this is very tricky and mine ending up going everywhere……which actually led to delicious cheese filling around the edges of the coffeecake instead of just the center…..).
30.  Sprinkle the top with streusel.
31.  Adjust an oven rack to the middle position and heat the oven to 350 degrees.
32.  Working with and baking one coffeecake at a time, bake until deep golden brown, 25 to 30 minutes.
33.  Slide the parchment with the coffeecake onto a wire rack and cool at least 20 minutes.
34.  Drizzle the icing over the cooled cake and serve.
Source: Baking Illustrated.