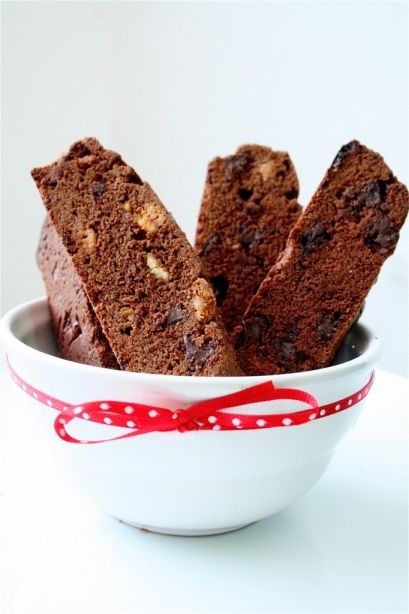 It's getting to be that time of year again.  That's right….the time of year when I down carbohydrates like its my job and drink big mugs of Aveda tea at night (oh my gosh…their tea is like my kryptonite…have you had this stuff?  I buy it in bulk….one of my most favorite things ever.)  Anyways, back to the point of this post.  Cozy nights with a good book (aka not a textbook), warm tea, thoughts about what I accomplished that day or what I have yet to accomplish…and, oh yes, THIS STUFF.
Biscotti is one of those things that I never really got turned on to until I was out of college and got it a couple of times with coffee while studying at the book store.  I had always thought of it as a grown-up type of thing, a sophisticated side to a grown-up drink.  And I never even fathomed making it myself.  It wasn't until a friend at Christmas time had made some, and when she pulled the biscotti "logs" out of the oven, I couldn't believe that she had made them.  And it was some funky kind of flavor, too, which completely intrigued me.  I love how you can mix just about anything in biscotti, and it will still turn out ok.
Since that time, I have gotten a little better about making my own homemade biscotti.  There's something satisfying about dunking it into some coffee, or even my tea.  I've got some other recipes lurking around that I will post eventually, but, for now:  it's chocolate time.  I think it was the name that grabbed my interest-who could say "no" to Triple Chocolate Biscotti?
And, as you will find (if this is your first venture into the land of biscotti-making), it's really not that hard to make.  Easy dough to mix, easy to shape, easy to bake, and easy to slice.  Three cheers for Triple Chocolate Biscotti!
Triple Chocolate Biscotti
Servings: about 36 slices
Ingredients
1/2 cup unsalted butter, softened
2/3 cup sugar
1/4 cup unsweetened cocoa powder
2 teaspoons baking powder
2 eggs
1 and 3/4 cups all-purpose flour
3/4 cup white chocolate chips (Ah…Ghiradelli….)
1/2 cup semisweet chocolate chips
Instructions
1.  Preheat the oven to 375 degrees.
2. Grease a large cookie sheet and set aside.
3. In a large mixing bowl, beat butter on medium high speed about 30 seconds.
4. Add the sugar, cocoa powder, and baking powder.
5. Beat in the eggs until combined, scraping down the sides of the bowl occasionally.
6. Beat in as much flour as you can with the mixer (my stand mixer allowed me to add it all with no problems.)
7. Stir in the remaining flour, white chocolate, and semisweet chocolate chips (by hand if necessary).
8.  Divide the dough in half.
9.  Shape each half of the dough into a 9-inch-long loaf and place the loaves on the prepared cookie sheet.  Flatten each loaf with your fingertips until about 2 inches wide.
10. Bake for 20 to 25 minutes or until a toothpick inserted near the center comes out clean.  Cool completely on the cookie sheet.
11.  Reduce your oven temperature to 325 degrees.
12.  Transfer the loaves to a cutting board, and using a serrated knife, cut the loaves diagonally into 1/2-inch slices.
13.  Place the slices, cut sides down, on an ungreased cookie sheet.
14.  Bake for 7 to 9 minutes more or until dry and crisp.  Transfer biscotti to a wire rack and let cool.
Source:  The Ultimate Cookie Book.