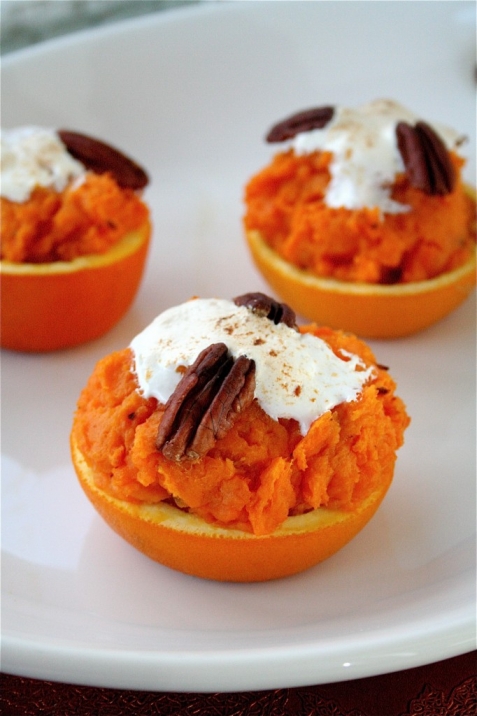 I saw this recipe and thought it was so elegant.  What a different way to present your usual sweet potato casserole for Thanksgiving-in a clever little individualized package.  I was also happy about the marshmallow creme.  🙂  But, seriously, I loved the way that this recipe puts all the traditional (albeit not so healthy) ingredients for sweet potato casserole (one of my Thanksgiving must-haves) into a single-sized portion.
I also liked the fact that I could microwave the sweet potatoes instead of taking up (very sacred) oven space.  I was able to pre-make the sweet potato "mash", refrigerate it, and then prepare the orange cups about 40 minutes before serving time.  This recipe can be popped into the oven while your turkey (or vegetarian pot pie….) rests before the big meal. They are bound to get you some "oohs" and "ahhs" at dinner time.
Sweet Potato in Orange Cups
Servings: 18 ***Feel free to cut this recipe in half.  I'm posting the full ingredient list, but I halved it when I made it with no problems.
Ingredients
6 pounds large sweet potatoes (about 5 or 6)
3/4 cup marshmallow creme, plus more for garnish
9 tablespoons butter, room temperature
6 tablespoons maple syrup
3 large eggs
9 large oranges
36 pecan halves
Instructions
1. Pierce each sweet potato multiple times with a fork.
2. Working in 2 batches, cook sweet potatoes in the microwave for 15 minutes.
3. Turn the sweet potatoes over; cook until tender, about another 12 minutes or so.
4. Cut sweet potatoes in half; scoop pulp into bowl.
5. Add 3/4 cup marshmallow creme, butter, and syrup; mash until smooth.
6.  Season with salt and pepper.
7.  Whisk in eggs.  **You can cover and refrigerate the mixture for up to one day at this point.
8.  Preheat oven to 350 degrees.
9. Cut a thin slice from the top and bottom of each orange to make a flat surface.
10.  Cut each orange in half and scoop out the pulp.  ***You can reserve the orange segments for another use, if you want.
11.  Place the orange cups on 2 baking sheets.
12.  Divide the sweet potato mixture equally among the cups.
13.  Top each with a dollop of marshmallow creme and 2 pecan halves.
14.  Bake until the marshmallow creme begins to brown, about 30 minutes.
Source: Bon Appétit, November 2001.