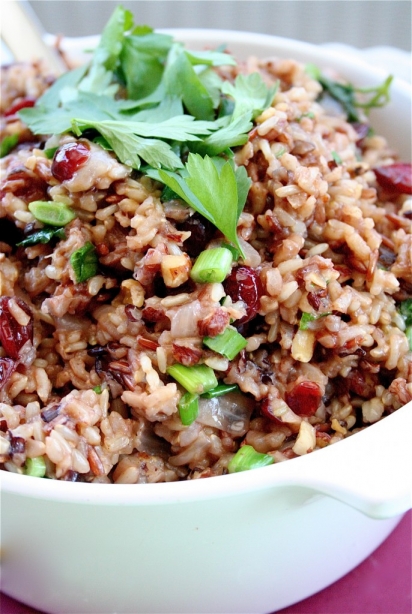 Thanksgiving wouldn't be Thanksgiving without stuffing.  But this year, I wanted an alternative to the stuffing from a box.  And, believe it or not, I had a really hard time finding a completely vegetarian stuffing that I could make from scratch.  This recipe stood out to me as something with a lot of flavor and a sustenance.   Although, it DID originally call for chicken broth, but I substituted vegetable stock without any major issues.  Honestly, I don't think it affected the flavor too much at all.
I loved the texture of the wild rice mixed with the savory hazelnuts and sweet cranberries.  The green onions added a little kick to the dish, as well.  So, I'm adding this to my list for Thanksgiving Day.  It's completely easy to throw together, healthy, and a nice festive side dish with lots of vibrant color.  It's definitely not your average stuffing from a box.
Wild Rice Stuffing with Hazelnuts and Dried Cranberries
Servings: 12 to 16 servings
Ingredients
1/2 cup (1 stick butter)
2 large onions, chopped
1 garlic clove, minced
6 and 3/4 cups vegetable stock
2 cups wild rice
2 cups long-grain brown rice
2 cups dried cranberries
1/2 cup chopped fresh parsley
2 tablespoons chopped fresh thyme
1 and 1/2 cups hazelnuts, toasted, coarsely chopped
1 cup chopped green onions
Instructions
1.  Melt the butter in a heavy large saucepan over medium-high heat.
2.  Add the onions and garlic, and sauté until tender, about 4 minutes.
3.  Add the vegetable stock, and bring to a boil.
4.  Add the wild rice, and reduce the heat to medium-low.
5. Cover and simmer for 30 minutes.
6. Mix in the brown rice; cover and simmer until rice is just tender and most of the liquid is absorbed, about 30 minutes longer.
7. Stir in the cranberries, parsley and thyme into the rice.
8. Cover and cook until the liquid is absorbed, about 5 minutes longer.
9. Mix in hazelnuts and green onions.
10.  Season with salt and pepper.
11. To bake in a baking dish:  Preheat oven to 350 degrees.
12.  Butter a 15x10x2-inch glass or ceramic baking dish.
13. Transfer stuffing to prepared dish.
14. Cover dish with buttered foil, buttered side down.
15. Bake stuffing until heated through, about 40 minutes.
Source: Bon Appétit, November 1999.