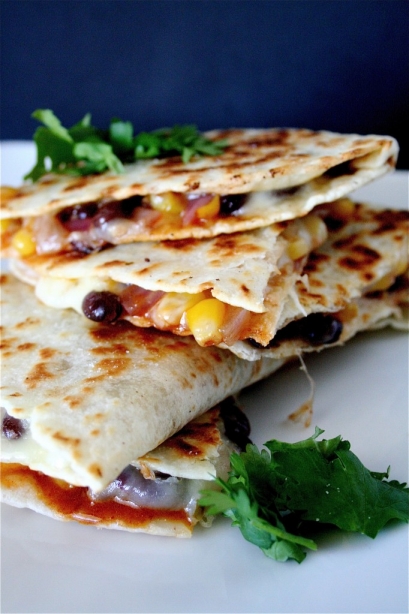 How about something savory?  It seems I've had enough sweets lately (consisting of sugar highs, carbohydrate crashes, and tightening work clothes).
I know it's that time of year for sweets, but, honestly, I need a break.  I'm bombarded right now with pictures of calorie-laden treats, beautiful festive desserts, and endless holiday cookies.  It's almost too much for someone with a seemingly insatiable sweet tooth.  Anyone else out there feeling the same way?
Well, here's my non-sweet fix.  And it's really healthy.  Makes vegetarians happy.  Omit the cheese and have yourself a purely vegan and filling meal.  And, let me add, this recipe makes enough for plenty of leftovers (just double the recipe if you need more than two servings)…which are really awesome.  It's really easy on your wallet, as well. All you have to do is heat up the leftovers in the microwave, toast a tortilla (or not, if you are at work and don't have access to a stove-just warm it up in the microwave for a few seconds), sprinkle some cheese on top…and there you go.  Something warm, savory, and completely satisfying.  Now, once we all set our resolutions to take better care of ourselves for the year 2011, you can bet that this recipe will be on my list of go-to healthy recipes.  I love the spice, the flavor, and the variety (feel free to play around with tomatoes, peppers, and other cheeses) that this recipe provides.  And maybe I'll leave the cheese on.  You know, to satisfy my obsession for cheese.  (There's always something, right?) 🙂
Black Bean Quesadillas
Servings: 2 folded 8-inch quesadillas
Ingredients
1/3 cup frozen corn kernels, thawed
2 teaspoons vegetable oil, plus more for brushing the tortillas
1/3 cup minced red onion
1 teaspoon minced garlic
1/2 teaspoon chili powder
1/3 cup black beans (canned)
2 teaspoons lime juice
Kosher salt
2 plain flour tortillas, 8-inch
2/3 cup Pepper Jack cheese, in pieces or shredded
Instructions
1. Heat a 10-inch nonstick skillet over medium-high heat until hot, about 2 minutes.
2. Add the corn and cook, stirring occasionally, until kernels begin to brown and pop, 3 to 5 minutes; transfer corn to medium bowl.
3. Heat 2 teaspoons vegetable oil in now-empty skillet over medium heat until shimmering; add red onion and cook, stirring occasionally, until softened, about 3 minutes.
4. Add garlic and chili powder and cook until fragrant, about 1 minutes; stir in beans and cook until heated through, about 1 minute.
5. Return corn to skillet and toss to combine; gently press mixture with spatula to lightly crush black beans.
6. Transfer mixture to now-empty bowl, stir in lime juice, and season to taste with salt.
7. Wipe out the skillet with paper towels and return pan to medium heat until hot, about 2 minutes.
8. Place 1 tortilla in skillet and toast until soft and puffed slightly at edges, about 2 minutes.
9. Flip tortilla and toast until puffed and slightly browned, 1 to 2 minutes longer.
10.Slip tortilla onto cutting board.
11. Repeat to toast second tortilla while assembling first quesadilla.
12. Sprinkle 1/3 cup cheese, half the corn and bean mixture over half of tortilla, leaving 1/2-inch border around edge.
13. Fold tortilla in half and press to flatten.
14. Brush surface generously with oil, sprinkle lightly with salt, and set aside.
15. Repeat to form second quesadilla.
16. Place both quesadillas in skillet, oiled sides down; cook over medium heat until crisp and well browned, 1 to 2 minutes.
17. Brush surfaces with oil and sprinkle lightly with salt.
18. Flip quesadillas and cook until second sides are crisp and browned, 1 to 2 minutes longer.
19. Transfer quesadillas to cutting board; cool about 3 minutes, halve each quesadilla, and serve.
Source: Cook's Illustrated.