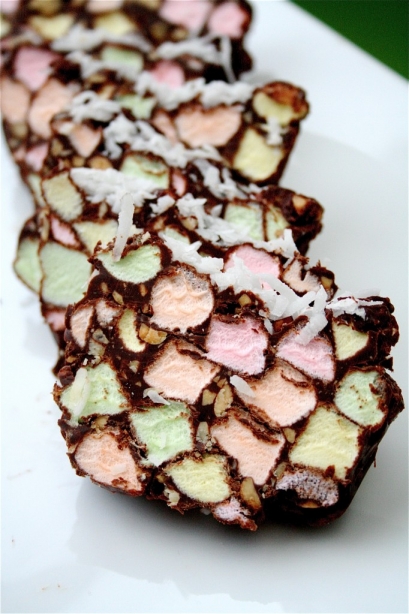 One of my favorite collective childhood Christmas memories consists of me arriving at my grandparents' home in Michigan where I would promptly enter my Nana's kitchen and stroll to the end of the counter where she kept the beloved Folgers coffee tins.  Because, as you soon will see, these coffee tins contained various assortments of my Nana's Christmas cookies.  She made them all.  Now that she's gone, and I am a grown up, I understand the hard work, devotion, time, and love that went into her baking these cookies.  I wish I could go back in time and pay more attention as a child to her magic in the kitchen.  From her, I learned that a piece of fresh bread in those coffee tins would keep the cookies moist and fresh.  I learned that I loved the combination of molasses and raspberries, her lemon glaze, and the little red-hot candy "ornaments" that she would use to decorate her Christmas tree sugar cookies.  Ah, the memories.  I believe that we all have them.  The best part about this time of year is that I get to re-visit them and keep her holiday (and love for baking) spirit alive through these posts.
When she passed away, we all needed copies of her recipes.  My Aunt Lila lovingly put together an abbreviated typed document containing the most loved cookie/candy recipes.  I am hoping to put together a public and somewhat permanent recipe collection from both of my grandmothers, both amazing bakers.  Perhaps that's one of the biggest reasons why I started this blog in the first place.  Because these recipes hold a very special place in my heart.
Which brings me to these Church Window Bars. Now, as a somewhat reluctant fan of the use of marshmallows in baking (I know, I know, I am missing out…), I embrace these little fruit-flavored sugar puffs with love, entirely because of this recipe.  When I was a kid (and still didn't really like marshmallows all that much-I think it's more of a consistency thing..) I would lick the chocolate/peanutty mixture off the marshmallows and leave the marshmallows behind.  But, as I grew older, I appreciated the texture, flavor, and whimsical color that they added to the bar.
So, when I saw these treats at my Nana's house (all foiled in empty boxes of Velveeta cheese, which she had saved all year long for this purpose), I knew that it was that magical time of the year.  (Warm fuzzies.)
Here's a gift to you from my Nana.
Church Window Bars
Servings: Four 5×2 and a 1/2-inch loaves
Ingredients
8 tablespoons (1 stick) unsalted butter
12 ounces (1 bag) of semi-sweet chocolate chips
One 10.5 ounce bag of multi-colored miniature marshmallows
1 cup chopped peanuts
Shredded sweetened coconut (optional), for garnish
Instructions
1.  Line four mini-loaf pans with aluminum foil (allow for some extra overhanging foil) and spray with cooking spray.  Alternatively, you could use a larger loaf pan to get one large bar, although I like the little pans.
2.  Place a heat-proof bowl over a pot of simmering water on the stove.
3.  Melt the butter in the bowl over low heat.
4.  Add the chocolate chips to the melted butter and stir until the chips melt completely, and the mixture is smooth.  Remove from the heat.
5.  In a large bowl, combine the colored marshmallows and the nuts.
6.  Slowly add the melted chocolate to the bowl and stir to completely combine.
7.  At this point, I like to butter my hands and mold the mixture into rough rectangles.  Press the mixture into each loaf pan, making sure to fill every corner.  Sprinkle the tops with coconut, if using.
8.  Wrap each loaf tightly with the foil and chill overnight.
9.  Once completely chilled and firm, the bar can be sliced and served.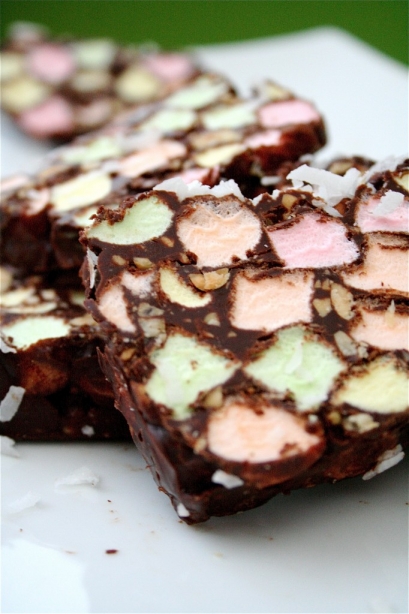 Source:  Passed down to me from Rita Ann Lacy. (original source unknown)