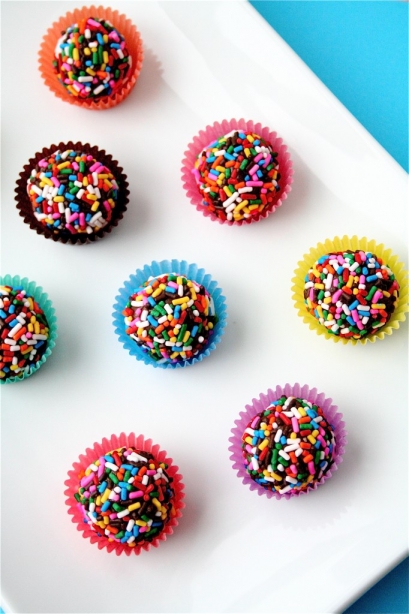 Aren't they great?
I discovered this recipe a few months ago while flipping through a magazine on a flight.  I saw them, immediately bookmarked the page, and knew that they would be making an appearance on the blog around the holidays.  I also think the adorable little four year-old girl sitting next to me got an absolute kick out of looking through the magazine with me, especially since it was completely devoted to sweets.
I did a little research and learned that these sweet treats are named for a Brazilian Air Force commander who was popular during the 1940's, and they are a common Brazilian bon bon which is served at any type of celebration.  They can be rolled in various types of awesome things, too: granulated sugar, nuts, coconut, chocolate sprinkles.  So when I saw these, I decided to go with the whimsical colorful sprinkles (aka jimmies).  Why not?
Now, these are ridiculously easy to make, by the way. All you need is a little whisking power, a few hours to chill the mixture, and you've got it made.  If you need a quick fix for some sort of holiday get-together, these are it.  They are really good, too.  Too good, i.e. I ate way too many of them after I snapped the picture and may have two cavities now.
Chocolate Brigadeiros
Servings: about 2 dozen
Ingredients
1 14-ounce can of sweetened condensed milk
2 tablespoons unsalted butter
2 tablespoons heavy cream
1 teaspoon light corn syrup
1 and 1/2 ounces semisweet or bittersweet chocolate, chopped (**I recommend going with the bittersweet.  Believe me, they are sweet enough as it is already…..)
1 teaspoon Dutch-processed cocoa powder
1 cup colored sprinkles
Instructions
1. In a 3-quart heavy-duty saucepan, combine the milk, butter, cream, and corn syrup and bring to a boil over medium heat, whisking constantly.
2.  Add the chocolate and cocoa powder and continue to whisk, making sure that there are no pockets of cocoa powder.
3. As soon as the mixture comes back to a boil, turn the heat to medium low and cook, whisking constantly, until the mixture thickens and pulls together into a dense, fudgy batter, about 8 minutes.
4. Slide the mixture into a bowl.  (P.S. Don't scrape the pan.  That stuff is not what you want.)
5. Let the mixture cool to room temperature and then refrigerate uncovered until very firm, 3 to 4 hours.
6.  Put the sprinkles (ahem, jimmies) into a bowl.
7. Using a teaspoon or a melon baller, scoop the mixture by the teaspoonful, and with your hands, roll each into a ball about one inch in diameter.
8. Drop each ball into the sprinkles and coat entirely.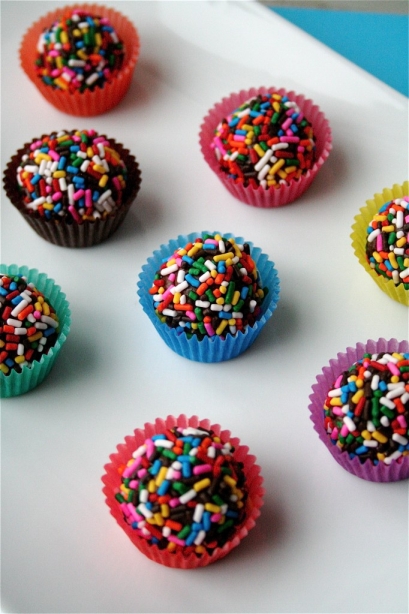 Slightly adapted from Fine Cooking: Cookies, Brownies, Bars, and More, 2010 Special Holiday Issue.