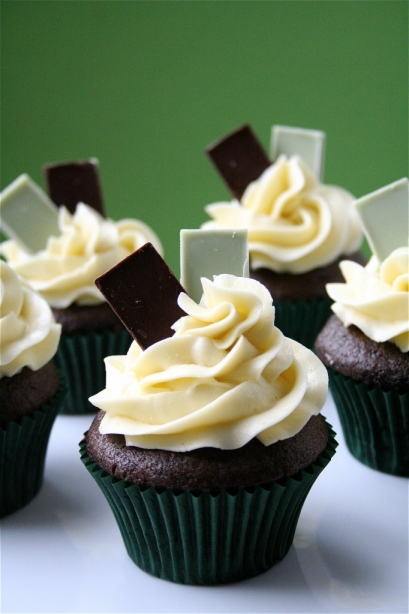 I decided to take a different approach with the whole chocolate/mint holiday theme.  I love candy canes (aka peppermint), and I wanted to share a minty recipe for the holidays but minus the candy canes.  I don't know.  Call me picky.  I've just seen a lot of chocolate/peppermint recipes lately, so I wanted to stir it up a bit.  And, while I am not being all that original, these cupcakes satisfied my cravings for a sweet mint flavor without the strong tang of peppermint.
And, to be honest with you, this recipe took a lot of work.  I made the mistake of settling on it before truly reading through the recipe to see if my (lack of) patience could withstand the intricacy and dedication that this recipe entails.  The chocolate cupcake part is easy enough-just your standard mixing of dry ingredients (and set aside) and your standard mixing of wet ingredients (now add the two and fill those pretty cupcake liners).  It's the mint-infused buttercream that got me.  It's basically a swiss meringue type of buttercream frosting-meaning that you basically make a meringue (egg whites and sugar) and send it through a very specific heating and tempering process, adding the butter at the very end.  To make things a bit more complicated, you infuse milk with fresh mint leaves on the stove (aka you heat them up together so that the mint oils mix with the milk) and then add this to the frosting. You will also need to wash your standing mixer bowl/attachments multiple times. It was a lot of work.
But, my friends, the hard work (as usual) was very much worth the effort.  The frosting came out perfectly, piped like a dream, and tasted sweet and buttery but oddly light (considering how much butter the recipe calls for…yum.)  The mint flavor was soft and subtle-definitely present but not overpowering. The cake part was decadent.  I added the chocolate candies on top just because I love them and thought they would add some dimension to the cupcakes.
In summary, these mint chocolate cupcakes are fantastic and you should try making them as soon as possible.  🙂
Mint Chocolate Cupcakes
Servings: 18
Ingredients
For the cupcakes:
1 and 1/2 cups all-purpose flour
3/4 cups unsweetened Dutch-process cocoa powder
1 and 1/2 cups sugar
1 and 1/2 teaspoons baking soda
3/4 teaspoon baking powder
3/4 teaspoon salt
2 large eggs
3/4 cup buttermilk
3 tablespoons vegetable oil
1 teaspoon pure peppermint extract
3/4 cup warm water
For the mint buttercream:
2 large eggs, separated
1/2 cup sugar
2/3 cup milk
1/3 teaspoon pure vanilla extract
2/3 cup coarsely chopped fresh mint leaves
1 pound (4 sticks, yes you read it correctly) unsalted butter, at room temperature
1/4 teaspoon pure peppermint extract
Candy mints, for garnish (optional)
Equipment: candy thermometer
Instructions:
1. For the cupcakes:  Preheat the oven to 350 degrees.
2. Line standard muffin tins with paper liners.
3.  With an electric mixer on medium speed, whisk together flour, cocoa, sugar, baking soda, baking powder, and salt.
4. Add eggs, buttermilk, oil, extract, and the water; beat on low speed until smooth and combined, scraping down sides of bowl as needed.
5. Divide the batter evenly among the baking cups, filling each about 2/3 full.
6. Bake, rotating the tins halfway through, until a cake tester inserted in the centers comes out clean, about 20 minutes.
7. Transfer tins to wire racks to cool 10 minutes; turn out cupcakes onto racks to cool completely.
8. For the mint buttercream: In the bowl of a standing electric mixer fitted with the whisk attachment, mix the egg yolks and 1/4 cup sugar on high speed until pale and thick, about 2 to 3 minutes.
9.  Prepare an ice-water bath in a large bowl.
10. Bring the milk, vanilla, and mint leaves just to a boil in a medium saucepan.  Remove from the heat.
11. Whisk about one third of the milk mixture into the yolk mixture.
12.  Pour the yolk mixture into pan with remaining milk mixture and whisk to combine.
13. Clip a candy thermometer to the side of the saucepan.
14.  Cook over medium heat, stirring constantly, until mixture registers 185 degrees.
15. Remove from the heat; strain through a fine sieve into a heatproof bowl (discard solids).
16. Set the bowl in the ice bath, stirring the mixture until cool.
17. In another bowl of an electric mixer fitted with the paddle attachment, cream butter on medium-high speed until pale and fluffy.
18. Beat in chilled egg-yolk mixture.
19.  Heat egg whites and remaining 1/4 cup sugar in the clean heatproof bowl of an electric mixer set over a pan of simmering water, whisking constantly by hand until the mixture is warm to the touch and the sugar is dissolved completely.
20. Attach bowl to the mixer fitted with the clean whisk attachment; starting on low speed and gradually increasing to medium-high speed, whisk until stiff peaks form and mixture is completely cool, about 10 minutes.
21.  Add the egg-white mixture to the butter mixture; switch to the paddle attachment, and beat on medium-high speed until smooth.
22. Beat in peppermint extract.
23. Fill pastry bags fitted with your tip of choice and pipe onto cupcakes.  Garnish with chocolate candy, if desired.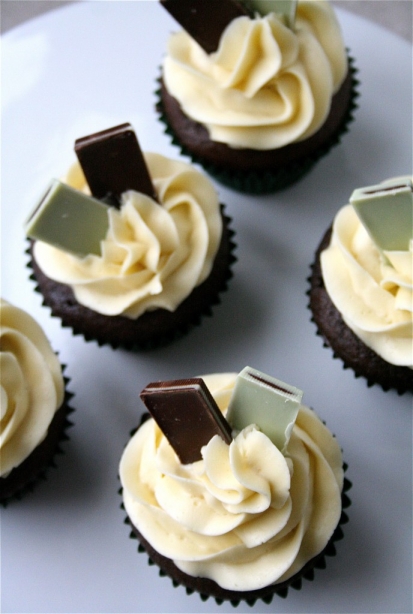 Source:  Martha Stewart's Cupcakes.