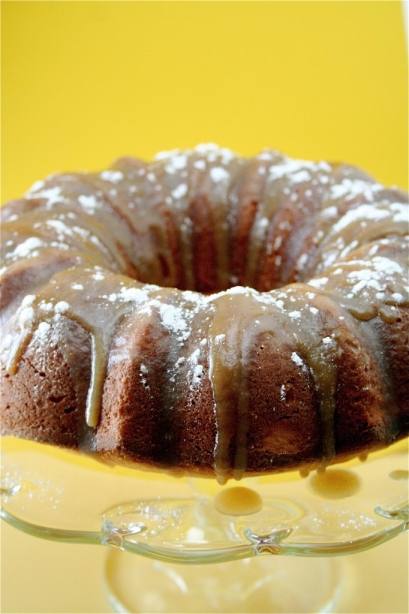 Alee, from Storey Publishing, contacted me a few weeks ago and asked me if I wanted to review a cookbook and possibly offer a giveaway on the blog.  When I heard the title of the cookbook, A World of Cake, 150 Recipes for Sweet Traditions, I was sold.  It's apparent that I love baking.   But it's probably not so apparent that I love to learn about other cultures and cuisines.  In fact, when I am a grown up and finally get my first real job in a year and a half, traveling is on the top of my to-do list.  I do have a list of places…it consists of at least ten separate locales and several different continents.  Anyone want to come with?
When I received my copy of A World of Cake in the mail, I promptly settled in with a big cup of my favorite (Aveda) tea, turned my electric blanket on, let Scout jump in the bed with me, and curled up to pick a recipe that I wanted to feature.  I was overwhelmed.  I love this book, and that's the honest truth.  Not only does the author cover just about every geographical area on the map, but she also covers just about every type of tradition.  From wedding cakes to harvest festival cakes, my choices were overwhelming.  Also: sidenote:  this cookbook contains a detailed color picture for just about every recipe in the book-which I love.  I am not a fan of cookbooks that don't have pictures-which is one of the reasons why I love food blogs so much.  I had originally chosen my ultimate ideal in French cuisine, the croquembouche, but with so little time and several relatives coming in the next day, I opted against it and went for a rum cake instead.  I had all the ingredients on hand, and I loved the idea of a rum syrup to soak into the cake, but with the holidays quickly approaching, I remembered that I had seen a hot buttered rum sauce on another website and thought this would be the perfect dessert to serve after a very heavy Italian supper.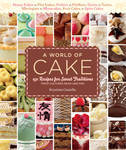 So let me be completely honest with you:  I lick the batter off the spoon sometimes.  THIS batter, by far, was the BEST batter I have ever created.  There I was, at 7 am, in my pajamas, slippers, and really bad bed head, licking the beater clean.  Before having my coffee.  It was so good.
The cake was extremely straightforward to mix together, and the presentation was great.
So, next time, will I go for the croquembouche? The Sachertorte?  The Upside-Down Pumpkin Plantain Cake? The Dobos Torte? The Pineapple-Chocolate Cream Cake?  The Marta Rocha? Seriously.  I have all of them bookmarked and ready to go.  I will be working them into the blog in the future.  I love this cookbook, and I know you will, too.
So, as my first official The Curvy Carrot Giveaway, courtesy of Storey Publishing, all you have to do is leave a comment on this post, telling me what your favorite kind of cake is, and a random winner will be selected and will win their very own copy of A World of Cake!  Chocolate.  Vanilla.  German chocolate.  Red velvet.  Whatever.  I'm going to leave the giveaway open for two weeks…closing it officially at 12am on Sunday, January 2nd.  Per Storey Publishing, though, this giveaway is only limited to US residents.  Tell all your friends.  This is your chance to win a free (and very good) cookbook.
Hot Buttered Rum Cake
Servings: 1 Bundt cake
Ingredients:
For the cake:
1 and 1/3 cups all-purpose flour
3/4 teaspoon baking powder
1/2 teaspoon salt
1 cup (2 sticks) unsalted butter, softened
1/2 cup sugar
3/4 cup sweetened condensed milk
1 tablespoon dark rum
3 eggs
For the hot buttered rum sauce:
1/2 cup light brown sugar
1/2 cup heavy cream
1/2 cup dark rum
2 tablespoons unsalted butter, chopped
Powdered sugar, for garnish (optional)
Instructions:
1. For the cake: Preheat the oven to 325 degrees.
2.  Butter and flour a Bundt pan (or, alternatively five 4 and 1/2-inch Bundt pans)
3.  Combine the flour, baking powder, and salt; set aside.
4. In a separate large bowl, beat the butter and sugar until fluffy.
5. Add the condensed milk and the rum.
6. Stir in the flour mixture until blended.
7. Beat in the eggs one at a time until combined.
8. Transfer the batter to the preapred pans and bake to 35 to 45 minutes, until a knife inserted in the center comes out clean.  Leave the caqkes in teh pans to cool.
9. Remove the cakes from the pans.
10.  For the hot buttered rum sauce: In a small heavy saucepan over medium heat, stir brown sugar and heavy cream until sugar is melted.
11. Pour in rum, and simmer, stirring until the sauce is smooth, thickened, and reduced.
12. Stir in butter until melted. Drizzle over prepared and cooled cake.  Sprinkle with powdered sugar, if desired. **I recommend warming the cake up in the microwave a bit before eating it.  It's really good that way!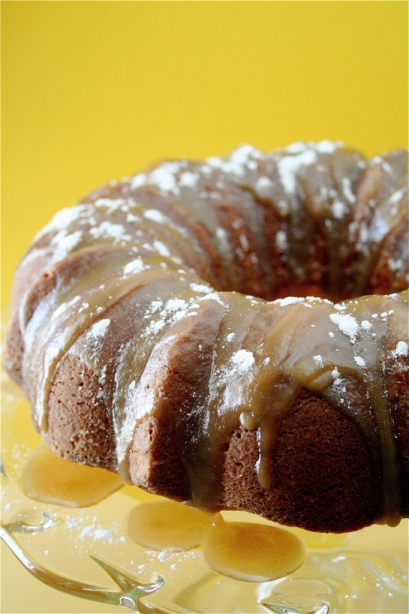 Sources:  Rum Cake from A World of Cake and Michel's Hot Buttered Rum Sauce – Martha Stewart Recipes.