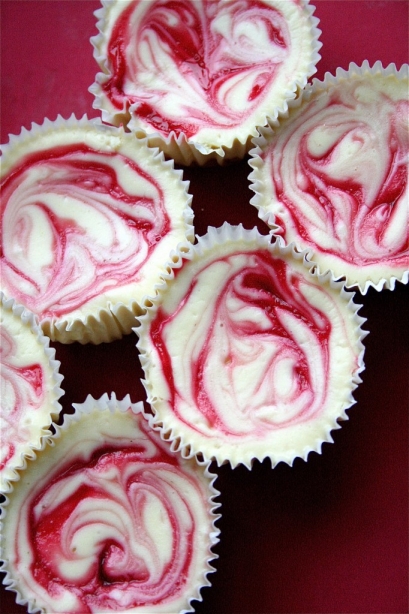 Merry Christmas from The Curvy Carrot and Family.
I hope everyone out there, whether you are celebrating this holiday today or not, is having a blessed time with family and friends.  Last night I spent the evening with my favorite people in the whole world:  my parents, my sisters, my brother, my two beautiful nephews (who wore their shiny black lace-up shoes…super adorable), as well as my brother-in-law, future brother-in-law, and future sister-in-law.  There's nothing like spending time with people who support you and love you unconditionally.
Although these individual raspberry cheesecakes do come close.  😉  I had been waiting to make these for a long time, and with the holiday line-up of finger foods and desserts that I had planned for Christmas Eve, I knew that these would look beautiful on my serving plates.
Have a wonderful holiday.
Shanon
Raspberry Marble Cheesecakes
Servings: Approximately 32 individual cheesecakes
Ingredients
1 and 1/2 cups finely ground graham crackers
3 tablespoons unsalted butter, melted
1 and 1/2 cups plus 5 tablespoons sugar
1 container (6 ounces) fresh raspberries
2 pounds cream cheese, room temperature
Pinch of salt
1 teaspoon pure vanilla extract
4 large eggs, room temperature
Instructions
1. Preheat the oven to 325 degrees.
2. Line standard muffin tins with paper liners.
3.  Stir together the ground graham crackers, butter, and 3 tablespoons sugar.
4.  Press 1 tablespoon crust mixture firmly into the bottom of each lined cup.
5.  Bake until set, about 5 minutes.
6.  Transfer tins to a wire rack to cool.
7.  Process raspberries in a food processor until smooth, about 30 seconds.
8. Pass puree through a fine sieve into a small bowl, pressing with a flexible spatula to remove as much liquid as possible; discard solids.
9. Whisk in 2 tablespoons sugar.
10. With an electric mixer on medium-high speed, beat cream cheese until fluffy, scraping down the sides of the bowl as needed.
11.  With mixer on low speed, add remaining 1 and 1/2 cups sugar in a steady stream.
12.  Add salt and vanilla; mix until well combined.
13. Add eggs, one at a time, until just combined after each.
14.  Spoon 3 tablespoons filling over crust in each cup.
15.  Dollop 1/2 teaspoon raspberry puree in a few dots over each.
16. With a wooden skewer or toothpick, swirl sauce into filling.
17.  Place each tin in a roasting pan (bake in batches, if necessary.)
18.  Pour enough hot water into pan to come halfway up sides of cups.
19.  Bake, rotating pans halfway through, until filling is set, 27 to 30 minutes.
20.  Carefully remove tins from water bath and transfer to wire racks to cool completely.
21.  Refrigerate in tins, uncovered, at least 4 hours.
22.  Remove from tins just before serving.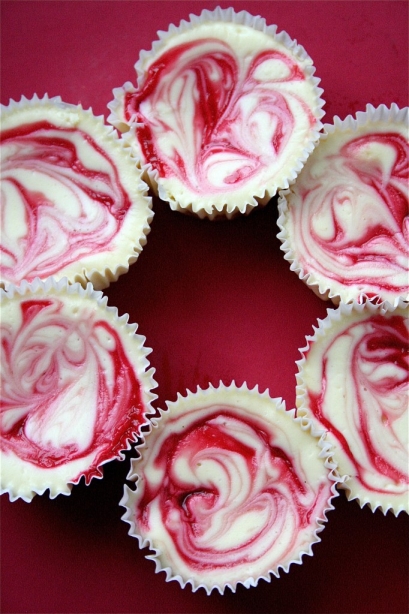 Source:  Martha Stewart's Cupcakes