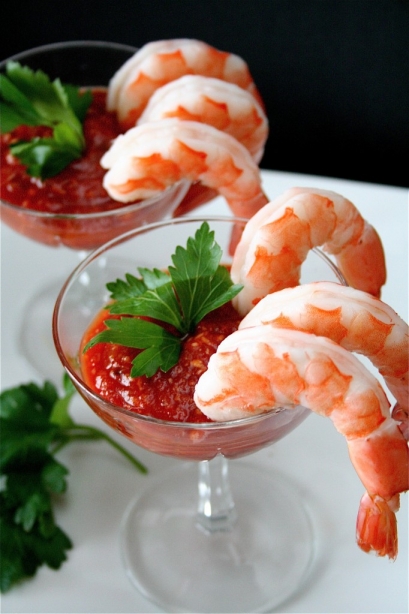 There's a steakhouse in downtown Indianapolis which is almost an entire century old.  It's known for its fabulous menu of steaks…..and knock-your-socks-off cocktail sauce.  It's called St. Elmo's.
I've only been to this restaurant once, and I went for the sole reason of trying this cocktail sauce because I had heard of its major reputation.  A reputation for clearing out your sinuses with an intense burst of horseradish.  Warning: it's a tad bit (almost) painful on the first dip (go easy with your first shrimp…..), but, it then becomes so insanely addicting and flavorful that you just want more and more…and more.
So I've been trying and trying to perfect a copycat recipe.  Apparently, it's a secret thing.  I found some recipes online from "people who know people who work there", so I set out to make my own rendition and attempt to come as close as possible to perfecting it.  I will say, though, that the recipe I was initially modeling after let me down quite a bit.  I bought my own fresh horseradish root, shredded it with a food processor, and even soaked it in a cider vinegar "marinade" overnight, as the recipe stated.  Now, while my whole kitchen smelled of horseradish, the root I bought must not have been very strong.  It didn't have that spicy kick that I so desired…so I scrapped the whole horseradish root altogether.  I ended up using freshly ground plain horseradish, right out of the glass container.  And this, my friends, seemed to do the trick.  If you want to go with the fresh horseradish root, I would recommend grating several tablespoons, covering it entirely with cider vinegar, and letting it soak overnight in the refrigerator. Maybe you will have better luck with a spicier root. 🙂
The other thing was this: I wasn't counting on so many people coming over that night, so I quickly had to double the recipe.  I had purchased a bottle of the recommended brand of chili sauce, but it wasn't enough.  Thankfully, though, I had another generic store-brand  bottle of chili sauce in my pantry (random, yes, but a very good thing for me!).  Together, I actually thought that they blended well, especially because the Bennett brand of chili sauce had a sweeter taste to it.  You could actually try plain old ketchup, too, if you're in a pinch.
My brother-in-law is usually my faithful, honest, and very blunt taste-taster.  This recipe was a major victory by his standards.  My sister coughed on the first bite.  That's the goal, people.  This stuff is not for the palate-challenged.  This cocktail sauce is what a champion eats.  But, I'm warning you:  go easy on the first bite.
St. Elmo's (almost) Cocktail Sauce
Servings: About 2 cups of cocktail sauce
Ingredients
4-5 tablespoons (go easy on yourself-taste test it before serving) ground horseradish (look for it in the refrigerated section of your grocery store-alternatively, you can do the shredded fresh horseradish root/cider vinegar marinade)****Add more or less if you desire.
2 cups Bennett's chili sauce
2 cups regular chili sauce
2 squirts of fresh lemon juice
4 squirts of fresh lime juice
Jumbo shrimp, cleaned, with tails on
Parsley, for garnish (optional)
Instructions
1.  Combine horseradish and chili sauces together in medium bowl.
2.  Add lemon and lime juices, combine well.
3. Refrigerate, covered, until ready to serve.
My favorite way of serving shrimp cocktail is the way I photographed it:  in individual wine or martini glasses and a sprig of parsley for garnish.  It's a classy way to knock your friends' socks off!  🙂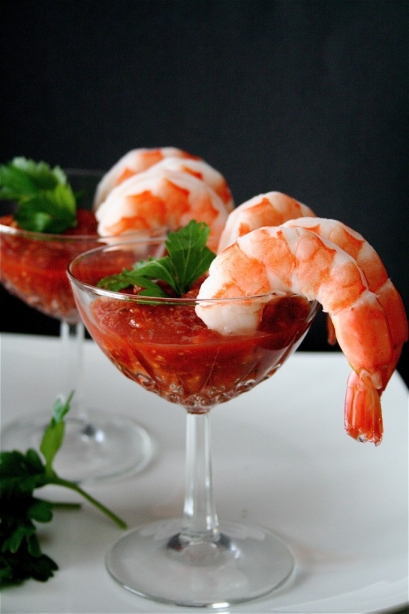 Adapted from www.myrecipefriends.com