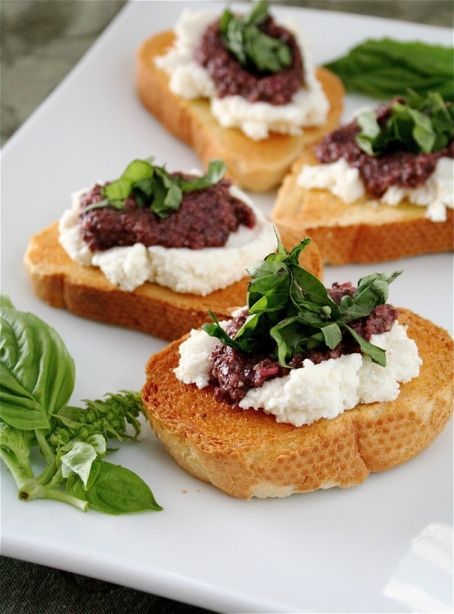 I have a weakness for bruschetta.
I recently served these when my family members were in town for the weekend.  We had a full Italian dinner planned-complete with two different main courses, finger foods, and salad.  I was quite excited to make these, considering I had them bookmarked for months, but I never had a good excuse to just randomly make bruschetta.  I learned two things when I made these:
1).  I don't need an excuse ever to make bruschetta if I want it.  It's excuse-free.
2). Bruschetta does not always have to be about tomatoes, contrary to my previous belief.
This bruschetta was amazingly simple to put together, and, all the components can be made well in advance and thrown together at the last second. I thought the presentation was quite nice, too.  I found that the saltiness of the olives was softened by the creamy ricotta.  And while I still usually dream about the traditional version of bruschetta (especially from a local Indianapolis restaurant by the name of Mama Carolla's that serves it topped with smoked mozzarella), and since fresh vine-ripened tomatoes aren't really in season right now-this was a great substitute.  They would make a fantastic addition to any New Year's menu.
Bruschetta with Black Olive Pesto, Ricotta, and Basil
Servings: 8 to 10
Ingredients
For the topping:
1 medium garlic clove, minced
1/2 cup pitted kalamata olives
2 tablespoons extra-virgin olive oil, plus more for garnish
1 small shallot, minced
1 and 1/2 teaspoons juice from one lemon
1 and 1/2 cups whole milk ricotta cheese
Salt and pepper, to taste
2 tablespoons fresh basil leaves, chopped
For the bread:
1 loaf country bread with thick loaf, cut on diagonal into 3/4-inch thick pieces
1/2 medium garlic clove, peeled
1/4 cup extra-virgin olive oil
Salt, to taste
Instructions
1. For the bread: Adjust an oven rack so that it is about 4 inches from the heating element and preheat the broiler.
2.  Place bread on foil-lined baking sheet.
3. Broil until bread is deep golden, about 1 or 2 minutes.
4. Flip and repeat on second side.
5. Lightly rub one side of each slice with garlic clove and brush with oil.  Season with salt, to taste.
6. For the topping: Process olives, garlic, olive oil, shallot, and lemon juice in food processor until uniform paste forms, about 10 seconds, scraping down sides of bowl once during processing.
7. Combine ricotta with salt and pepper to taste in a small bowl.
8. Spread ricotta mixture evenly among toasts, top with olive pesto, and garnish with chopped fresh basil.  Drizzle with extra-virgin olive oil, if desired.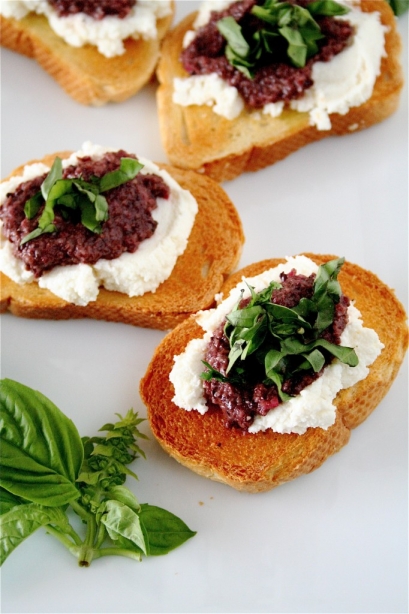 Source:  Cook's Illustrated.