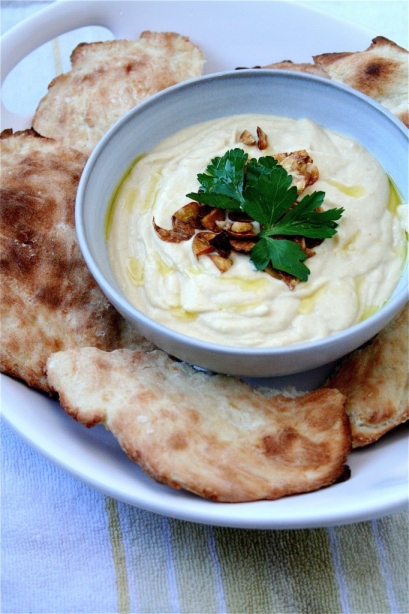 I have a little secret.
And, it's this:  I am not a big fan of hummus. There.  I said it.
There are only a few times when I actually crave it…and one of those is when I visit a particular Egyptian restaurant here in town that I swear has the best hummus I have ever had.  And I'm not a fan of the store-bought kind.  It's a nice thought, though, when I am feeling particularly inspired and motivated while in the grocery store, buying things that are only good for me.  And, alone in its healthy glory, it will sit, untouched and forgotten, in the bottom drawer of the refrigerator (which may be a strategic location on my part) until I am going through a "fridge clean-out session"….and whooooppsss…there it is again, most likely (very) expired and a reminder of money that I have wasted.  Good intentions?  Always.  Great follow-through?  Not so much. Does anyone else out there do this, too?
So, during my recent time off for the holidays, I tackled this recipe with the full hope that I would find a hummus recipe that I actually liked.  I've made lots of other homemade kinds before, but nothing ever hit the spot. But, I saw this one and thought there could be potential.  I love garlic, and I especially love roasted garlic, and the thought of the aroma in the kitchen as the garlic roasted was enough to motivate me to whip out the food processor and (literally) give it a whirl.  I even made the pita bread that you see pictured above.  However, I have a disclaimer with that pita bread.  I was not a fan.  It made great chips as leftovers when I baked them, but for soft, chewy pita bread, it was not my favorite.  So I will not post that recipe and will remain on the hunt for one that I feel worthy of sharing with you. Why would a girl (or guy), in her (or her) right mind, choose to commit to a pita bread that doesn't leave her feeling completely satisfied?  We deserve so much better, don't we?  That's right!
Roasted Garlic Hummus
Servings:  Makes approximately 2 cups
Ingredients
| | |
| --- | --- |
| 2 | heads garlic |
| 2 | tablespoons extra-virgin olive oil , plus extra for drizzling |
| 2 | thinly sliced garlic cloves |
| 3 | tablespoons juice from 1 to 2 lemons****I added two full lemons, but it was a tad bit too citrusy for my own taste. I recommend taste-testing as you go. |
| 1/4 | cup water |
| 6 | tablespoons tahini , stirred well |
| 1 | (14-ounce) can chickpeas , drained and rinsed |
| 1/2 | teaspoon salt, plus more for garnish***I have recently discovered Maldon flaked sea salt.  It's crazy awesome, and I am putting it on everything now. |
| | Pinch cayenne***I was pretty generous because I like spicy stuff. |
| 2 | teaspoons chopped fresh parsley |
Instructions
1. Preheat your oven to 350 degrees, and remove outer papery skins from garlic (I leave some skin on-the skins that encase each individualized clove stay); cut top quarters off heads and discard.  Don't worry if you don't clean a completely clean cross-section of the head.  You will take care of this later.
2. Wrap the garlic head in aluminum foil and roast in the oven until browned and very tender, about 1 hour.
3. Meanwhile, heat olive oil and the sliced garlic cloves in small skillet over medium-low heat. Cook, stirring occasionally, until golden brown, about 5 minutes or so.  ***Watch them closely.  I found that my stove was probably way hotter than it should have been, and they browned very quickly.
4. Using a slotted spoon, transfer the garlic slices to paper towel-lined plate and set aside; reserve oil.
5. Once the roasted garlic is cool, squeeze cloves from their skins (you should have about 1/4 cup). **This can get messy.  I recommend having a seafood pick to help get the mushy garlic puree out.
6. Combine lemon juice and water in small bowl or measuring cup.
7. Whisk together tahini and garlic cooking oil in second small bowl or measuring cup.
8. Process chickpeas, roasted garlic puree, salt, and cayenne in food processor until almost fully ground, about 15 seconds. Scrape down bowl with rubber spatula.
9. With machine running, add lemon juice-water mixture in steady stream through feed tube. Scrape down bowl and continue to process for 1 minute.
10. With machine running, add oil-tahini mixture in steady stream through feed tube; continue to process until hummus is smooth and creamy, about 15 seconds, scraping down bowl as needed.
11. Transfer hummus to serving bowl, sprinkle toasted garlic slices and parsley over surface, cover with plastic wrap, and let stand until flavors meld, at least 30 minutes.
12. Drizzle with olive oil, sea salt, and serve.
Barely adapted from Cook's Illustrated.