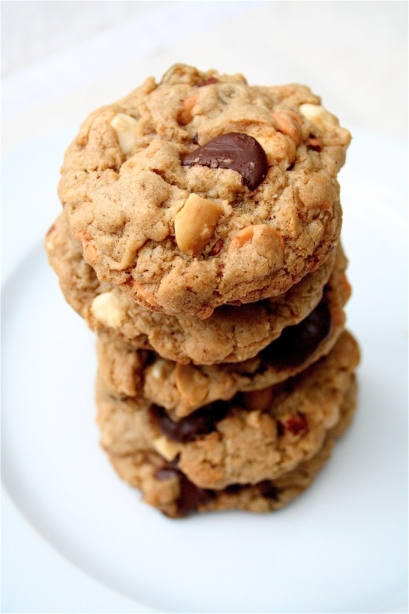 These are actually what I call "Everything but the Kitchen Sink" cookies.  And they are awesome.
I decided to undertake a major pantry/baking shelf overhaul over the holidays.  You know, get rid of the bag of white chocolate chips that wasn't enough for a full recipe, but enough to just throw in something.  I remembered a type of cookie that I had bought once or twice (or more…) at a local grocery store which is of the same vein and name.  I found a similar idea on Alice Q. Foodie's blog.  I figured I would get rid of some bags of nuts/chocolate chips that I should use up…but then, as I looked around and realized the absolute potential that my pantry provided me with in the form of dried fruit, nuts, and various sweet add-ins, I got a "little" bit out of control.  It then became a game of how much random stuff can I throw into a cookie, still retain a decent amount of dough, and have it taste good….I won.
These cookies are in the top three kinds of cookies that I have ever made.  And the nice thing is that you can be as creative as you want.  Got some leftover marshmallows?  Throw them in…see what happens.  Dried fruit?  Ok. Leftover chocolate candies from the holidays?  Why the heck not? It appears that the oatmeal-based dough is quite forgiving and holds everything together so nicely. And I love them because of their combined saltiness (ahem, leftover 1/4 bag of salted peanuts from God knows when) and sweetness.  In fact, I love warm cookies, so I just put them in the microwave for 10 seconds or so and down a big glass of milk.  I'm going to get mine right now….
Kitchen Sink Cookies
Servings:  Approximately 24 cookies
Ingredients
1 and 1/4 cups unbleached all purpose flour
3/4 teaspoon baking powder
1/2 teaspoon baking soda
1/2 teaspoon salt
1 and 1/4 cups rolled oats
1/2 cup sweetened dried coconut
1/2 cup toasted pecans, chopped
1/2 cup dry-roasted salted peanuts
1/2 cup golden raisins
1/4 to 1/2 cup white chocolate chips
1/2 cup bittersweet chocolate chips
1/2 cup butterscotch chips
1 and 1/2 sticks (12 tablespoons) unsalted butter, softened but still cool
1 and 1/2 cups packed dark brown sugar
1 large egg
1 teaspoon vanilla extract
Instructions
1. Adjust oven racks to upper- and lower-middle positions and preheat oven to 350 degrees.
2. Line 2 large (18 by 12-inch) baking sheets with parchment paper.
3. Whisk flour, baking powder, baking soda, oats, and salt in medium bowl.
4. In second medium bowl, stir together coconut,both kinds of nuts, raisins, and all kinds of chips.***This is your add-in mixture.
5. In a standing mixer fitted with flat beater, beat butter and sugar at medium speed until no sugar lumps remain, about 1 minute. Scrape down sides of bowl with rubber spatula.
6. Add egg and vanilla and beat on medium-low speed until fully incorporated, about 30 seconds. Scrape down bowl; with mixer running at low speed, add flour mixture; mix until just combined, about 30 seconds.
7. With mixer still running on low, gradually add add-in mixture; mix until just incorporated. Give dough final stir with rubber spatula to ensure that dough is evenly incorporated.
8. Divide dough into even portions, then roll between palms into balls about 2 inches in diameter; stagger 8 balls on each baking sheet, spacing them about 2 1/2 inches apart.
9. Bake both baking sheets 12 minutes, rotating and switching baking sheet position halfway through baking
10. Cool cookies on baking sheets on wire rack 5 minutes; using wide metal spatula, transfer cookies to wire rack and cool to room temperature.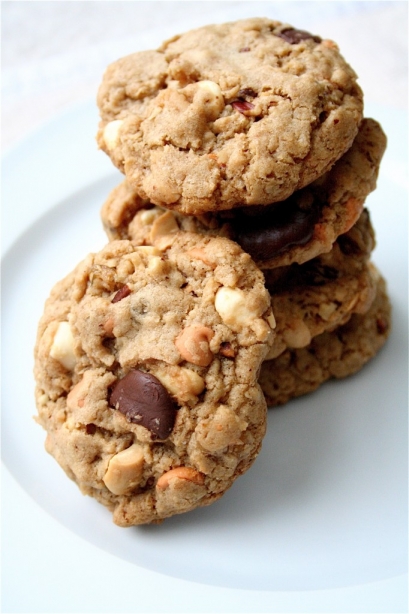 Adapted from Alice Q. Foodie.