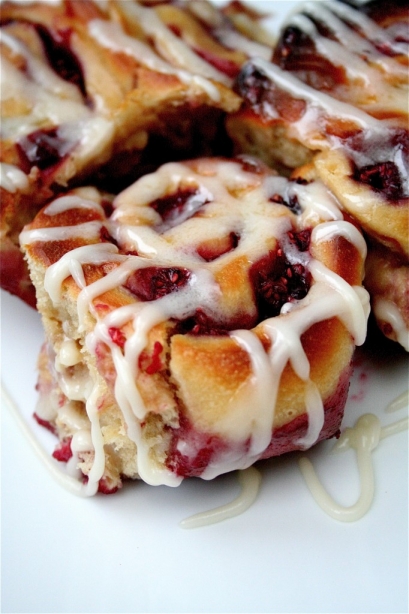 Happy Saturday.
It's been a long week, hasn't it?  We've all worked hard, especially after coming off all those holidays, right?  We deserve a little boost to a Saturday morning.
I'm quickly realizing that as I get more and more comfortable with yeast breads, I have discovered a brand new feeling. I'll find a recipe, actually PLAN IN ADVANCE (which is a new concept, considering I usually go off of cravings and what is available to me in the fridge…), and prep the night before.   I will make as much of the recipe as possible, and then have it completely ready to pop into the oven the next morning. My alarm will go off (or not, especially if it's a weekend), I will feel the need for some major caffeine, and then I suddenly remember that I will soon have the most amazing breakfast before me.  It's a great feeling.
I'm usually not a sweet kind of breakfast person.  I always go for the more hearty things: eggs, quiche, savory breads, etc.  But these sweet rolls called to me from the pages of Food and Wine Magazine.  And when I did make them, they blew me away.  Yes, as with any yeast type bread, there are periods of rising, resting, and rolling.  But, it's really not all that complicated.  And that butter glaze?  To die for.  I literally ate these every single day until they were gone, which ended up being a lot (now that I think about it….).  If you are in a New Year's mentality with eating, I advise you to bookmark them for a later date.  If you are not, enjoy. 🙂
Raspberry Swirl Sweet Rolls
Servings: 16 rolls
Ingredients
For the dough
1 cup milk
2/3 cup sugar
1 and 1/2 tablespoons active dry yeast
1 stick unsalted butter, softened
2 large eggs
1 teaspoon finely grated lemon zest
1/2 teaspoon fine sea salt
4 and 1/4 cups all-purpose flour, plus more for dusting***I made a boo-boo and ran out of white flour in the middle of this.  I substituted half white and half whole wheat flour, and they still turned out just fine!
For the filling
One 10-ounce package frozen raspberries, not thawed***Try substituting different berries or a mixture of them!
1/4 cup plus 2 tablespoons sugar
1 teaspoon cornstarch
For the glaze
3/4 cup confectioners' sugar
3 tablespoons unsalted butter, melted
1 and 1/2 tablespoons heavy cream
Instructions
1. For the dough: In a small saucepan, warm the milk over moderately low heat until it's 95°.
2. Pour the warm milk into the bowl of a standing electric mixer fitted with the dough hook and stir in the sugar and yeast.
3. Let stand until the yeast is foamy, about 5 minutes.
4. Add the softened butter, eggs, grated lemon zest and sea salt.
5. Add the flour and beat at medium speed until a soft dough forms, about 3 minutes.
6. Increase the speed to medium-high and beat until the dough is soft and supple, about 10 minutes longer.
7. Scrape the dough out onto a lightly floured surface and knead it with your hands 2 or 3 times.
8. Form the dough into a ball and transfer it to a lightly buttered bowl.
9. Cover the dough with plastic wrap and let stand in a warm place until doubled in bulk, 1 to 2 hours.
10. Line the bottom of a 9-by-13-inch baking pan with parchment paper, allowing the paper to extend up the short sides. Butter the paper and sides of the pan.
11.Turn the dough out onto a lightly floured work surface and, using a rolling pin, roll it into a 10-by-24-inch rectangle.
12. For the filling: In a medium bowl, toss the frozen raspberries with the sugar and cornstarch.
13. Spread the raspberry filling evenly over the dough. Tightly roll up the dough to form a 24-inch-long log.
14. Working quickly, cut the log into quarters. Cut each quarter into 4 slices and arrange them in the baking pan, cut sides up. Cover the rolls and let them rise in a warm place until they are puffy and have filled the baking pan, about 2 hours.*****I let mine rise for the two hours at room temperature, and then I covered them with plastic wrap at that point and popped them into the refrigerator overnight.  I brought them back up to room temperature the next morning as the oven preheated.
15. Preheat the oven to 425°.
16. Bake the rolls for about 25 minutes, until they are golden and the berries are bubbling. Transfer the pan to a rack to cool for 30 minutes.
17. For the glaze: In a small bowl, whisk the confectioners' sugar with the butter and heavy cream until the glaze is thick and spreadable.
18. Invert the rolls onto the rack and peel off the parchment paper. Invert the rolls onto a platter. Dollop glaze over each roll and spread with an offset spatula. Serve warm or at room temperature.