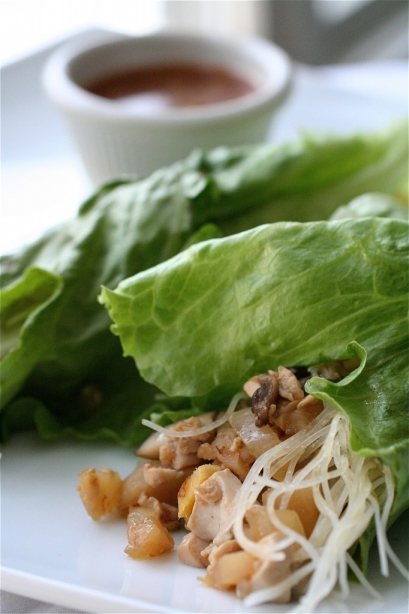 There's a popular chain of restaurants that is known for its lettuce wrap appetizers.  Recently I went there and was thrilled to discover that they now feature a vegetarian version.  I ordered this, and I devoured almost the whole plate. They were incredible.  Instead of chicken as the main source of protein, it used tofu as a substitute (of course, you can just substitute chicken in this one, if you prefer).  As soon as I tasted them, I knew that I had to find a way to make these at home and with my own little tweaks here and there.  And, so, after exploring the wonderful world of food blogs, I found a base recipe that I liked that would only need a few minor changes on my part to create the dish I had imagined.
Not only are these pretty healthy for you, but they are also very straightforward to make.  If you already have the oils and sauces on hand, the entire dish is probably less than $10 to make, and that includes an abundant amount of leftovers.  The dipping sauce is tangy and sweet and is a great accompaniment to the lettuce wraps.  The next time I make these, I will probably throw some cashews or peanuts in for more crunch and protein, as well as some other veggies.  But I will warn you, as with any kind of lettuce wrap, these can get a little messy, which I guess is part of the fun!  I hope you like them.
Vegetarian Lettuce Wraps
Servings: About 4
Ingredients
For the dipping sauce
1/4 cup sugar
1/2 cup warm water
2 tablespoons soy sauce
2 tablespoons rice wine vinegar
2 tablespoons ketchup
1 tablespoon lemon juice
1/8 teaspoon sesame oil
1 teaspoon hot water
1 tablespoon yellow mustard (spicy mustard would be really good, too)
2 garlic cloves, minced
For the stir-fry sauce
2 tablespoons soy sauce
2 tablespoons light brown sugar
1/2 teaspoon rice wine vinegar
For the stir-fry
2 tablespoons extra virgin olive oil
2 tablespoons sesame oil
1 package of extra firm tofu (12.3 ounces), chopped into 1/2-inch pieces
1 8-ounce can sliced water chestnuts, diced
1/2 cup fresh sliced mushrooms, diced
1/2 onion, diced
2 tablespoons fresh ginger, minced
3 cloves garlic, minced
3 cups rice noodles, cooked according to package directions
6-8 large leaves of iceberg lettuce
Instructions
1. For the dipping sauce: In a medium bowl, dissolve the sugar in 1/2 cup of warm water.
2. Add the the soy sauce, rice wine vinegar, ketchup, lemon juice, and sesame oil. Mix well.  Cover and refrigerate.
3.  Immediately before serving the wraps, mix 1 teaspoon of hot water with the mustard and garlic.  Add to the dipping sauce, to desired taste.
4. For the stir-fry sauce: Mix the soy sauce, brown sugar, and rice wine vinegar in a small bowl.
5. For the stir-fry: In a wok or large saucepan over high heat, add the oils and heat until shimmering.
6.  Add the tofu, occasionally stirring, until lightly browned about 6-7 minutes.
7. Decrease the heat to medium, and add the water chestnuts, mushrooms, onion, ginger, and garlic.
8. Pour the prepared stir-fry sauce over the veggies and continue to cook until heated through, about 5-6 minutes or so. Remove from the heat.
9. In the meantime, prepare the lettuce leaves by placing the desired amount of rice noodles in the center of each leaf.
10.  Add the stir-fry mixture as desired and serve with the prepared dipping sauce.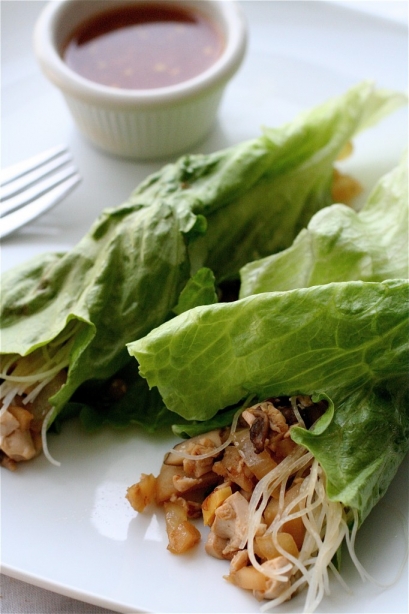 Adapted from Wasibimon!